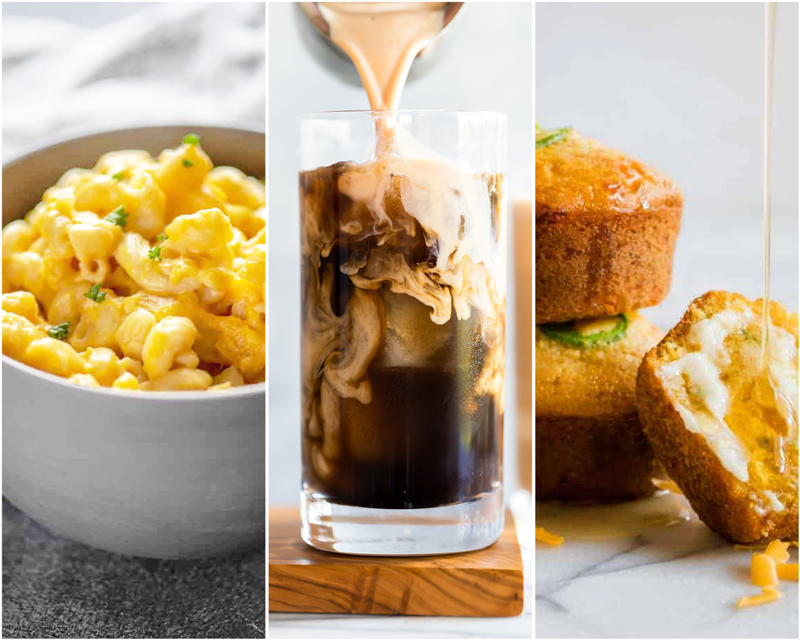 By Sarah Peterson, Contributing blogger
As temperatures start to drop, cozy dishes on crisp fall days are even more crave-worthy than usual. But let's face it, sometimes cooking meals with a million and one steps can start to feel like a total drag. The thought of whipping up some culinary creation (pumpkin-themed of course) and leaving the kitchen a complete mess can be a torturous process. Insert: eye-roll. 
I'm here to let you know that all hope is not lost. There are plenty of easy fall recipes to help get that pumpkin-fix in, with minimal steps, ingredients, and most importantly stress. Besides, sweater-weather season really does call for some delicious comfort food.
Recipe 1: Butternut Squash Mac & Cheese
Pasta night is always a good idea. This classic recipe takes everything we love about mac & cheese, but with a seasonal twist. The pureed butternut squash makes for a seriously creamy addition for the ultimate fall-inspired dinner. Gooey cheddar cheese, paired with the richly spiced butternut squash is the perfect side dish on any holiday table. 
Not only is it filled with veggies, but it also comes together in under an hour. Bonus! The most time-consuming part of the recipe is prepping the squash. If you're looking to shed more steps, you can buy a butternut squash purée. This recipe is bound to be a fan-favorite, with the irresistible cheesiness and warm fall flavors, minus the hours of work and clean-up.
Ingredients
3 cups cooked pasta
¼ cup butternut squash purée
1 tbsp all-purpose flour
1 tbsp butter
¾ cup milk
½ tsp kosher salt
½ tsp pepper
¼ tsp nutmeg
1 cup cheddar cheese
Instructions
Cook the pasta according to the package. Generously salt the pasta water.
In a saucepan over medium heat, add butter and flour, and whisk together.
Add milk, while continuing to whisk until mixture is brought to a simmer.
Add spices.
Add the butternut squash purée and cheese until melted.
Remove the pan from the heat and mix in cooked pasta. Voilà!
Recipe 2: Homemade Pumpkin Sweet Cream
Ladies and gents, we are deep in pumpkin-spiced latte season. Starbucks has once again changed the game and blessed fall lovers with their pumpkin sweet cream, topping off the perfect brew. Problem is, who wants to spend $5 on a coffee every morning? I, for one, don't.
 Turns out, their pumpkin sweet cream recipe is surprisingly simple to make at home. Did I mention it takes less than 5 minutes? Time for you to call the shots with your coffee order and land some major barista bragging rights.
Ingredients
¼ cup milk
Your preferred kind of sweetener (sugar, maple syrup, etc.)
½ teaspoon pumpkin purée
¼ teaspoon pumpkin pie spice
½ teaspoon vanilla extract
Pinch of sea salt
Instructions
Make your coffee – iced or hot.
Take a measuring cup and combine cold milk, sweetener, pumpkin purée, vanilla, pumpkin spice, and salt.
Use a milk frother to turn it into a foamy mixture.
Froth until it reaches a whipped-like consistency.
Combine the coffee and foam.
 …coffee is my love language.
Recipe 3: Jalapeño Cheddar Cornbread
Give us all the warm, savory jalapeño cheddar cornbread. The flavor of this sweet, buttery bread is amped up with zesty jalapeño chiles and sharp cheddar cheese. Talk about a major swerve from the traditional cornbread recipe. This festive loaf is the perfect accompaniment to a bowl of soup, yet tender enough to be served with a thick piece of meat. 
Who here is in a long-term relationship with cheese? Because I am 100% committed. Luckily, this recipe calls for all the cheddar cheese your heart desires. And that's not even the best part. It's super easy to make and most of the ingredients are probably already in your pantry. Stick to the boxed cornbread mix and simply throw in the other ingredients. Easy as one, two, three. 
Ingredients
15 oz cornbread mix
½ cup shredded cheddar cheese
2 chopped jalapeños
Butter
Honey
Instructions
Make the cornbread batter according to the box.
Stir in shredded cheddar cheese and chopped jalapeños.
Bake according to the package.
Serve with butter and drizzled honey on top.
*Chef's kiss*
---