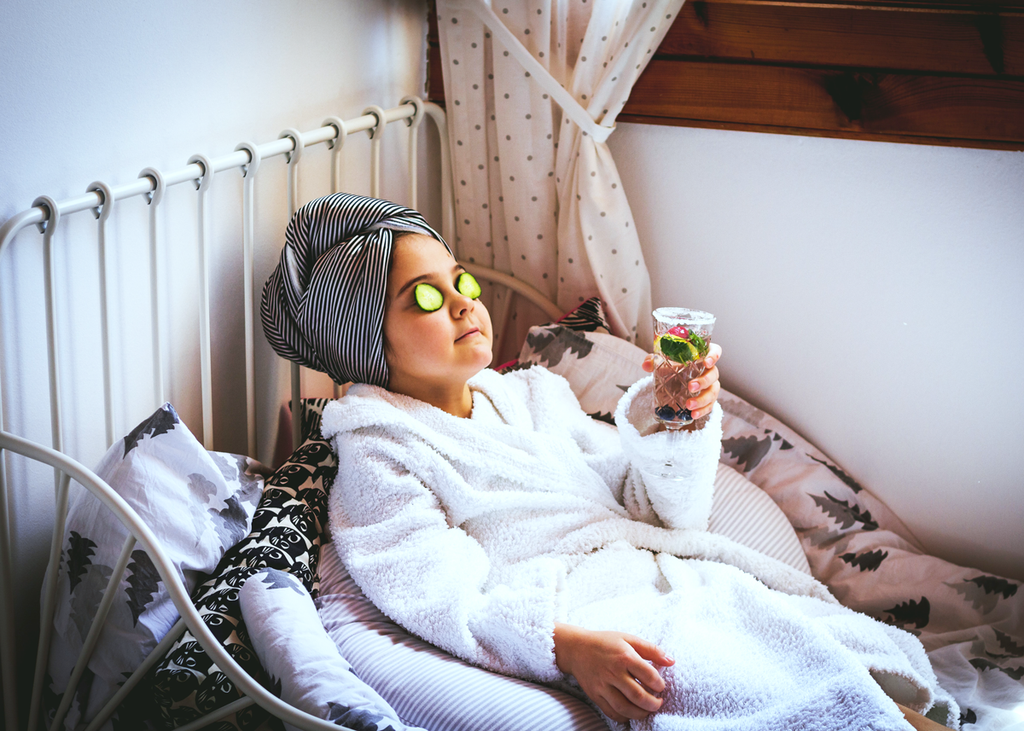 By Katy Duncan, Contributing Blogger
Valentine's Day is a time to celebrate the ones we love, but this year, why not take a moment to show yourself some love too? Trust us, you deserve it!
Self-care is an important part of living a healthy and balanced life, and Valentine's Day is the perfect opportunity to practice it. But, let's be real, you should be doing this way more than once a year. 
In this blog post, we will explore various ways that you can practice self-care on Valentine's Day. From how to have a spa day to how to talk kindly to yourself-we'll cover it all.
1. Have a Self Care Spa Day 
Valentine's Day (V-Day) is a day for love - including self-love! This is the perfect time to show yourself some extra love and care. A great way to do this is to have an at home spa day.
Having a spa day can look like taking a hot shower or bubble bath, doing a face and/or hair mask, painting your nails, applying a body lotion with a pleasant scent, listening to calming music, and doing any other activities that will help you relax and make you feel special. Be sure to take a moment to savor each activity and enjoy your time taking care of yourself.  
We often forget how important it is to take time out of our busy lives to love and take care of ourselves. Typically, we're just going through the motions. We can make ourselves slow down though. And we can treat ourselves in a way that promotes self-love. We can do this by loving the skin that we're in - embrace all of our flaws and make peace with them. 
Sooo…why not use Valentine's Day as an opportunity to pamper and spoil yourself? Take the time to practice self-love, do something special just for you, and remember that you are worthy of love!
2. Treat Yourself to Something Nice 
Look no further than good ol' V-Day as an excuse to spoil yourself. Whether it's splurging on a box of chocolates, a new outfit, getting your hair or nails done, or something else, taking the time to do something special for yourself on Valentine's Day is a great way to practice self-love and self-care. 
Taking care of your mental health and well-being is just as important as your physical health and there's no better time to show yourself some extra TLC. We're not saying, "Don't go to therapy." We're saying retail therapy can be a great supplement to your self care routine. 
Spoil yourself with something that puts a smile on your face and that helps you feel relaxed. Maybe it's taking yourself out to a fancy dinner, booking a massage or facial, or treating yourself to a movie night with your favorite snacks. Whatever you decide, it's important to remember to take the time to take care of yourself. Self-love is essential for your mental health and personal growth and Valentine's Day is the perfect excuse to show yourself some extra love in the form of gifts, experiences, and upgrades. 
3. Talk Kindly to Yourself 
This isn't just something you should do on Valentine's Day; it's something you should do every day. 
A great way to put this into action is by saying positive affirmations about yourself, out loud or in your head. These can range from something as simple as "I am worthy", "I am beautiful", or "I am capable" to more specific things like "I am an amazing athlete" or "I am good at my job." 
It can also help to give yourself compliments regularly and celebrate your successes, no matter how small they are. Taking time out of your day to focus on self-love, through words or actions, can go a long way towards improving your mental health and overall happiness. 
Whether it's having a relaxing spa day, treating yourself to something nice, or simply talking kindly to yourself, it's important to remember that you deserve love, and you are worthy of celebrating.
---