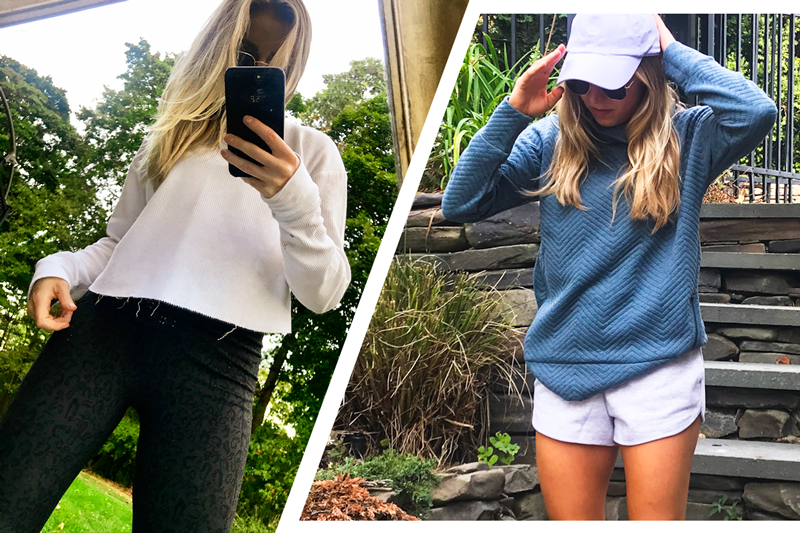 By Sarah Peterson, Contributing blogger
Now that October is upon us, we are officially in pumpkin spice season. Enter: leggings, hoodies, and your ride-or-die jean jacket. Paired with the right basics, accessories, and of course dry shampoo, you can take any gym look and style it for more elevated vibe.
 Cutting 20 minutes off your morning outfit dilemma is the ultimate goal. Comfy, yet chic athleisure that can transition through a busy day is the answer. From a bomb leg day to a necessary Starbucks run to a date night with your man, there are countless ways to style workout wear for any occasion. Warning: you're never going to want to wear "real clothes" again.
Leopard Leggings
Let's take a moment for leopard detailing👏🏼. Ladies, let me introduce you to the Prime Super Soft Leopard 7/8 Legging. It's the perfect statement piece for leg day and yes, the material passes the squat test. You can balance this bold pair with a simple white long sleeve and chunky sneakers for a seamless transition to post-gym outings. Neutrals paired with an accent legging will elevate any look and give the impression you are not coming straight from the gym.
Throw on the Namaste Easy Cowl Neck Pullover for an added layer. This buttery-soft pullover will keep you warm in the crisp air, while sticking to the neutral + accent theme we have going. You could even tie the pullover around your waist for a trendy, yet practical look. Balancing boldness with simplicity is the perfect way to take an outfit out of the gym and into your daily list of to-dos.
Studio Super Soft Tech Legging in Navy
Basics are meant to stay on rotation. The Studio Super Soft Tech Legging is the perfect staple that transitions effortlessly. Pair it with a crop top and white sneakers. Add a jean jacket for all the fall vibes. Layering basics will add style to the look. For extra glam, add a stack of dainty, gold necklaces, chunky hoops, and your favorite pair of sunnies.
Willow Side Zip Cowl Neck Pullover in Blue
Name something more cozy than a cowl neck pullover… I'll wait. The Willow Side Zip is perfect for to and from yoga. The textured high neck elevates the piece for a streetwear look. Add a pair of comfy sweat shorts and ankle socks to compliment the longline silhouette. Top it off with a baseball cap that will not only hide your gym hair, but give a cute, sporty feel to the outfit.­­­
---