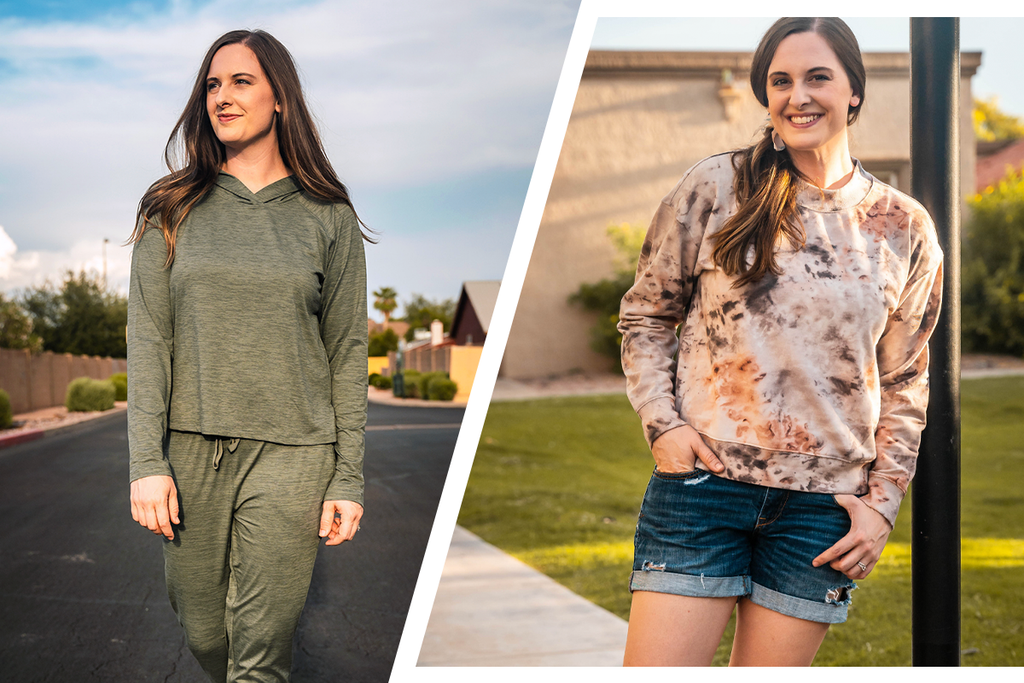 By Emily Heaton, Contributing Blogger
With fall in the air, crisp mornings quickly approaching, and cozy weather on its way, I'm excited to share how you can combine the best of autumn and your athleisure wardrobe from RBX Active! 
There's nothing better than mixing a cozy fall season with the trend of athleisure wear. Can I hear a collective "Amen!" for how accessible it now is to look cute while sporty and comfy? The opportunities to dress up your look from "gym-ready" to "out-and-about-ready" are multiplying! And I'm here for it!
Let's start with the Space Dye Super Soft Jogger. I could not be more in love. I chose the olive color, but with black and dark blue options, you can pick your favorite and dress it up with a simple t-shirt. The neutral colors make these joggers easy to pair with a variety of tees. Perfect for a day on the go or a coffee date with your bestie, these joggers remain cozy and lightweight. I feel like "super soft" doesn't do these pants justice. There's a smooth element that just adds that extra comfort and sleek feel. 
If you're feeling matchy matchy, pair your joggers with the hoodie as well! Double the comfort! The best part about this wardrobe duo is the fabric. You'll feel sporty, but not grungy when you're running errands or out for lunch, giving your outfit an intentional feel. The versatility of these pieces is a selling point for me. 
This hoodie also pairs well with a variety of pant styles. The lightweight fabric is cozy, while not requiring you to roll up those sleeves. If you're looking for a quick-and-easy hoodie to throw on, you'll find this selection to be an effortless way to elevate your look. 
As I walked out the door, I just had to give myself a pat on the back. I felt classy and ready to tackle my day in this comfy outfit…that consisted of sweat pants! What a dream! Pair these Zen French Terry Flare Pants with your favorite tank top and a denim jacket, and you're ready to roll! 
Soft, stylish, flexible, and versatile, these pants will add the perfect pop of color to your outfit. Pair them with an oversized cotton tote bag, and you're ready for a day out with friends. 
If you're in the mood to stand out in the best way, check out the Zen Tie Dye Relaxed Sweatshirt. Each of these has an intentional variation in color and shade due to the mineral washing process for the garment. That means, you're getting a one-of-a-kind sweatshirt! It's the perfect top for a fun afternoon out! 
If the plan is to stay cozy at home, my advice is to get back into those French Terry Flare Pants with this tie dye sweatshirt. You'll thank me later. 
Style and comfort don't have to mean two different wardrobes! Step up your everyday athleisure wear with these pieces, and you're all set for the coziest autumn season yet while staying in step with style! 
Don't forget to tag RBX when you pick out all your fall favorites @RBXActive!
---