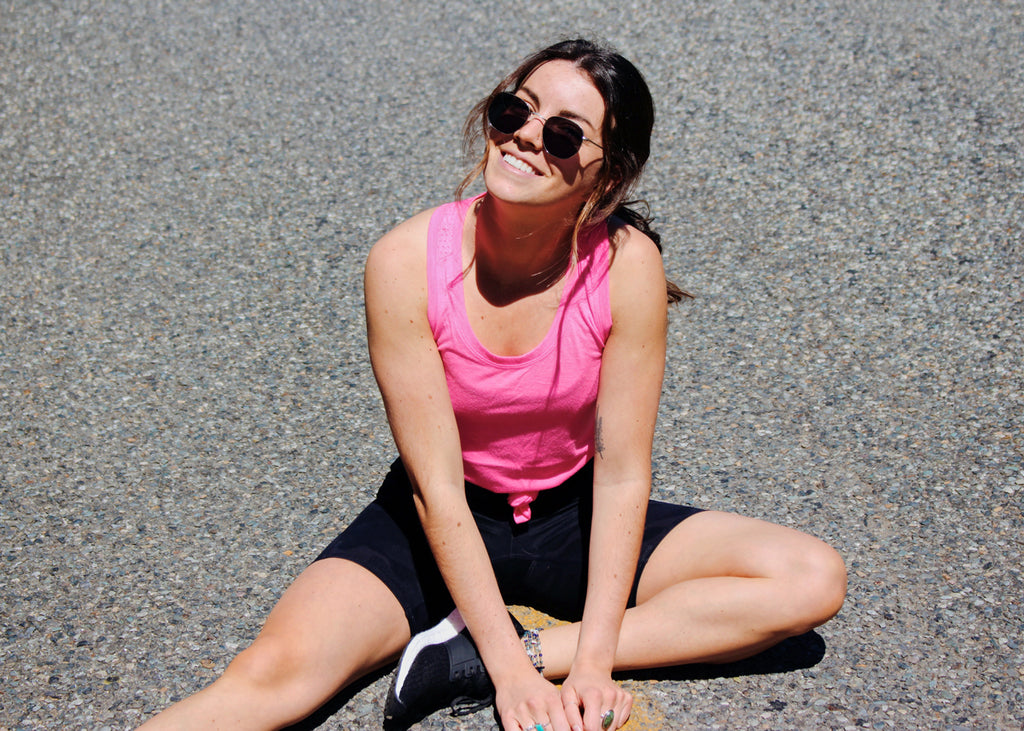 By Isabel Loos, Contributing blogger (@ialoos)
Summer is all about simplicity. As the days get longer and the sun starts shining, our schedules tend to fill up. The energy of the summer is contagious – everyone spends more time outside, there are more social events, and we are always on the go. That doesn't mean we ditch our workouts. In fact, we are naturally more active than ever, walking, running, or biking outside instead of driving everywhere. You'll want to be prepared for whatever the day might throw your way. This means simplifying, and being able to go from the gym or a run outside to lunch with friends or happy hour without having to lug around a huge bag full of extra clothes or build in time to go home and change.
 The good news is, activewear, loungewear, and athleisure are all the rage right now. So flaunt those gym clothes with confidence, girlfriend! With a few easy accessories and maybe a quick hairstyle, you can finish up your workout and be looking fresh for whatever is next on your agenda in no time.
We all love a good bike short, and they are absolutely essential for summer. They are comfortable, practical, and great for any kind of workout, from running to strength training. They can also be dressed up or down without hardly any effort at all.
This camo print spices things up just a little while staying subdued so it can match with all the basics. Paired with this bright pink tank, you are will be ready to crush your goals and look amazing doing it. This tank is the perfect light fabric with a longer shirttail style hem that can be worn down for lots of coverage and a cute longer style, or even tied up in a little knot for a different look!
Throw on a light jean jacket or a long, open cardigan over your tank and bam! You're ready for lunch, grocery shopping, appointments, or whatever else your week has in store.
These bike shorts also pair perfectly with this grey cropped tank, which is as soft and breathable as it is cute. The sides are scooped a bit for breathability and an effortlessly relaxed look. These two pieces alone paired with a fun pair of sneakers, a cute bag, and some sunnies are all you need to hit the streets in style right after a run!
If it is not quite warm enough for shorts, both tanks also pair perfectly with the laser capri. These are hands down some of the most comfortable leggings on the planet, featuring breathable fabric on the sides for when the temps get warm and the workouts get hard, and best of all, (drumroll please) POCKETS! If that's not the dream, I'm not sure what is. They are perfect for exercising but have enough style and nice detailing that they can be worn in any setting.
You truly don't have to do much of anything to this outfit to be able to rock it at any occasion. The grey shirt isn't over-the-top-obvious workout gear to begin with. Instead, it is simple, stylish, and looks just like a normal tank, perfect for shopping or a date. Just swap out your tennis shoes for a fun sandal or sneaker, grab a jacket for when the evening falls, and you are good to go.
It has never been easier to create outfits with the perfect combination of comfort, practicality, and style. Summer is the ultimate season to embrace the athleisure look, because you never know when the urge to head out for a quick run or take your bike to meet your friends for a picnic will strike. With these few simple pieces, you can spend your time reaching your fitness goals and enjoying the sunshine rather than worrying about what to wear. The hard part is done – you just get to have some fun adding the accessories and deciding where your new 'fits will take you next!
---