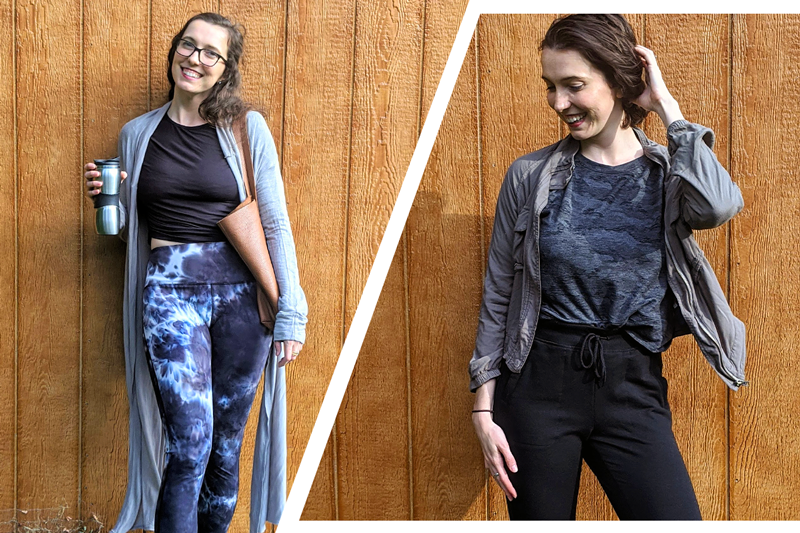 Written by Camerin Spahn, Contributing blogger

You know those days where you have a million things to do and want to optimize every second of your precious time? The seemingly inconsequential act of choosing an outfit in the morning can be one of the most helpful decisions you'll make! Athleisure-wear is in and it is your friend. Beyond the perk of being insanely comfortable, it will keep you looking like the beautiful, well-kept human that you were born to be. With the right accessories and tricks, you can go from the gym to running errands or date-night NO problem! And did I mention that you could do it without any discomfort? Sounds too good to be true, I know.
The Ready To Roll Camo Sweatshirt and Everday Jogger are a great duo to confidently send you from a late afternoon gym session to meeting that special someone for a bite to eat. With the jogger secured on your waist, create an even more flattering shape by tying the sweater at your hip or indulging in the famous French tuck. And let's be real, you don't need always need to wash your hair after working out. Let your locks run freely or sweep them back so your face can shine. Formalize the look with a light hip-length jacket on chillier days, and you are ready to take on the world. 
Another comfortable multipurpose outfit can be built from the Lightweight Yoga Tee an Ultra Soft Zen Legging. This long-sleeved tee will become a staple in your closet – it's flattering, pairs with everything, and is an excellent hybrid sweat-sesh to office option. In addition to adding a pop of fun to your outfit, these leggings allow you to move with ease. That's right, whether you're pretzeled in Lotus position in yoga class or running between errands, you may do so with style and comfort.


It's a beautiful thing to live in a culture where we can prioritize our fitness without sacrificing the other necessary parts of life. Have an appointment at 10am but your favorite workout group is at 8:30am? You can do both! If you tack on the right accessories (and a generous heap of deodorant), you can walk into any room as if you didn't just sweat for a straight hour. 


Our clothing and accessories are here to present our personalities to the world!
Some of the most fool-proof tricks to looking put together on a moment's notice can be kept inside our bags and purses. For starters, the bag you use itself can be one of the first elements of your outfit to draw the eye. Make it match your personality! A brush of mascara and tiny dollop of tinted moisturizer can go a long way in beautifying a post-workout glow. If you want to create an impression of class or boldness, a red lip will radiate confidence and intention – no one has to know if it was applied in haste before stepping into the room. When your to-do's are causal and the fall weather is unpredictable, a long cardigan is a great way to add dimension to an outfit while being a subdued cozy must. To tie everything together, jewelry will add the perfect amount of glam and personality to any look. And, of course, no accessory says "business" like freshly brewed coffee in a to-go mug.
---