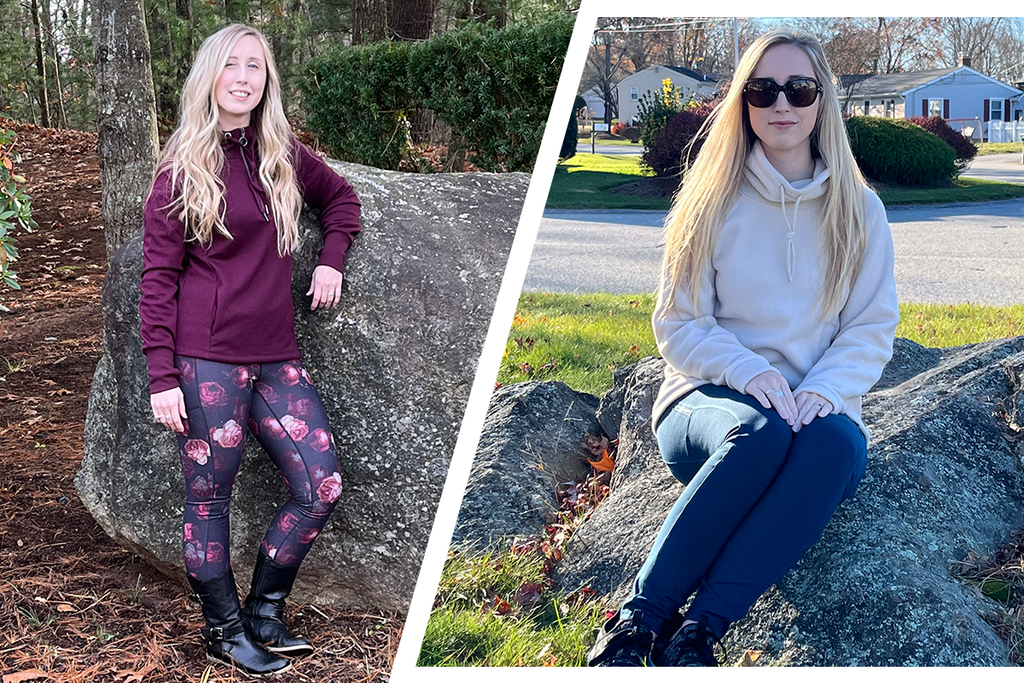 By Brenda Moneghan, Contributing Blogger
Whether you're out and about running errands or staying in to drink hot chocolate by the fire, one thing is for sure: Athleisure is the go-to trend you need this holiday season. 
 
I know that the winter season brings fun family holidays and lots of yummy treats. But, it also brings frigid weather and an abundance of gray skies that will make you want to stay home and indulge in the things you love most. Staying comfy, yet stylish is key this winter. Athleisure has yet to fail me, always providing me with cute attire, a sense of confidence and unlimited comfort. So if you're home for the holidays or frequently traveling about this Christmas season, you can feel self assured that athleisure can easily bring that Yuletide spirit. 

 
The first ensemble I am wearing is exuding soft hints of winter with the Windham Fleece Cowl Neck Pullover in a warm, creamy beige. The fleece fabric provides just the right amount of thickness to keep you warm on those brisk walks in the neighborhood. I especially love the cowl neck- it falls perfectly and doesn't bunch up or wrinkle. I also love the drawstring option at the top for cinching and the length works well with both leggings or jeans. The neutral shade is everything- Who doesn't want a go-to staple for those cold, dreary days?

 
Pair it with the trusty Fleece Lined Zip Pocket Legging in a festive teal to add a little bit of holiday spirit to your day. I cannot say enough about these leggings- from the overall fit to the perfect thickness, these are a definite staple for any closet. The deep teal is rich and vibrant and the zipper pockets are an ideal feature. The warmth factor is amazing and if you get cold easily like myself, this is simply a must have. As shown, I wore sneakers for this ensemble, but it would pair wonderfully with duck boots or casual shoes as well. 
 
This versatile look will take me all the way through winter with its unique warm and bold color combination. Undoubtedly, the soft fabrics and fleece are sure to keep me nice and toasty, whether I'm out on the town or just hanging out watching a holiday movie. These two pieces are so easily adaptable with any type of outfit, whether it's on the dressier side or a more leisurely look. 
 

The second outfit pairs a solid with a floral pattern and I am honestly loving this cheerful look. The Elwyn Plush Lined Hoodie in dark red is an absolute must have this holiday season and is lined with the most luxurious, fluffy material that feels like you are wearing an actual blanket. This top features a stylish half zipper and drawstrings which gives it a casual vibe, but the color itself definitely provides a nice going out look, whether paired with leggings or jeans. The amount of softness alone is just irresistible and you absolutely need it for pure comfort this winter.
If you're going to go bold and beautiful, wear it with the Favorite Rose Super Soft Legging. Super soft is not an exaggeration. I was so happy with the perfect fit on these gorgeous leggings. They hit right at the waist and provide an ideal ankle length, all while making a fun and festive statement with the floral print. I am adoring the deep pink and burgundy tones, since they are ideal winter colors and pair well with almost any solid colored top. 
 
The flexibility with athleisure clothing makes choosing your look so easy. Additionally, I paired this set with classic, black boots to show a different approach of styling this athleisure apparel.  This outfit is most certainly an ideal holiday ensemble. Stay comfy but keep the style on point while you're hitting the holiday cookie tray. 
All of these pieces provide a fun, fashionable look whether they are paired together or worn separately to achieve a different style. You could effortlessly wear either top with nice, going-out jeans and boots or booties for a holiday party. Both leggings deliver a festive spirit and could be worn with any solid top and a cute jacket. The versatility with athleisure clothing is guaranteed to keep you stylish, yet relaxed and comfortable through all of winter.
---