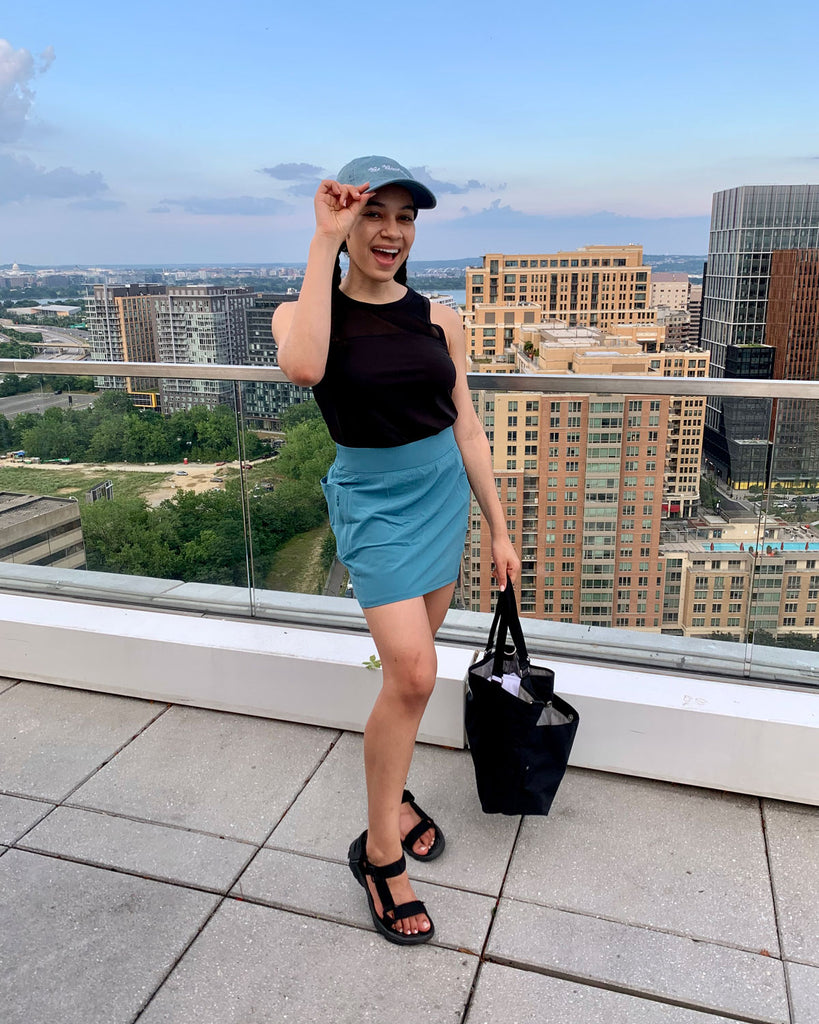 By Celeste Renee of The Elegance Edit, Contributing Blogger
There was a time in the not-so-distant past when athleisure was deemed "just a passing fad." But one look around your local grocery store or Instagram stories of off-duty models proves all those prognosticators wrong. 
The versatility and comfort of athleisure staples make them a go-to we can't get enough of! Read on to explore four everyday athleisure outfits that are effortlessly cool. 
Everyday Athleisure Outfits with an Athletic Skirt
Flattering, functional, and just a bit flirty, a solid-colored skort is a favorite of athleisure lovers everywhere. Here's how to style it: 
Outdoor Adventure Athleisure Outfit 
An athletic skirt is a summertime staple that's equal parts functional and cute. Thanks to the comfortable built-in shorts, the Prime Perfect Weekend Skort can venture where traditional skirts can't. From hikes to tennis courts to dinners and beyond, this multipurpose mini is an ideal option for those on the go. 
For a casual look, pair an athletic skirt with a baseball cap and strappy sandals. The minimalist, open-toe shoes keep the outfit feeling light and streamlined. Of course, you can swap it for sneakers for a more athletic feel. On top, you can't go wrong with neutral, versatile pieces like this lightweight black tank. 
How to Accessorize: A baseball cap is a cool girl casual staple that seamlessly tops off many an athleisure outfit. Shield your face from the sun, conceal a bad hair day, or tie in the colors of your outfit. What can't the humble baseball cap do?
Farmer's Market Athleisure Outfit 
A weekend stroll through the farmer's market is a perfect place to don your athleisure gear. 
I decided to create a slightly covered-up athleisure look featuring this lightweight athletic skirt. The Easy Breezy Tank I paired it with is supremely breathable (who could have guessed). For a classic layer that adds some interest, I slipped  on this linen button-down. 
Since the skirt has built-in pockets (hallelujah) I decided to go sans bag for a carefree outfit with my essentials on hand. 
Same skirt but a different look.   
How to Accessorize: Oxford button down + baseball cap= perfect summer accessory starter pack. These pieces brighten up the outfit and add lightweight sun protection. 
Everyday Athleisure Outfits with Joggers
Think of joggers as legging's roomier, more relaxed counterpart. The everyday athleisure outfits below provide two different takes on this style staple. 
Running Errands Athleisure Outfit 
As the name suggests, joggers are an ideal choice when you're on the go. The tapered design of this pair is flattering and freeing. In other words, it's a big step up from baggy sweats. 
Naturally, these joggers are a go-to for running errands. The crisp white Daily Tank keeps things cool and casual. A little detail I love? The tank top's hemline is slightly longer in the back than the front so there's added coverage on days I decide to wear it untucked. 
How to Accessorize: Simplicity is key here. A light sweatshirt draped over the shoulders and a simple baseball are the finishing touches that this functional fit calls for.  
Casual Summer Athleisure Outfit 
I love a classic joggers and sneakers as much as the next girl. But versatility is part of the fun. So here's another everyday athleisure outfit idea. 
This simple outfit features the aforementioned breathable tank and flattering Grace Ankle Joggers. But this time, I slid on summer sandals for a laid-back look. A loose tuck of the tank also adds to the casual feel of the fit. 
This breezy outfit is comfortable and can easily go from weekend getaways to coffee shop runs to lunch dates. For sun protection (and style points), you can top off the look with a broad-brimmed visor. 
How to Accessorize: Leave it to statement earrings to level up an outfit in roughly 2.8 seconds. It's one reason I recommend always having a pair at the ready. You can keep them in your gym bag to pop on post-workout. Swap sneakers for pretty sandals and your outfit upgrade is complete. 
Embrace Athleisure Style with RBX Active
The comfort and ease of athleisure style have earned it a lasting place in our everyday wardrobes.
As the fashion-forward reach for pieces that can go from yoga class to brunch and beyond, everyday athleisure outfits are taking center stage. Join in and
shop RBX Active
to level up your athleisure looks today.
---