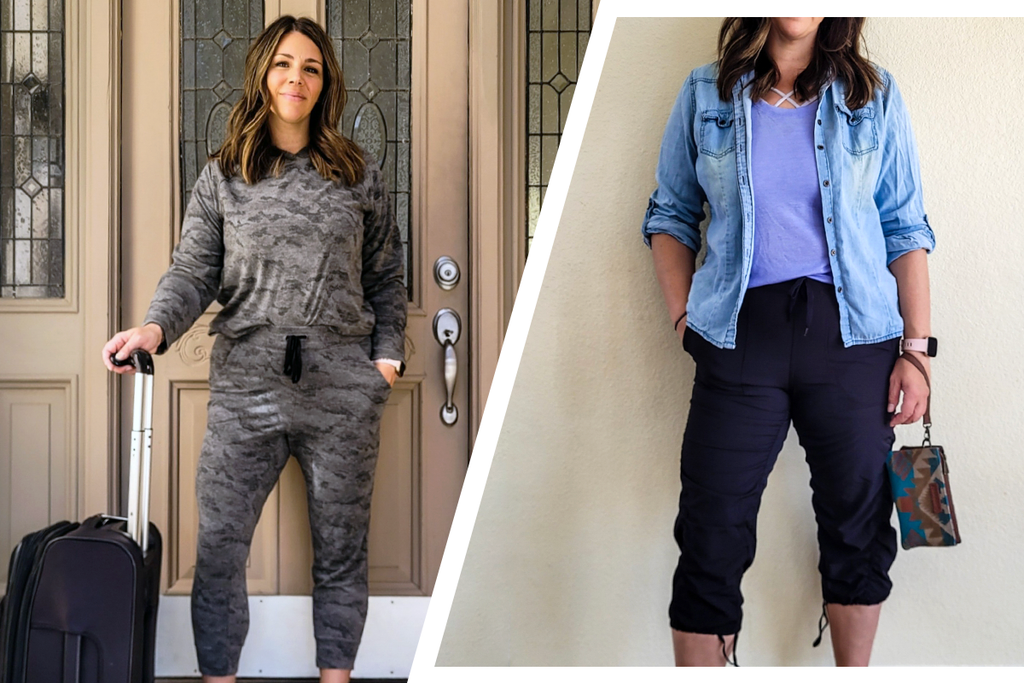 By Taryn Shorr, Contributing Blogger and Travel Writer
With summer upon us and things slowly but surely getting back to "normal," travel is on many people's minds. Whether you're a veteran jetsetter or a vacation is a rare occurrence, a common struggle for almost everyone is what to wear for traveling. 
You want to be comfortable of course, but you don't want to look sloppy. You also don't want to overdress. After all, no one wants to be in an uncomfortable outfit for hours on end. Then there's the fact that if you dress too casually, you may need to change at your destination before heading out and enjoying your trip. There are so many things to consider when it comes to dressing for travel!
Being a full-time travel writer, I'm on the go a lot. One week I may be taking a flight (or two!), I could be road-tripping the next, and others I might be checking out some local attractions at home. In between physically traveling, I meet with clients and try to sneak in my own exploration time as well. It's extremely important that my clothes be not only functional, but comfortable and stylish. 
Fortunately, some carefully-selected athleisure items meet all my needs for travel (and beyond). If you're strategic about what you wear and pack for your trip, you can easily get by with just five or six items for a long weekend. Look for lightweight, neutral staple pieces that pack well and can be mixed and matched to make several unique outfits.
A great pair of joggers is a gal's best friend. They help you look far more put-together than a pair of traditional sweats and offer a different look than leggings. This pair is lightweight enough to wear year-round in any climate and the neutral camo print is both timeless and on-trend. Plus, importantly, they have pockets and aren't see-through!
Pairing these joggers with the matching hoodie creates a simple but cohesive outfit that's absolutely perfect for travel. Layer a fitted solid-colored tee underneath the hoodie so you can take it off if you get too warm. Bonus points if the tee has a fun, feminine detail like criss-cross straps or some type of cutout! 
The fitted-tee-and-joggers combo also works well for a slightly more upscale but still casual outing, like going to lunch or taking a tour. Pair the outfit with fun sandals or wedges to complete the look. 
I find that it helps to be at least slightly "made up" when wearing casual clothes like this matching set. Even if you're spending the entire day traveling, simply doing your hair, adding earrings, or putting on a bit of makeup completely elevates your look.
Often times when we travel, we tend to pack a lot of different activities into a single day. We may get off a plane or out of the car and head directly to lunch, then do some sightseeing, and have dinner or drinks — all before checking into our hotel. 
This is exactly why you need extremely versatile outfits for travel. These lightweight pants and the Prime Breezy High Low tank fit the bill perfectly!
The pants are truly lightweight and have a great amount of stretch, yet they hold their shape well throughout the day. They also have several clever and highly useful details, including a drawstring waist, cinchable leg openings, and pockets. There's even a small hidden pocket that would be perfect for holding keys or a bit of cash. 
This tank will quickly become one of your go-to's, whether for a hike or running around town. The high-low cut is ultra-flattering and gives you extra coverage when you want it, but it's also flowy enough to be tucked in or knotted for a totally different look. I especially love the back mesh detail and racerback cut. 
Wear the tank and pants as-is for a hike or walk around the city, then add a few key pieces to transform the look for something slightly dressier. First, letting a bralette with fun details peek out (like the criss-cross style I'm wearing here) adds some texture and subtle femininity. Next, throw on a chambray or flannel shirt to make your look more cohesive. You can always tie it around your waist when you're not wearing it. I always travel with one or the other to have a functional, diverse layer for any occasion. Put on your favorite sunnies, grab a clutch, and you're ready for whatever the day has in store!
So there you have it — several easy and practical ways to be comfortable and chic while you're traveling. Remember, if you seek out standout versatile basics, you'll be able to mix and match and pack fewer items for your trip. Focus on finding pieces that fit really well and that you love, so that there's no "bad" outfit in your lineup. Safe travels!
---