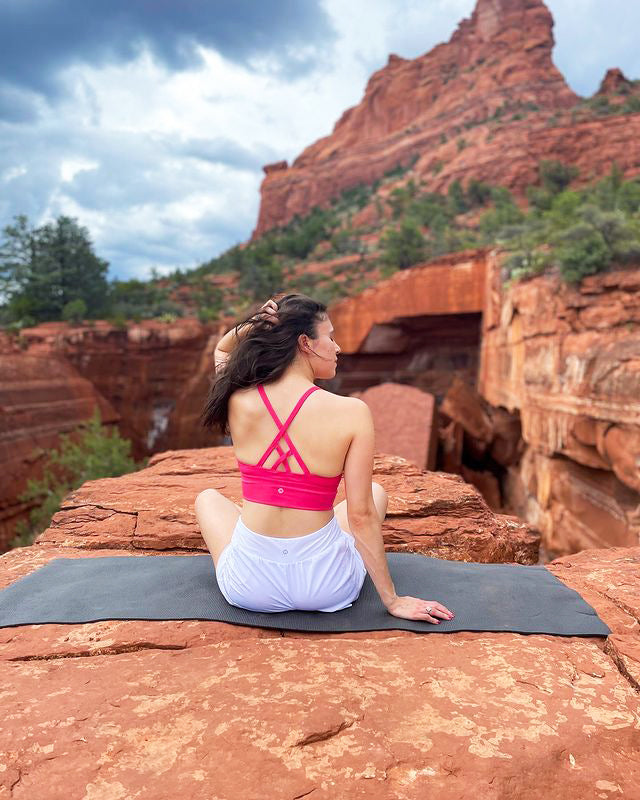 By Katy Duncan, Contributing Blogger
We all want to be "That Girl." You know the one. The girl that wakes up at the crack of dawn to complete her three hour morning routine, is always in impeccable shape, has an attractive personality and looks stylish to boot. How do you become her?
Becoming "That Girl" can happen to you-it's true! Through some hard work, a meticulously planned out routine that you diligently stick to and a few good insta pics to prove it…you too can achieve the "That Girl" aesthetic. I spent one full week, in the name of research, living life like "That Girl." 
Here's what my research determined to be a "That Girl" routine and here's how to emulate "That Girl" through the mind, body and spirit. 

"That Girl" Wakes up early to reach all of her goals. Let's start there. 
5-8 AM- Morning Routine 
This morning routine usually includes coffee or tea, an aesthetic breakfast,  journaling, meditation, some deep stretching and a little light reading. 
Start by brewing an insta-worthy cup of coffee or tea. Now it's time to construct a breakfast worthy of "That Girl." This usually looks like a yogurt or smoothie bowl, avocado toast, bagel and lox or just a straight up smoothie. You can sip and eat while you move onto the next step in your routine: Journaling. 
The journaling component should feature a gratitude list where you write down the things you're grateful for that day along with a goal list of what you plan to accomplish that day. You can follow up your journal listing by doing a general brain dump of your thoughts or write your answers to carefully guided journal prompts that you of course found on Pinterest. 
Meditation follows suit complete with breathing exercises, mantras and more gratitude. While the goal of meditation is to clear your mind and try to "not think", this is incredibly challenging. You can also spend this quiet contemplation thinking more in depth about the type of day you'd like to have and visualizing it happen. 
End your morning routine with some reading, most likely from an inspirational or self help book. Approximately 15-30 minutes of reading time is recommended as part of the morning routine, but this depends on how much time your other healthy habits take. 
8-9 AM- Workout 
It's vital to stay in tip-top shape when you're aspiring to be "That Girl." Health, wellness and inner peace are key components that contribute to adopting a "That Girl" mindset. Popular workouts that would fall under this aesthetic would be: 
Yoga 

Pilates 

Hot Girl Walk 

Weight Lifting 

Cycling 

Running
Get up and get moving at least four times a week and practice active rest days on the off days. Active rest days are when you're still moving your body, but in a less intense way. On Active rest days you could go for a walk, do a deep stretch yoga class or go for a leisurely bike ride outside. 
9-10 AM- Skincare, Hair and Makeup 
"That Girl" always seems to glow from the inside out; leaving a dewey, filter-esque appearance on the outside. Having a skincare routine that's best suited to your skin type, along with a killer hair and makeup routine will help get you there. 
There are several rabbit holes we could go down when it comes to skincare, hair and makeup so let's keep it simple: 
Skin: Exfoliate, use serums suited to your skin type, moisturize, and gua sha. 

Hair: Slick back into a bun/claw clip or use curlers and a layered haircut to create va-va-voom volume. 

Makeup: Natural, sunkissed, bronze. Keep things more in the realm of lips, lashes and brows and stay away from heavy foundations, powders and concealers. 
Now that you're put together for the day, you can start your day. 
10-4 PM- Work & Lunch 
The time blocks for work, lunch and dinner may look a little different depending on your personal schedule. Feel free to mix and match these schedule blocks however you need as long as all of the activities, routines and healthy habits are in there somewhere. 
Through my research into the "That Girl" aesthetic, I realized the vast majority of these girls we're aspiring to be were working remote and/or independent jobs that granted them a little more liberty with their time. If you're stuck in a 9-5 that you just can't get out of, that's okay! There's still plenty of corporate girlies who are making this lifestyle work for them. You can do it! 
4-5 PM- Hot Girl Walk 
Whenever your work day does end, go for a walk. Most likely you've spent the bulk of your day at a desk so now it's time to get those steps in. If you can, embark on your Hot Girl Walk outdoors. A little fresh air and sunshine always does the mind, body and spirit some good. If it's a tad too cold for that, make an effort to get to the gym for a walk on the treadmill. 
If you take the treadmill route, there's a massive following in the "That Girl" world that is simply The Treadmill Strut. This is the art of strutting your stuff on a treadmill to a boppin' playlist. Activate your model walk and check out Allie Bennet, AKA @benntheredonethat on TikTok for her playlist on treadmill strut workouts. It's worth it. Your confidence levels will be through the roof when you're done with one of these walks. 
5-6 PM- Healthy Dinner 
Keeping in line with the key pillars-health, wellness and inner peace; it's time for a healthy dinner. We're talking nutritious, good for the body, brain fuel. Most of the dinners I found through my research into this routine consisted of chicken, rice and a vegetable. This coincides perfectly with the fit lifestyle that most of these girls have. 
What you eat for dinner will vary based on your dietary needs and preferences, of course. Just be mindful to eat as clean and healthy as possible! You are what you eat so aim for healthy, vibrant, whole foods so that you in turn can be healthy, vibrant and whole. 
6-8 PM- Social Time, Hobbies, Cultivating Passions 
You've already lived a pretty full day, but guess what? There's more! Now that you've taken care of yourself and your responsibilities, it's time to invest some time and effort into the skills, talents and hobbies that make you a well rounded "That Girl." 
This includes spending time with friends and family, cultivating a romantic relationship, spending time with your pets or caring for your plants. This is also the time to hone in on any special talents or skills that you've been practicing like a musical instrument, throwing on the pottery wheel, or learning another language. 
8-9 PM- Skincare & Bedtime Routine 
It's time to wind down for bed and take part in that rigorous skincare routine you did in the morning. It's probably at minimum seven steps and will no doubt take you at least 15 minutes. Once your skin is glowing and well moisturized, you can sip on some bedtime tea and read, or relax with an episode or two of your favorite show. 
9 PM- Bedtime 
Aiming to be in bed and asleep close to 9 PM, you're on track to rise in the morning at 5 AM to take on another day. Count sheep, visualize your dream life, listen to a guided meditation or just take some melatonin to help your brain say goodnight. 
Being "That Girl" is a lot of work. Achieving that aesthetic lifestyle that's envious of everyone else on TikTok and Instagram is almost a full time job in itself. Is it worth it though? Absolutely. After spending one full week living a "That Girl" lifestyle, I can attest that it does evoke feelings of health, wellness and inner peace. 
---