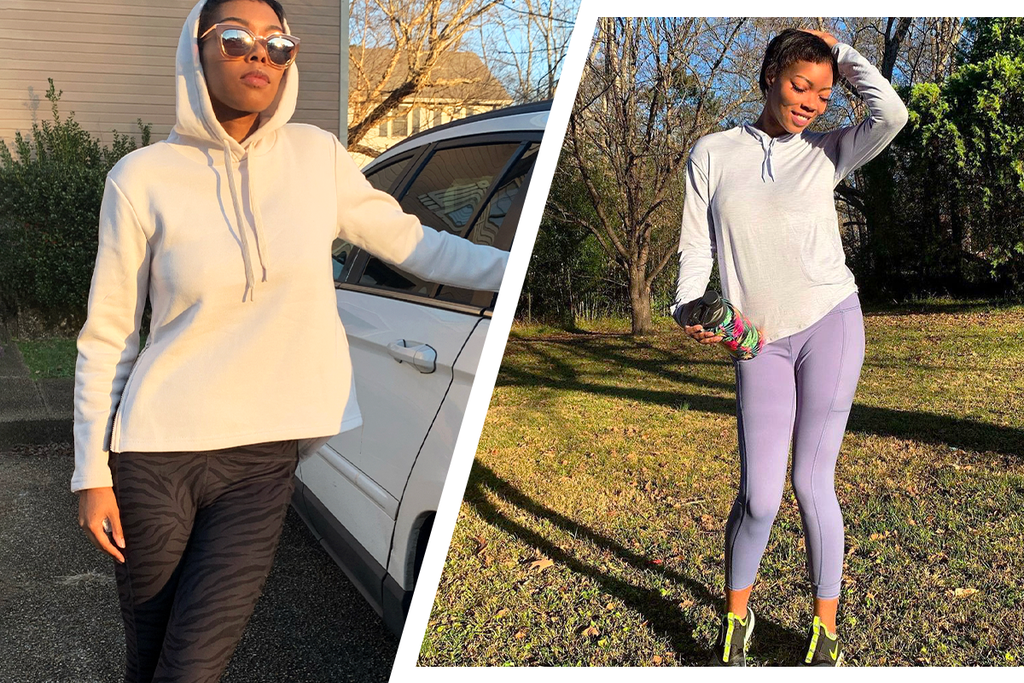 By Abriana Gardley, Contributing Blogger
We thought last year was exhausting, but this year really put things into a new perspective. One thing I learned is that I definitely want 2022 to be the year of productivity.
At one point in time, I didn't ever think I would find comfortable clothing that would actually be stylish and look good on me. My mindset was stuck on the notion that I always had to dress up like a barbie doll. These last couple of years forced me to realize that soft-to-the-touch hoodies, warm lined pull-overs and yoga pants truly are my forte for everyday activities, which is certainly a vibe included in my New Years Resolution.   
My new found excitement for active-wear has me jumping for joy this New Year. I've discovered that you can mix and match athletic outfits and still look sassy without sacrificing your comfort zone. Some colors that I'm raving about this year include shades of purple, neutral tones and wonderful slimming black and dark grays.  
I look forward to being able to host small gatherings again and this outfit is perfect for all around sweat-proof and move-ability in these colder months. A go-to hoodie that I'm absolutely loving is my light purple Everyday Super Soft Hoodie (from RBX's newest Collection). I've never felt anything as light and airy as this! You can layer it with puffer vests, sweater vests or heavier long sleeve jackets. Personally, I think it's way too cute (especially the thumbholes, because who doesn't love thumbholes?) to be hidden underneath anything, but the versatility of this hoodie is key.
Leggings are such a staple in many ladies' day-to-day looks. I love to pair my Everyday Super Soft Hoodie with the Highland Super Soft ⅞ Leggings in periwinkle, they are to live for. They have deep pockets and are incredibly smooth. They hold my phone and keys in place all day, which is great since I'm notorious for misplacing important items. Where to wear these leggings first? That's a tough question I ask myself, because of such a staple they are in my life. They're great to wear at home, to the grocery store, and maybe even brunch to celebrate surviving another year! This combo is so cute for those fitness focused days.
This year, I'm looking forward to implementing athleisure clothing that gives a little edge to my casual looks in varying temperatures. Luckily, where I'm located there's no snow yet, so in the daytime it feels pretty good outside. Therefore, when I wear my Ivory Ashland Fleece Zip Sweatshirt, I can just adjust the side zippers to give my body a little more air, and re-zip it when the temperature drops. The hoodie has a perfect balance of fabric and fleece, it's not too hot and it's not too thin. They come in a variety of gorgeous colors that you can mix and match with other items in your wardrobe. I went with this color because the neutrality of it lets me wear it with just about anything I can think of. Yes, even Pajamas.
I love to pair the Ashland Fleece Zip Sweatshirt with the black and gray Zebra Super Soft Ultra Hold Legging. Again, the deep pockets and the breathability of these bottoms are fantastic. The compression on the leggings are the best I've come by thus far. Want to do squats? Go for it. You bend over to pick something up, they don't ride down and show off the goods. The high waisted band keeps you in check all the way around and even portrays a shaper. So when you want to show off those curves, these are the go-to leggings.  
The print on the Zebra Super Soft Ultra Hold Legging is so fun and chic. So much so that I wore it at a New Years Eve party! Who would've known that I could pull off work-out pants at a shindig? Funny enough, many did have similar questions regarding my outfit.
Talk about switching it up. It pays off to be comfortable at any public event, but comfortable and stylish? Pairing the leggings with a black sleek puffer sleeve top, stitch up stiletto boots, and my favorite gold jewelry brought it all together. Nailed it! 
I didn't experience any chafing or irritation like I have with other brands. As someone with mild anxiety, I'm impressed that I didn't sweat in any of RBX's clothing, from sweatshirts to pants. I've gotten asked about these leggings so many times throughout the night and every time I had to brag.
When it's all said and done, like last year, moving into a new direction with a clearer mind and a stress-less wardrobe is easier spoken than practiced. But little things like finding your balance of cozy and trendy really do make a difference with hectic schedules.
---