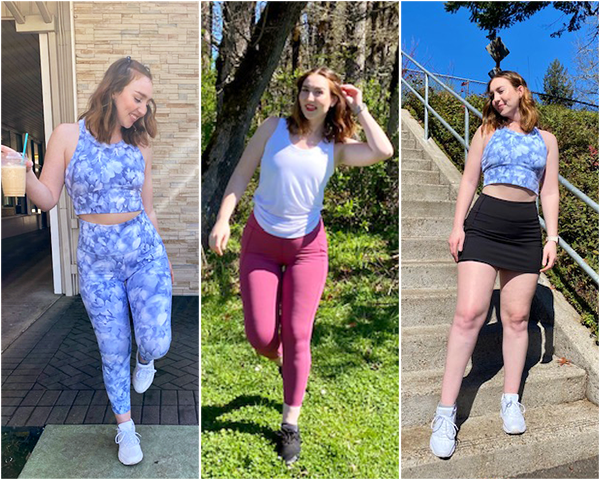 By Katy Duncan, Contributing Blogger
Integrating spring colors into your athletic wardrobe is easy and fun. It's also something that most people are eager to do. Many of us have spent the last several months bundled up in various shades of gray and brown to match the stormier, darker weather. 
Now is the time to shed those layers and step into spring with pastels, breathable materials, and an extra dose of confidence to rock these looks. 
When it comes to adding a sprinkle of spring to your athletic wardrobe, I've got a few ways you can make it happen.  
Pair it with Fun Lip Colors
Most areas have removed mask mandates now, meaning you can finally show off fun lip colors again instead of just having them show up on the inside of your face mask. 
While this is great news for our lips, most likely, the lip colors you had pre-pandemic are going to be expired. I know, sad day. Generally, lipsticks have a shelf life of 18-24 months. Using old and outdated lipstick can lead to lip infections, a more chunky, dry texture if it's a liquid lip or breakouts around the lip area. That's not going to pair well with your new spring look. 
Instead, use this as an excuse to make a few splurchases (that's slang for a splurge purchase, FYI) and treat yourself to a few new shades. One color that's especially "in'' this year for spring is bright pink and various shades of bright coral/orange. When you pair a bright, bold lip with a stylish activewear set you can stand out from the crowd on your next hike, bike, or yoga class. 
Don't Be Afraid to Stand Out
Winter typically goes hand in hand with feelings of hibernation. Most of us want to be reclusive, we may have indulged in a few extra treats around the holidays and now we're feeling a little self-conscious and confused about spring fashion trends. I'm here to tell you, it's okay to let yourself be seen! 
A great way to integrate spring colors in a way that sets you apart from the rest is a cute matching set. Coffee optional. With more matching sets hitting the scene this spring, it's easy to find a color and pattern that matches you and your vibe. 
Matching sets are so versatile too! You can wear them to a yoga class, then throw on a jacket or wear them as is to lunch with the girls. Bonus: You'll spend less time putting together an outfit too because the top and bottom are already a perfect match. 
Have Fun with Fashion
Swipe to turn on vacation mode. ⬅️ Pairing your athletic wear with something you would typically reserve for a spring break trip is a great way to bring a little fun and a pop of color to your athletic look. 
Skirts are the first piece of clothing I think of when I see sunshine. While skirts are not always practical as athletic wear, when paired with a floral sports bra like the Zen Aster Super Soft Bra you can bring athleticism and style together in one cohesive, cute outfit. 
This style is fantastic for packing for a trip too. Your stylish new sports bra top can double as workout gear and a fun out-on-the-town top when you're ready to take things from day to night. Recycling your activewear for a more dressed-up appearance means fewer items in your suitcase so you can fit all the new clothes you'll buy shopping on vacay. It's a win-win. 
Not to get too deep here, but spring is a time for blooming. Let yourself bloom and let the flower that is you be seen and appreciated but hopefully not smelled. Allow yourself to add bright pops of color to your activewear wardrobe and have fun with it. Life doesn't have to be so serious and neither should your athletic apparel be. 
By incorporating the spring style tips above, you'll be turning heads in no time and feeling great about how you look in those stylish new workout wear sets. 
---