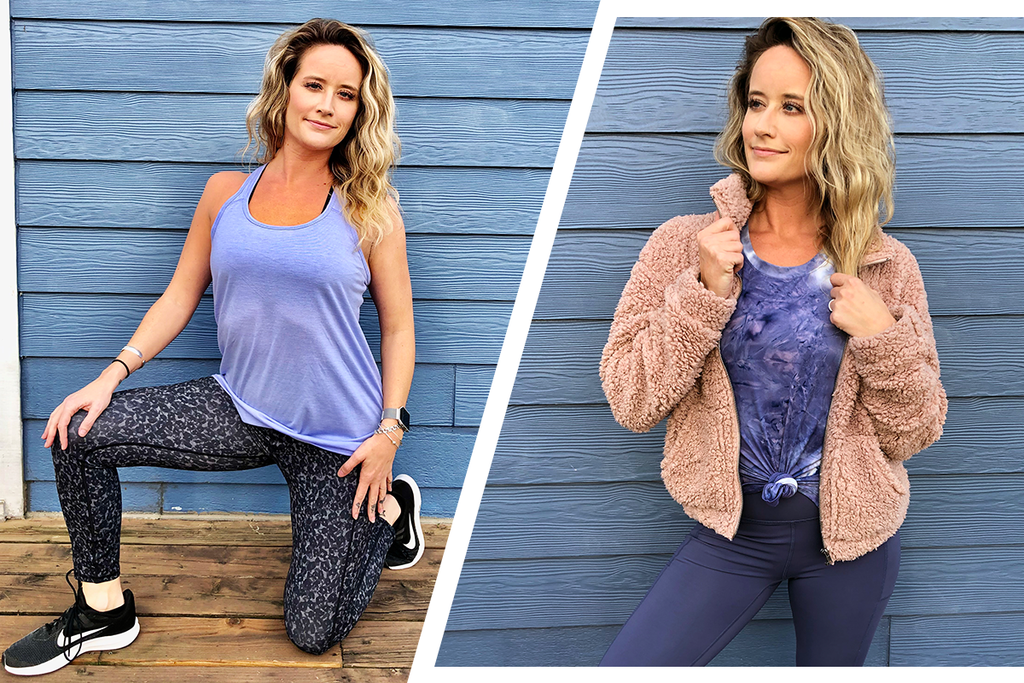 By Ashley Brewer, Contributing blogger
If there's one thing we're all after with our outfits this year—it's comfort. Whether you're going to the gym, yoga studio, or working out in your living room, your outfit needs to move with you, breathe, feel comfortable, and, of course—look cute. And when you don't have time to change (or simply just don't feel like it), outfits that can easily transition from fitness to fun can make your life so much easier. 
So, when you're meeting up with friends for happy hour after your afternoon gym session or heading out to brunch when your morning yoga class wraps up—we've got you covered. Swap out your shoes, add a cute basic sweater, and throw on some earrings—and snap! You've gone from the gym to the city with hardly any effort at all. 
The Prime Tech Flex Ultra Hold ⅞ Legging paired with the Studio Zen Super Soft Tank is the perfect combo to wear for your morning pilates class. Not only are the squat-proof leggings (with pockets!) a great basic item to always have on hand, but they're also comfortable, flattering, and super versatile. As for the tank, it's so soft and comfy, you'll practically want to live in it (no judgment here). This simple activewear outfit lets you move with ease while wicking away any moisture.
It's easy to upstyle this outfit to run errands, grab lunch, or meet with friends after you're done with your workout. Throw on a sherpa or zip-up sweater, put on some Converse, and you've now got yourself an adorable casual look that you can take just about anywhere. Casual day at the office, your favorite cafe, or just hanging at the park—you're golden.
Feeling a little wild? Pair the Leopard Ultra Hold ⅞ Legging with the Prime Relaxed Twist Bank Tank Top and you've got a bold yet understated look perfect for whatever fitness activity you're getting into. The stretchy, breathable leggings have an eye-catching pattern, pockets for your cell phone, and will have you feeling confident and covered with the high-waist. The tank is an ultimate go-to shirt, whether you're working out or not. The twisted back feature adds a nice feminine flair that looks adorable when you're rocking your hair in a ponytail. 
Need to head downtown after the gym? Just throw on some earrings, a pair of low-top sneakers, and a basic sweater or hoodie to elevate your look with hardly any effort at all. Feel free to tie the top in a knot to switch it up as well. Low-maitenance, comfortable, and fashionable? Yes, please! 
Who said gym clothes had to stay in the gym? Forget baggy t-shirts and sweats that you wouldn't want your crush to see you in—with these versatile looks, you can go from a casual day at the office, to barre class, then out for drinks all without ever having to change your base outfit. I think we can all get behind that. 
---