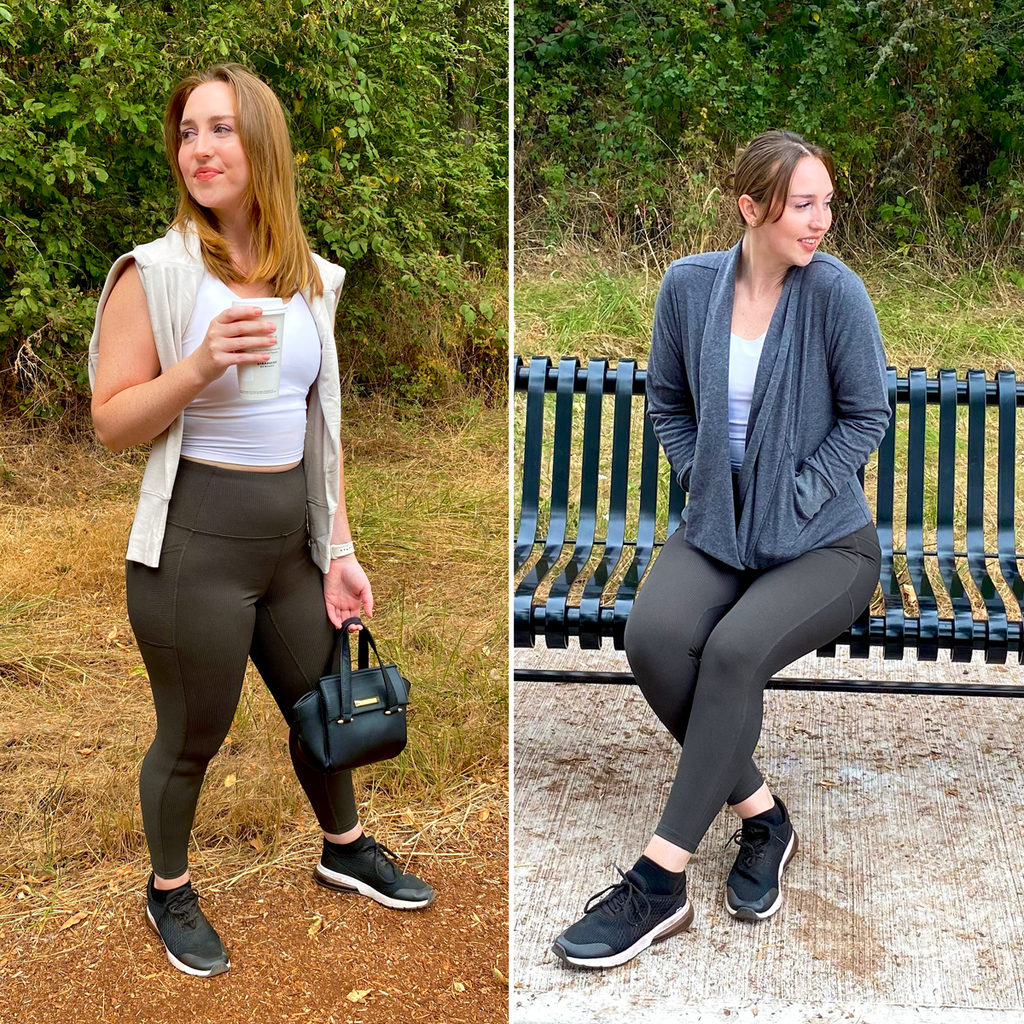 By Katy Duncan, Contributing Blogger
It's hot, it's cold, it's raining, the sun is shining. What month am I talking about? If you said September-you're spot on. September is that odd month between the end of summer and the beginning of fall that refuses to adhere to any standard weather pattern. Its weather is reminiscent of what we're likely to experience in the spring; unpredictable. 
All in one day, it could be 92 degrees fahrenheit and 55 degrees fahrenheit. It could be sunny for most of the day with a high temps and a high UV index and then sporadically start pouring down rain and enclosing us in a dark cloud cover; with or without some hail and some pre-fall, fallen leaves. 
So what do you wear when the weather falls in-between summer and fall? Here's a practical guide to styling your activewear for whatever weather September throws at you. 
Wear Layers
Wearing layers is a great way to be prepared for sporadic September weather. If you have comfortable pieces you can take on and off, you'll stand a better chance of being comfortable throughout the day. Having a sweatshirt like this one that is super soft, very breathable and has a flexible feel to it is a smart style choice. Its design makes it easy to style in multiple ways. 
A lightweight sweatshirt like this one will be one of your most valuable pieces in your activewear wardrobe this fall season. A few ways you can style this sweatshirt are: 
Roll the sleeves up three quarters of the way and enjoy a lighter look, wear it with your thumbs in the thumb holes (that's right. This sweatshirt has

thumb holes

), or wear them just down to the wrist. 

Go for those tennis club vibes by tying it around your shoulders. This is especially great when the weather gets hot during the day but stays cooler in the mornings and evenings; you can slip the sweatshirt back on when it turns cloudy and cold. 

Tie it around your waist and style it with

leggings

, shorts, jeans, or even a skirt. This sweatshirt really does go with everything! 
Dress for Comfort
Because you never know what September is going to throw at you, it's a good idea to prioritize comfort. That way, even if the weather takes a turn for the worse…or the sun breaks through the clouds, you'll be ready either way. Having staple pieces like cute joggers, comfy shoes and lightweight sweatshirts will be helpful this season-add them to your cart if you haven't already!
Besides,is there anything more comfortable than the right pair of joggers? I'd argue that there's not. This pair of joggers are breathable and moveable so you won't feel that irritating clingy feel that some joggers can give if you sweat. They provide enough coverage to keep you warm but are also lightweight enough that you won't get too hot when the sun is shining. The waistband is comfortable and adjustable via a tie. The ankle cuffs are stretchy and longer than most joggers so they're easier to manipulate into the style you want. Need I say more? Don't walk, jog to get some joggers.
On cool September mornings, a light sweatshirt is a comfortable choice to pair with the joggers. You can ease into your morning in comfort…and style! 
Keep it Classic With a Cardigan
In my opinion, a cardigan in the fall is a must have item and this one is just what you've been needing in your activewear wardrobe. It's stylish enough to be paired up with any outfit for running errands or getting lunch after a workout, or to keep you warm and cozy on your way to your workout. The material is so soft and comfortable that you'll be begging for "sad girl autumn" to hit just so you can curl up in this with a pumpkin spice latte and Taylor Swift's entire discography. Bonus points: It has pockets!! Real, actual, deep pockets! 
Having pockets is always a plus but especially in September. On a walk in the morning and the air is crisper and colder than it's been in awhile? Put your hands in your pockets. Making a trip from the car to the gym and need to free up your hands. Put your phone and keys in the pockets. 

Don't get caught in the shambles that are September weather and be prepared with your style choices. Mixing and matching these great activewear pieces will keep you cool, or warm, when the weather can't make up its mind. 
You'll always be prepared! 
---