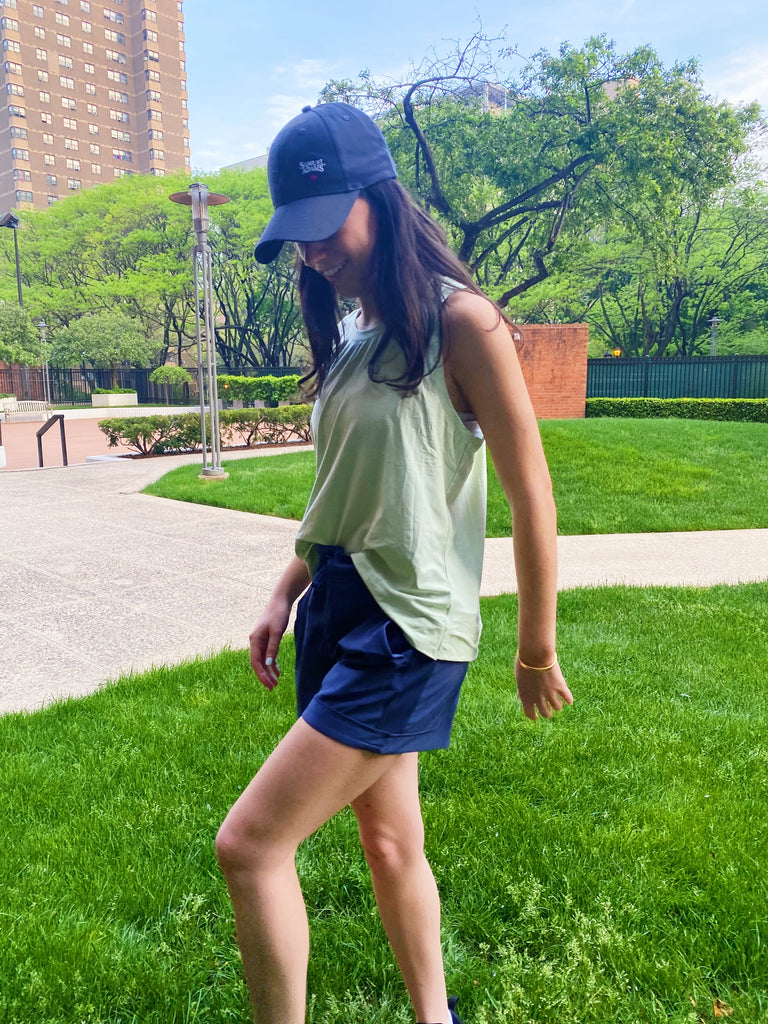 By Emily Certo, Contributing blogger
As late Spring is upon us, so is the beginning of the Roaring Twenties.  Everyone…and I mean everyone, is itching to get out and about!  As we have all been cooped up in our houses for over a year, now is the time we are going to be able to be getting back out there, into the world.  Whether that means running to Trader Joes, the park for a picnic, or a nice walk, everyone just wants to get out.  Now is the time we can meet anyone anywhere It's imperative to channel your inner Carrie Bradshaw, and dress to impress, but in a "laid-back" way. 
Dressed to the best, but also, dressed like you did not try. How exactly do you do that? Athleisure.
The key to a successful "casual cool" look in New York City is to dress like you took no time at all to put your outfit together.  After all, we are only running errands and lounging in Central Park, right?  The perfect combination is to be comfortable and cool.  Browsing online these days, or for me, shopping in New York City, athleisure can be expensive… and if you're anything like me, I want don't want to be sweating in something that cost me a fortune.  I am looking for outfits that are breathable, inexpensive, and obviously, cute.
RBX Active is exactly where you can find that.  Not only is the material high quality, but the price is something you truly can't beat for the quality you're getting.  Now, I am going to get started on how I style my favorite items this Spring from RBX Active.
First things first this Spring-- we need color in our wardrobes.  As you can see, I paired the Stratus Super Soft Tulip Tank with these simple navy leggings.  The lime green adds some character and can be seen as more fashion forward, while the leggings bring it back down to earth. It's all about balance.
I also added jewelry! Jewelry always elevates your outfit to the next level.  It simply makes it look like you tried, when in reality, you just threw on a pair of leggings and a tank.  I personally like to tuck my tank in to give it more of a fitted look, making the outfit more youthful, but you can also do a basic side tuck as seen below!  The great thing about this tank top paired with the leggings is the lightness of this tank is perfect for Spring weather when paired with the leggings. 
Next, I opted for the Prime Ribbed Walking Short.  Thankfully, we are coming back into a time where longer, flowy shorts are making their way back in, and boy am I glad.  Rather than the small, tight, suffocating short shorts, we are now opting for the comfortable boyfriend look.  I paired these shorts with this navy sports bra to give it an elevated, sporty look.  Again, comfortable and cool, like I didn't even try.  The shorts are extremely breathable, and I honestly feel like I'm wearing nothing at all! The best part about these shorts is the material.  Almost like a silky-satin material that flow when you're walking.  It is perfect for a day out in New York running errands.  
Styling outfits is all about balance.  Balance between the accessories and balance between the symmetry of the fit.  What I mean by symmetry of the fit is, I usually like tight and loose combined.  A tight shirt, loose shorts…or tighter bottoms, and a looser shirt.  Tight on tight and loose on loose, does not elevate your outfit.  Again, I think it gives the outfit a look that shows you didn't try, but you look trendy and elevated.  The best thing about these pieces is together or apart, they are so cute and comfortable and are perfect whether you're running errands or working out!
---