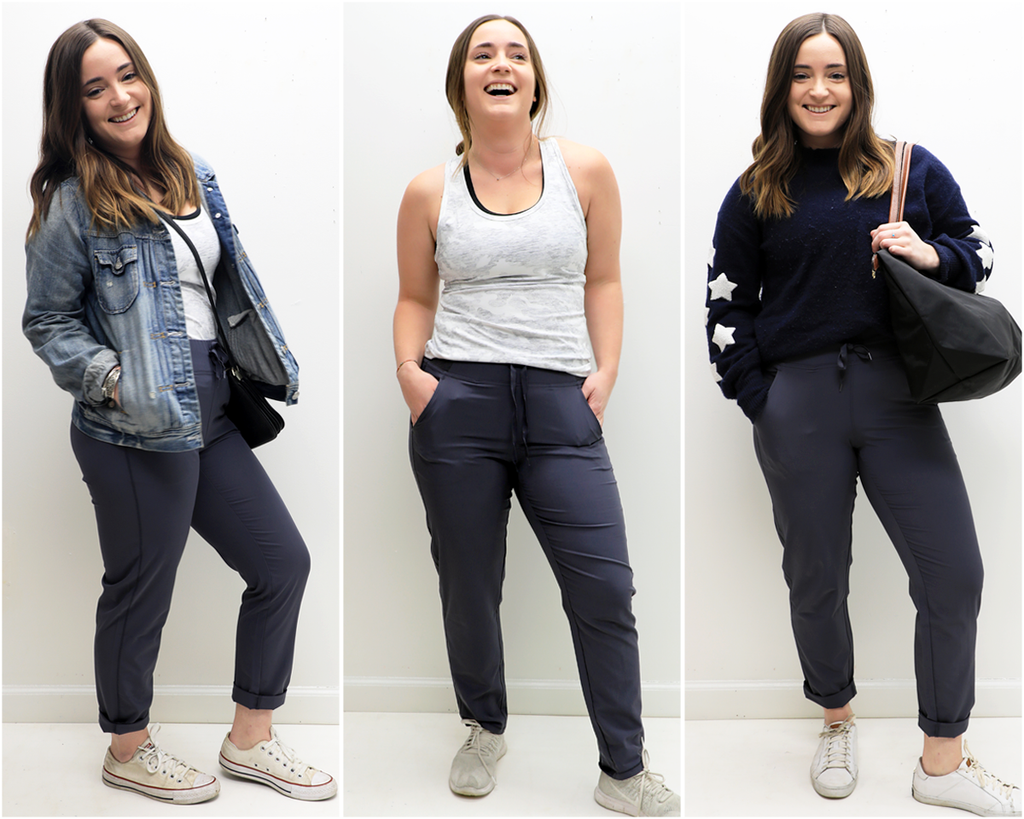 By Nathalie Kirby, Contributing Blogger
Who says you can't wear gym clothes to brunch? The age of athleisure is upon us, which means it's never been easier (or comfier!) to master a cute look. A morning gym sesh can easily turn into a casual brunch date with friends, so knowing how to transition your look from the squat rack to the coffee shop is key. Adding a few basic items and making some simple swaps can immediately elevate your look and transform your leggings and gym tank to a chic day look.
The Prime Weekend Ankle Pant is the perfect bottom to throw on after a Sunday morning yoga class. Paired with this Prime Super Soft Camo Tank, you'll be stylish inside and outside of the gym with a few easy swaps. For a more relaxed look, add a casual denim jacket and silver cuffs. Roll the pants for a springy update and pair with white converse to complete the look. For chillier spring days, layer a neutral sweater underneath the denim jacket. Brunch anyone?
If you're hitting the gym before work, but don't have time to hit the showers (we've all been there, so no judgment on that one), don't stress. The Prime Weekend Ankle Pant just as easily transitions from the coffee shop to the office. Throw on a fun sweater, like this navy and white star-accented pullover jumper, and white leather sneakers or loafers for a business-casual look your boss would totally approve of.  
Outfit #2: Prime Ultimate Leopard ⅞ Leggings and Prime Relaxed Twist Back Tank Top
These Prime Ultimate Leopard ⅞ Leggings are the perfect combo of understated and unabashadley bold. They definitely win as the focal point of your look, which means you only need to add a few items to elevate your 'fit. For a casual errand look, consider layering your favorite black sweater over your gym tank and leopard leggings. Swap out your gym shoes for a pair of casual white sneakers and you're ready to take on the day!  
Chillier spring days might call for a jacket, but that doesn't mean you have to sacrifice style. Layering a lightweight hoodie and denim jacket over the tank will keep you warm and trendy. Remember, adding the right accessories can make or break your look, so choose wisely. A fun pair of earrings, like this pink tortoise hoops, or a classic pair of sunglasses, are the perfect pick. Trade your gym sneakers for a pair of white low-tops to finish off the look. 
So whether you're heading to the coffee shop or the office, it's never been easier to elevate your gym look. Adding just a few basics and the right accessories will have you looking stylish from the treadmill to a day of errands in no time!
---