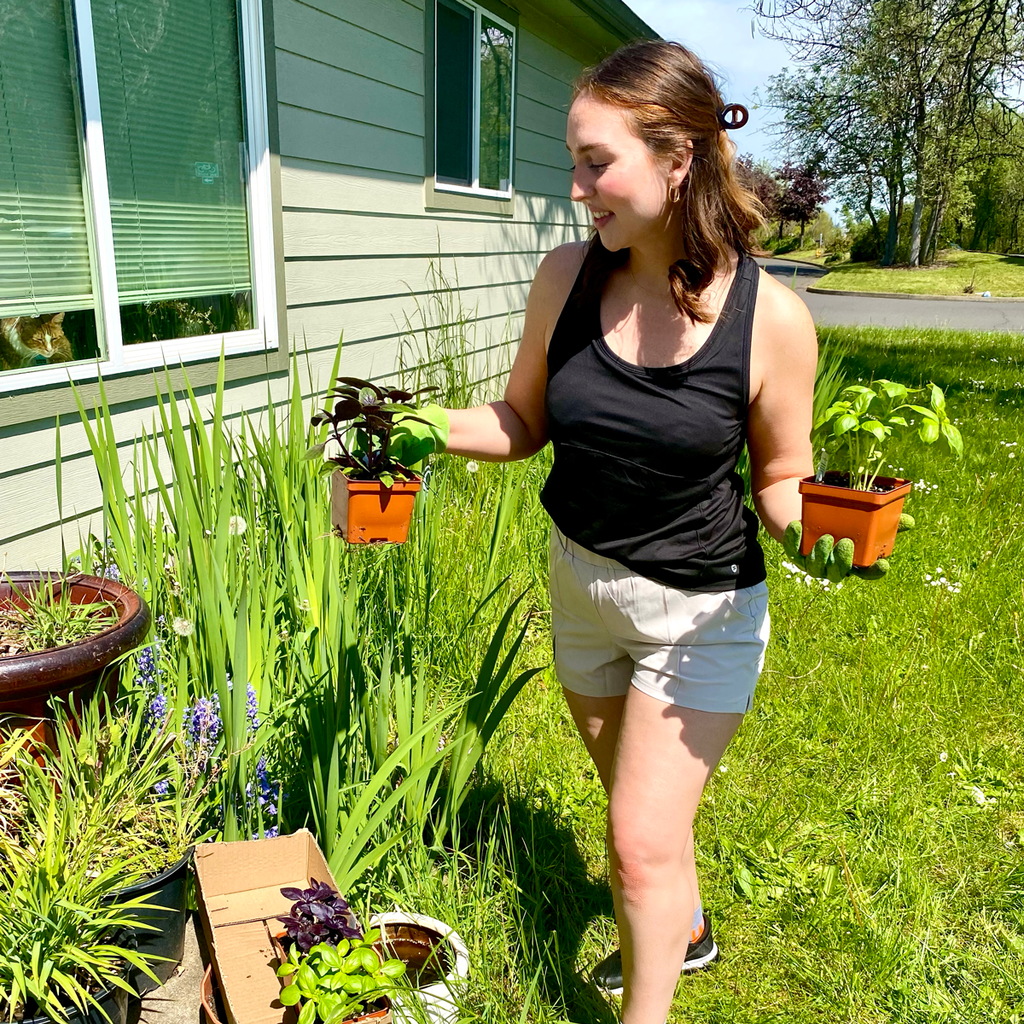 By Katy Duncan, Contributing Blogger
When choosing attire for an everyday errand, chances are shorts and skorts aren't the first thing that pop into your head. These light pieces don't provide as much coverage but they're serving up more style than your Zumba class or local grocery store can handle. Don't discredit the soft, stretchy skorts of your activewear wardrobe! These aren't just for tennis clubs and jazzercizing anymore. Skorts and shorts are great for everyday activities too. 
Whether you're getting ready for the day, doing the weekly grocery shopping, out on a walk, or binge watching the latest season of Bridgerton- skorts and shorts have you covered. Literally! 
Read on to learn how you can wear these pieces for your everyday errands and look good while you do it. 
1. Wear Them While You Get Ready for the Day
For most people, putting themselves together and getting ready for the day is the first step in their morning routine. It's easy to go into "sleep mode" if you delay the getting ready process, instead opting for your bed. At a certain point, why get ready at all, right? 
Start your day off on the right foot and spend a little time on yourself. Put on a cute outfit, turn on your favorite playlist (mine is Taylor Swift radio on Spotify) and do your hair and makeup. Skorts are a good choice for this everyday activity because you can bust a move, drop it like it's hot, and get jiggy with it while still feeling covered and supported where you want. 
The sports bra is a great piece to wear on top because it leaves enough space around your neck and collarbone that you won't easily get makeup on your clothes. Ridding foundation or bronzer from a shirt may be the hardest thing you do in life. Make your life easier (and your clothes last longer) and wear a sports bra instead when getting ready in the mornings. 
2. Wear Them While You Shop
 Wearing a two-piece matching set is a cute and comfy choice next time you hit the aisles of your local market or farm stand. 
Bonus Points: If you're shopping for organic foods on that trip-bonus points to you! 
Shorts provide coverage where you want while allowing for breathability as the weather warms up. This is especially great if you're swapping the store for the local farmer's market because you won't get overheated amongst the people, booths, or open air design of the market. The matching top helps tie it all together so you look like you put some serious thought and effort into your look that day. Little do passersby know, it only took you two minutes to put together. 
When you choose a matching set, you take the guesswork out of getting ready. Your outfit is already put together for you! All you have to do is put on your trusty tennis shoes, snag your shopping list, and hit the store. 
If you're at a loss as to what to wear underneath the hoodie, a simple sports bra or tank top will suffice. If you can make it match your tennis shoes-even better! 
Don't forget to take a trip down the plant aisle! As we all know, plants are the new pets and pets are the new kids. Grab an herb like basil and enhance your garden and cooking. 
3. Wear Them for an Afternoon Walk 
It's hard to compete with the beauty of a bright and sunny spring day! This blue skort and spotted sports bra come pretty close though. Skorts are the ideal choice when it's time to get your steps in. Skorts move with you while you walk, bend, squat, jump, or jog on the trail. This is just what you need when you're headed out for a Hot Girl Walk. The last thing you want on a fun, leisurely walk is to be getting caught up in your clothes with every step. This skort leaves your steps tangle free. Pro Tip: Since it's also spring; take your allergy meds before your Hot Girl Walk so you don't get Hot Girl allergy tears streaming down your Hot Girl face. Thank me later! 
Sports bras are a no-brainer when the sun starts to shine too. They're breezy, stylish, and allow you to move freely while you walk. This is wonderful when you're out for a stroll on a hot sunny day. Keep it cool with a sports bra on your next sunny walk!
Living in a location that hasn't quite hit warm weather yet? PNW, I'm looking at you! This outfit, along with the others featured in this post, pairs exceptionally well with a denim jacket. If your torso is warm, you can retain heat a little easier and sacrifice the warmth on your legs in the name of fashion. It's worth it! 
 
4. Wear Them While You Garden 
If you've got a green thumb, then get in the garden with this outfit on. The tan shorts and black tank top are great at minimizing the appearance of dirt-hello, earth tones! You can dig deep and get your hands dirty without doing the same to your clothes. 
As the weather warms up, it's the ideal time to get some plants in the ground. This time of year, weeding out grass and weeds from around plants that made it through the winter is a good idea. This clears room for you to add new plants. 
Extra Credit: If you're planting a sustainable garden to enhance a clean eating diet, you're doing it right.  
5. Wear Them While You Binge Watch TV 
Whew! What a day! We've done hair and makeup, we've shopped, we've walked, we've gardened. It's about time for a good ol' fashioned binge watching marathon. You pick the show! Sometimes, spending too much time on the couch can make you feel guilty (thanks, hustle culture). 
At least when you look and feel "put together" in this two piece set you can lounge without quite as much guilt. Sometimes, just looking like you haven't been completely absorbed in Bridgerton for the last nine hours can help you feel like you're staying on track and aren't a complete couch potato. 
Skorts and shorts can be intimidating to wear sometimes, I get it. Maybe you're worried about how your legs look after a long winter season spent indoors. Maybe you're worried that someone will catch a view of "London & France" if the wind catches your clothes just right. These hangups can easily be remedied so you can rock those short shorts in confidence!
If you're worried about wearing something other than pants and capris, you can easily slip on a pair of bike shorts under any of these pieces to provide a little extra coverage and peace of mind. *Layer of self-tan optional*.  
Word of the wise, "Life is short, so wear the shorts!" 
---