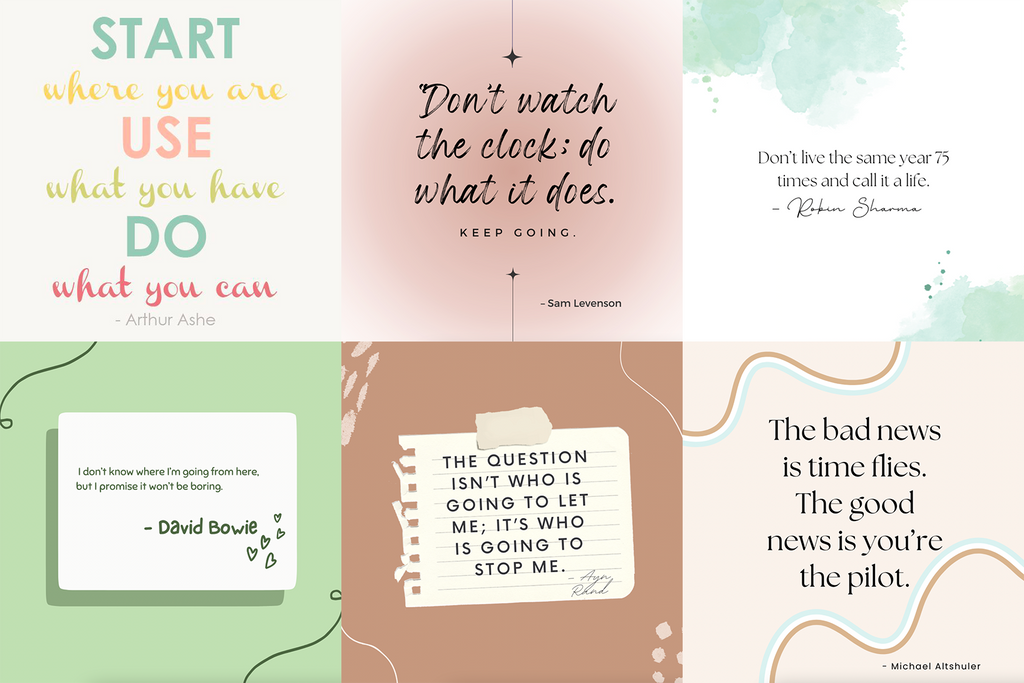 By Katy Duncan, Contributing Blogger
As we enter into 2023, it is a time for reflection, motivation, and goal setting. To help start your journey off on the right foot, here are some inspirational quotes to help guide you through the new year. Whether you are looking to make resolutions, plan for the future, or just need a bit of encouragement, these quotes will provide you with the inspiration you need to take on the year ahead. 
So read on, get inspired, and make this your best year yet!
Quote #1 
It doesn't matter where you start, just as long as you do! 
"Start where you are. Use what you have. Do what you can." – Arthur Ashe
Quote #2
Just keep going. You'll get to where you need to be someday. 
"Don't watch the clock; do what it does. Keep going." – Sam Levenson
Quote #3
Be one of those people who makes things happen. 
"Some people want it to happen, some people wish it would happen, others make it happen." – Michael Jordan
Quote #4
You're the only one holding you back. 
"Only one person can stop me or keep me going; I myself." – Vikrmn
Quote #5
Face your fears. It's worth it. 
"The brave man is not he who does not feel afraid, but he who conquers that fear." – Nelson Mandela
Quote #6
Take the ingredients you're given and bake them into something beautiful. 
"The winner is the chef who takes the same ingredients as everyone else and produces the best results." – Edward de Bono
Quote #7
You get to decide whether you win the day or not. 
"Yesterday is not ours to recover, but tomorrow is ours to win or lose." – Lyndon B. Johnson
Quote #8
The only one getting in your way is you. Don't stop yourself! 
"The question isn't who is going to let me; it's who is going to stop me." – Ayn Rand
Quote #9
We make our own luck in this world. And our own success! 
"Opportunities don't happen, you create them." – Chris Grosser
Quote #10
Live your truth. 
"Ring out the false, ring in the true." - Alfred Lord Tennyson
Quote #11
"I don't know where I'm going from here, but I promise it won't be boring." - David Bowie
Quote #12
We can't control time, but we can control what we do with our time here. 
"The bad news is time flies. The good news is you're the pilot." - Michael Altshuler
Quote #13
Don't look back because you're not going that way. 
"You can get excited about the future. The past won't mind." - Hillary DePiano
Quote #14
The same actions day in and day out won't grant you a different outcome. 
"Don't live the same year 75 times and call it a life." - Robin Sharma
Quote #15
You get out what you put in. 
"What the new year brings to you will depend a great deal on what you bring to the new year." - Vern McLellan
These quotes provide a great starting point for a journey into the New Year with renewed motivation and inspiration. Take these words as reminders that hard work, dedication, and passion will always take you closer to your goals and dreams. With focus and consistency, you can turn your dreams into reality in 2023!
---