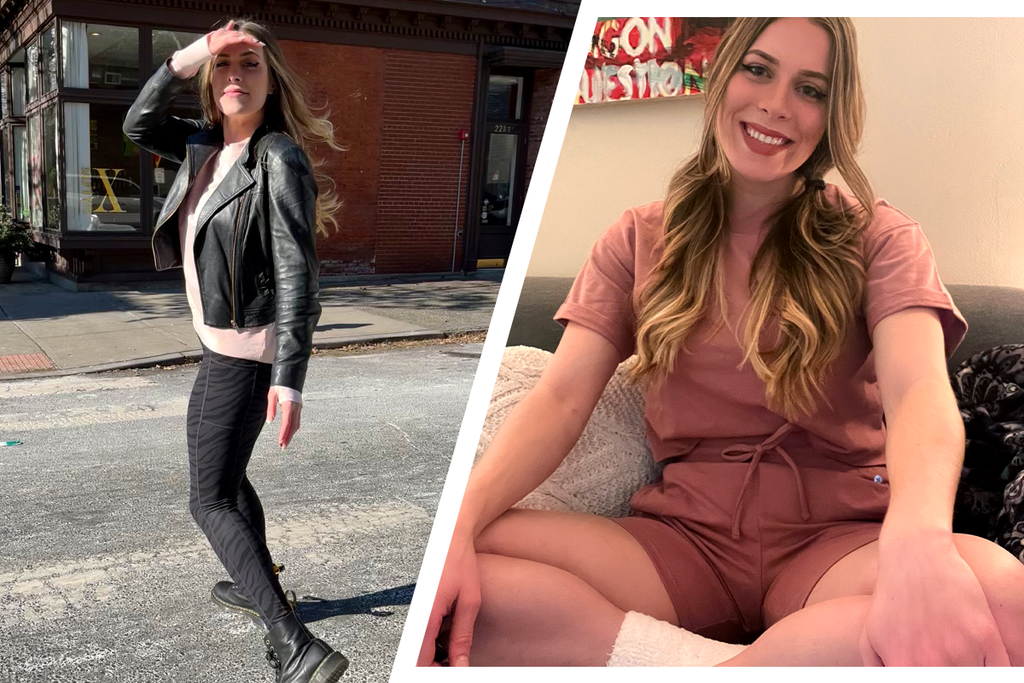 By Victoria Pallien, Contributing Blogger
On a usual February afternoon, you can find me cuddled up with a warm cup of tea. For a lot of  us, this month is in the dead of winter and it feels like it–often cold and dreary. But buried within  the spouts of gray weather is one of my favorite holidays, Galentine's Day, which calls for bright, cozy outfits! It's the perfect time to break out our favorite pink looks from RBX Active. I'm so excited to show you how I styled these ultra-comfy looks for the holiday festivities. 
Galentine's Day is all about being authentically you and showing gratitude for your amazing girl  friends! To celebrate this special day of female empowerment and sisterhood, my friends and I  love a night-in to do face masks and watch movies. And this brings me to my first RBX outfit: the Organic Cotton Everyday Cropped Tee and the Organic Cotton Everyday Short. These two in pink are a match made in  heaven. As soft as can be, this set is perfect for lounging on the couch with your best buds, but  is beyond chic enough to wear on an emergency Target trip when you run out of snacks. I love  to pair this matching look with fuzzy socks and easy pigtails. 
From indoor to outdoor, I layer a denim jacket on top of the Sunrise French Terry Sweatshirt and swap my shorts for my Zebra Super Soft Ultra Hold Leggings. With their subtle zebra print, these leggings  are perfect for working out in or wearing around for a day of errands. They'll have you looking  super chic no matter what's on your agenda! I throw on a pair of platform lace-up sneakers and finish the look off with a baseball cap. Another way I love to celebrate the February holiday is  with a friend date to my favorite coffee shop. There's nothing better than girl time and caffeine,  all the while sporting a comfortable 'fit that also looks super trendy! Thank you, animal print!
In the spirit of my favorite holiday and all things supportive for women, I take to journaling in my Everyday Shorts and a favorite basic tank top. I tie my hair up with a claw clip and slip on my  favorite fuzzy slippers. There's no better way to clear your mind than to journal it all out and  when you look good, you feel good, so why not do it while wearing the Everyday Short? These  cotton-blend shorts are soft enough to relax in, but don't worry, the fit is tapered and structured  so you can pop out of the house in effortless style. The fit is probably my favorite part about these shorts! I wear them high on my waist and the legs are still long enough on my 5'8" frame  to move around in without any wardrobe mishaps. I'm definitely packing these shorts for lunges  at the gym. Leg day, here we come.
I also love to pair my RBX zebra-print leggings with my Sunrise French Terry Sweatshirt. Did I mention these leggings have side pockets ideal for your phone, ID, or keys, and are totally squat-proof? They're made for yoga in the park with your best friends, another one of my favorite Galentine's Day traditions, or for your regular workout sessions. When I'm done with my  Vinyasa flow, I'll throw on a leather jacket and my combat boots to give the look some edge and  balance out the super sweet light pink of my sweatshirt.
Let's talk brunch, another fantastic Galentine's Day must-do! For a meal of French toast and  cappuccinos, I wear my cozy French Terry Sweatshirt and tuck it into some pleather pants to  further define the sweatshirt's ribbed high-low hem. The days are still cold so I put on my  favorite black coat and layer up with a scarf and gloves. Oh, and don't forget the lug sole knee high boots. Who said athleisure can't get dressed up?
Whether you're staying home or going out this February, RBX activewear has you covered. There are endless possibilities for styling these velvety smooth athleisure pieces. It helps that they come in the prettiest shades of pink, making your Galentine's Day 'fit super easy to put  together. Even if you pick up the Everyday Cropped Tee or Super Soft Ultra Hold Leggings specifically for the holiday, you'll soon realize they'll turn into your new wardrobe staples. Feel free to snag a few styling tips from my outfits and thank me later! Happy styling and happy  Galentine's Day!
---