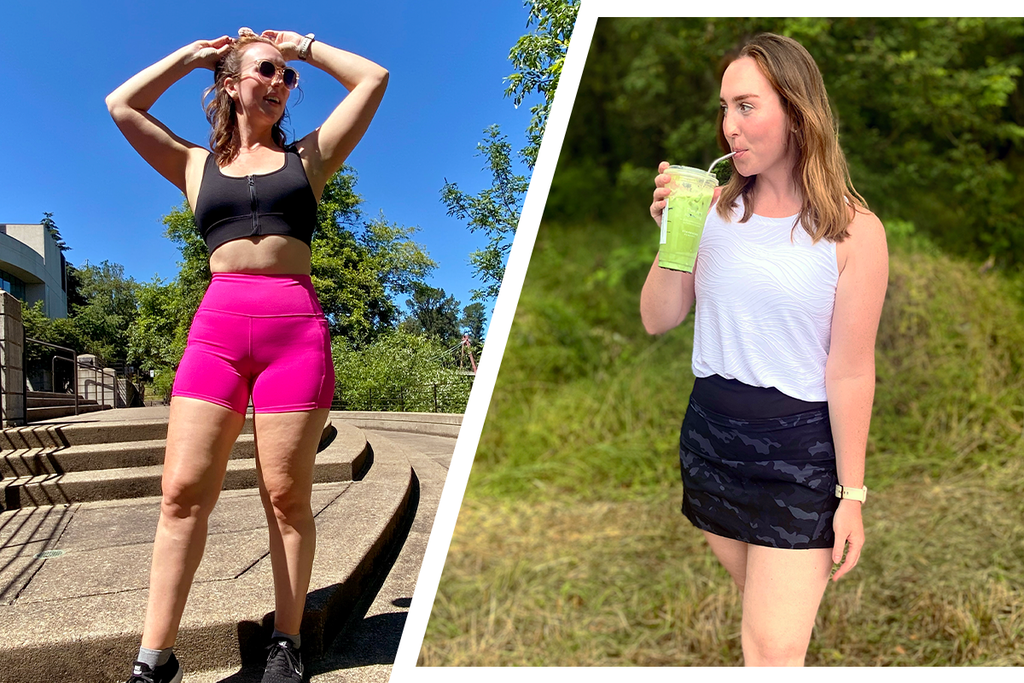 By Katy Duncan, Contributing Blogger
Hot Girl Walks strutted onto the scene back in 2021 when a girl, Mia, @exactlyliketheothergirls on TikTok, enlightened us all to what a Hot Girl Walk is. Life would never be the same.
Essentially, the idea is to walk at least a couple of miles with a killer playlist or podcast in your Hot Girl Headphones and to spend that time thinking about how wonderful your life is and how wonderful you are. 
If you need more deets on what a Hot Girl Walk is, check out another RBX blog post about it  here.
While having the right accessories is important for a Hot Girl Walk-Stellar soundtrack, comfy shoes, a matcha latte from Starbies (optional), it's equally important to have an outfit that makes you feel, well, like a hot girl! 
Here are a few outfits to accompany your Hot Girl Walk this summer season. 
Outfit #1 
What's that on the bottom half? Is it a skirt? Is it shorts?! Surprise-they're both! This skort has comfortable stretchy shorts built into them so you can walk for miles while experiencing more comfort and less "chub rub." For our petite queens reading this who don't know what that is, it's when your hot girl thighs rub together on your hot girl walk and create an uncomfortable sensation. Fortunately though, the built in shorts with this skort put a stop to that. 
The skirt part of the skort is right on point when it comes to style too. The darkened camo is just subtle enough to give you a chic and simple look while still having an air of cool girl edginess. It's the perfect combination for a Hot Girl Walk. 
I'm not kidding when I say this zipper bra is going to accompany almost all of my hot girl walks this summer. It's giving equal parts support and comfort and pairs well with anything else I'd want to wear. 
This outfit is incredibly cute and will look great in the TikTok you make about going on your hot girl walk. Need another reason to love it? Because of the darker colors, if you get carried away with your hot girl playlist and spill some of your drink on your outfit…it won't show up. The Hot Girl Walk can go on! 
Outfit #2 
One hot summer trend that made its way from the runway to the Hot Girl Sidewalk this year is hot pink. These hot pink biker shorts definitely deliver on style and comfort. You'll stand out on the walking path with these shorts and be comfortable to boot. They're breathable and moisture wicking so even if you work up a sweat, there won't be any embarrassing sweat marks in the places you want them the least. 
Don't even get me started on the zipper bra again because I am ~obsessed~. When I say it goes with every outfit, it really goes with every outfit! While I was hesitant about the zipper at first, worried that it may rub uncomfortably while walking for miles or would accidentally unzip if I moved a certain way…it does neither of those things. The deep v in the back is way cute too (and helps give your back a nice tan) while the zippered front is super cute and secure. Best. Sports. Bra. Ever. 
The best part about this outfit is that it's both simple and form fitting so you can accessorize with all of your hot girl favorites like hats, visors, headphones, drinks, or purses! 
Outfit #3
Looking for a more full coverage option for your hot girl walk? This tank top does just that. Its textured appearance gives it a bit of a unique look while its slightly transparent material makes it fun to add over any sports bra. Match it to a white bra to achieve a smooth, polished look like I did or wear something bold and bright underneath that just peeks through. 
Paired with the skort, you could also wear this to the store if your Hot Girl Walk turns into running Hot Girl Errands. No shoes, no shirt, no problem-you're ready to shop at the drop of a hat. 
Sometimes a Hot Girl Walk turns into something more and that's okay. It's all about the journey. When you take off to get your Hot Girl Walk in, you never know where it may lead you. As long as you're feeling good, and looking good, then you're achieving Hot Girl Walk nirvana. I've taken many a Hot Girl Walk that ended with me getting sushi or stopping at the store for dinner ingredients for a meal I conjured up on my walk. Sometimes I get a sweet treat like a lemon lavender popsicle from the local market. 
Be prepared for whatever your Hot Girl Walk holds and wear this fit. 
Whichever outfit you decide to wear, just remember the greater picture. You're supposed to feel good about yourself when embarking on a Hot Girl Walk. You're supposed to be enjoying your time, feeling your best, and manifesting the life of your dreams-you may as well look the part! 
So grab those headphones, don't forget your Starbies, take one last look in the mirror to say, "Girl, you look hot!" And hit the streets.
---