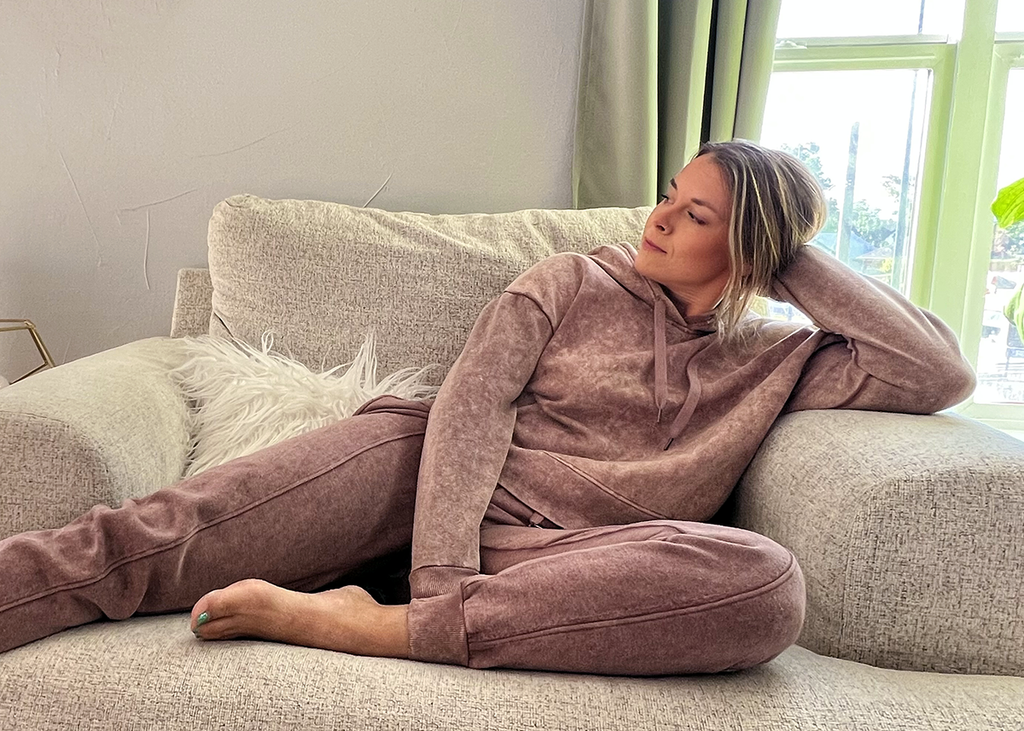 Just like that, October is here and Fall has arrived! Is there anything better than the shift from Summertime heat to Autumn chill? There are few things more satisfying than cozying up in your favorite fall staples as the days get shorter and the temperature starts to drop. As the season begins to shift, so will your wardrobe, and I can't wait to share the perfect, cozy additions that RBX Active has for your closet. 
Can we all collectively agree that rocking a matching sweatshirt and jogger set is one of the best feelings of all time? The Prime Weekend set is the softest and comfiest set I've ever slipped on. The fabric is buttery soft, slightly fluffy, and simply perfect for the season's colder weather. The Prime Weekend Washed Hoodie has the perfect hood, big enough to feel just slightly oversized. Cozy is an understatement. 
Not only is the Prime Weekend Set's rosey fabric incredibly soft, the print is the perfect blend of boho and urban. On the rare occasion I'm not wearing this set together, the Prime Weekend Washed Hoodie makes a perfect match with your favorite jeans and sneakers. This is my ideal outfit for a cool morning coffee date, for strolling through my favorite fall farmer's market, or picking out the perfect pumpkin.
When I'm heading to my favorite HIIT Class or Hot Yoga, (instead of lounging on my couch wrapped in a blanket), you'll find me in leggings through the colder months. When it comes to leggings, there is truly nothing more important than a comfortable waistband. RBX Active's Super Soft Ultra Hold Leggings do not disappoint. 
These bottoms have a seamless waistband that holds everything in, and (arguably most importantly) stay glued in the right place. Forget about your bottoms falling during Downward Facing Dog. Hitting at the most comfortable length, just above the ankle, these leggings are the perfect addition to your workout class, run, or yoga flow. How perfect is this maroon shade for Autumn? 
If you're an early riser like me, you might be headed to your workout before the sun is up. As the temperature drops, you'll need something cozy to pair with your leggings! Cue the Emma Tunic Hoodie. This pullover is unbelievably soft and flattering. The side slits make for the perfect fit, falling just low enough on the waist without feeling oversized. Crucial to all cozy sweatshirts, of course the Emma Tunic Hoodie has thumb holes to keep your hands covered and comfortable. While this hoodie is perfect for Fall, it's made of a soft, yet lightweight fabric that can be worn across any cooler season. 
These pieces have easily become staples in my closet as we transition into the colder months. Each RBX piece can be styled your way - dress them up with jeans and sneakers, or go full-on cozy with soft, moveable options. If you're ready to dive into those crisp Autumn Vibes, RBX Active delivers. 
Whether you're lounging in, wandering through your favorite apple orchard, or bearing the cold to get to your workout, RBX Active has the perfect additions to your Fall wardrobe.
---