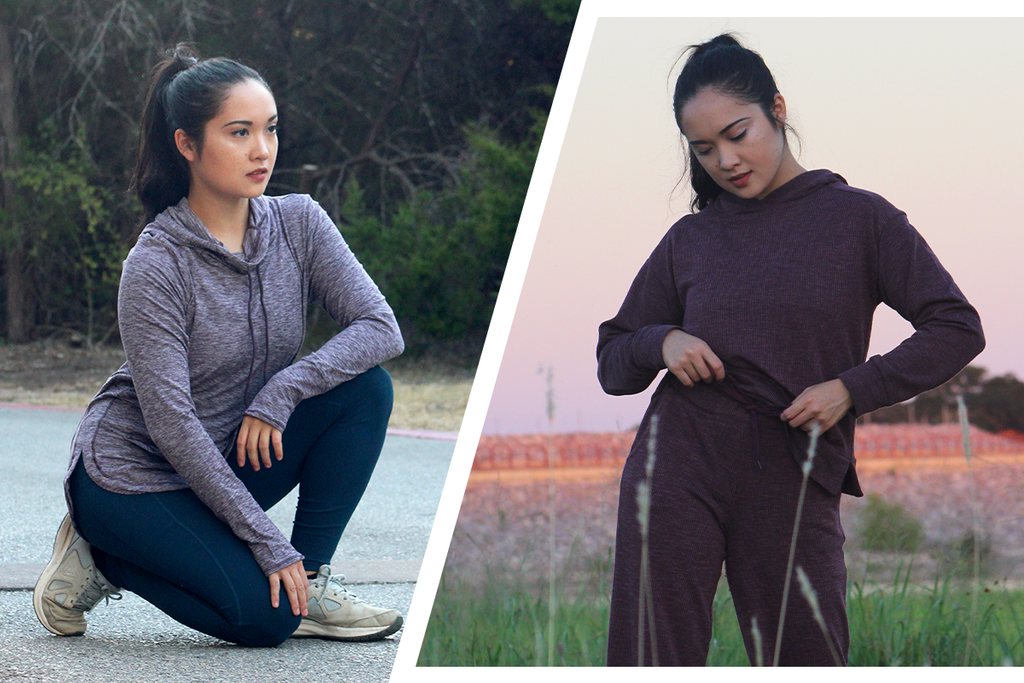 By Mia Dedear, Contributing Blogger
After a summer of scorching air and sweat-drenched runs, the hint of the first autumn breeze sent me searching for a toastier athleisure outfit. Perhaps a pair of joggers, some thicker leggings, maybe a jacket… I pause as I stare into my closet. Why is everything just black? 
All-black activewear used to be the standard go-to. After all, if everything's the same color, it all technically matches, right? But, for an autumn-loving gal like me, monochromatic neutral outfit after monochromatic neutral outfit isn't quite up to par. Instead, imagine an array of stunning warm tones, from a dusty rose hue to a deep blue tone… Yep, that's more like it! 
I set out on a mission to revamp my wardrobe for the crisp days ahead. What makes the ideal autumn outfit? What elements create a style that perfectly captures the cozy qualities of the fall? Fall fashion usually consists of cable knits, crushed velvets, and ribbed fabrics, but those materials aren't really conducive to activewear, right? 
Consider me proven wrong. (And thrilled to be proven wrong.) As soon as my eyes landed upon this Zen Ribbed Lounge set, I knew I'd discovered my go-to athleisure outfit for the season. The Dark Red mulberry-inspired color reminds me of the horizon at twilight, and the buttery ribbed material is so soft it just about melts under my fingers. There's something about ribbed material that feels cozy and elevated all at once. Pair that texture with a lush jewel tone, and it becomes the perfect autumn wardrobe staple! 
This hoodie and pants set has become my go-to for an evening stroll. Tucking my hands into the pockets as I embark on another circle around the park, I feel myself blend into the autumn atmosphere. I'll admit that I'm new to the club of Flowy Pant Enthusiasts. I used to be a leggings-only gal, but after pulling on these pants, my horizons have been expanded, and there's definitely no turning back! Especially when the pants have roomy pockets and a drawstring waist. I'm looking forward to pairing these with a simple crop top for a casual weekend style.
I've also been loving the deep teal color of these Super Soft Ultra Hold Leggings. They liven up the color palette with a burst of blue beauty. Usually, fun colors are reserved for tops, while bottoms stay rather neutral. These leggings flip the script and serve as a perfect complement to a neutral-colored top. Also, true to their name, their fabrication is as sturdy as it is soft! These have been perfect for pairing with a slate grey top and matching sneakers. 
Of course, as temperatures descend, layers are a must-have. The Studio Breathe Super Soft Hoodie Tunic has been perfect for tying around my waist until I decide to tug it over my shoulders, disappearing into its soft and stretchy warmth. The extra length also gives it a bit of versatility. When I'm feeling a more flowy fit, I keep it as is. When I'd rather tighten it up, I gather the bottom hem into a knot. 
I'm excited to head outdoors, dressed head to toe in an autumn-inspired color palette - and I hope you are, too! So when you step outside to enjoy a hike in the brisk air, be sure to celebrate the season with a variety of this season's best textures, colors, and layers.
---