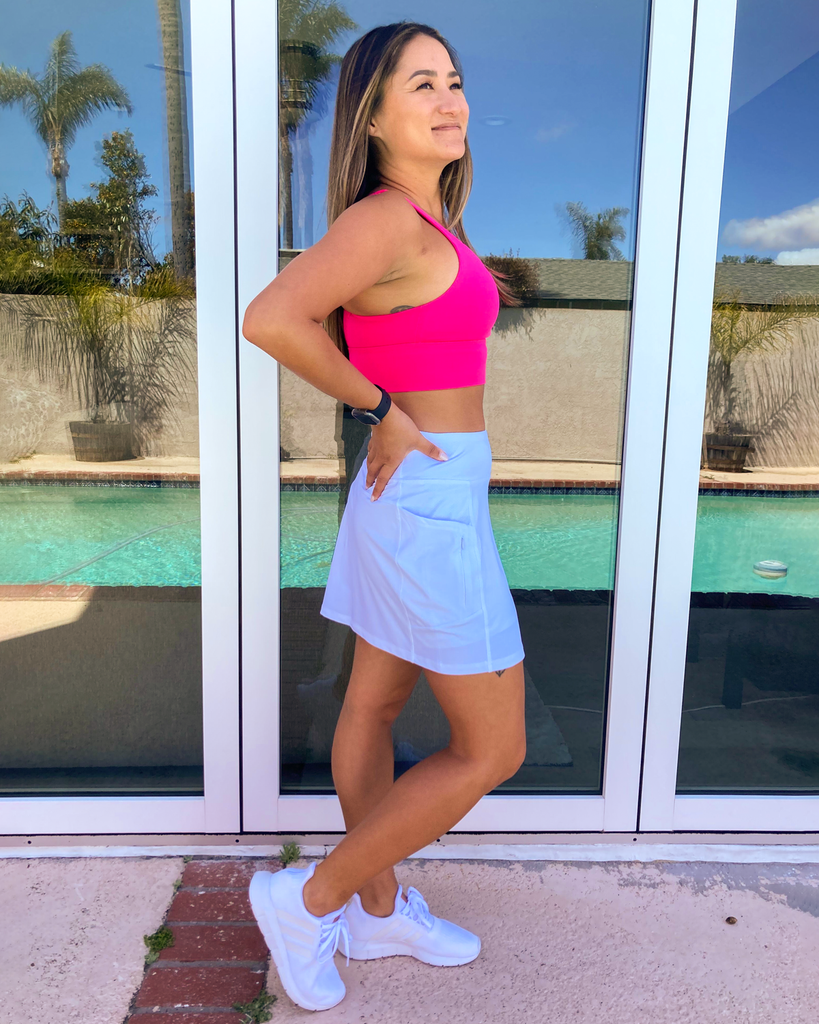 By Emily Kho, Contributing Blogger
Skorts are a fun and versatile piece that combines the look of a skirt with the practicality of shorts. Whether you're dressing them up for a night out or keeping it casual for a day of running errands, skorts are a great addition to any wardrobe. 
I've put together some of my favorite skort styling tips and outfit ideas to help you make the most of this trendy piece. So, let's get started and have some fun styling skorts!
Fun and Flirty
I recently purchased the Prime Weekend Cargo Skort (in Berry, small) and Super Soft Strappy Shelf Bra Tank (in White, small), and I have to say, I am thoroughly impressed with both products as an outfit.
Starting with the skort, I love the design and functionality. The cargo pockets on the sides are super convenient for storing small items like keys or a phone while out and about. The fabric is lightweight and breathable, which is perfect for warmer weather. The skort also has a built-in short, which I appreciate for added coverage and comfort. Overall, the skort is stylish and functional, making it perfect for a variety of activities.
Moving on to the tank top, I was equally impressed with the quality and comfort. The fabric is incredibly soft and feels great against my skin. The strappy design adds a nice touch of style while still providing the support I need for exercise. I also appreciate that it has a built-in shelf bra, which saves me from having to wear an additional sports bra.
Together, these two products make a great outfit for a variety of activities. I've worn them on walks, hikes, and even to run errands and have received compliments on the look!
Sporty and Skorty
If you're looking for a comfortable and stylish workout outfit, look no further than the Prime Keeping Pace Skort (in White, small) and Super Soft Mesh Back Bra (in Hot Pink, small). The skort is made with a breathable and moisture-wicking fabric that will keep you cool and dry during your workout, while the mesh back bra provides the support you need with its adjustable straps and removable cups.
Together, these two pieces make the perfect outfit for any workout, whether you're hitting the gym or going for a run outdoors. The skort has a comfortable elastic waistband and a built-in short for added coverage, while the mesh back bra provides a stylish and functional detail that will keep you feeling confident and supported throughout your workout.
Overall, the Prime Keeping Pace Skort and Super Soft Mesh Back Bra are a great choice for anyone looking for a comfortable and functional workout outfit. With their high-quality materials and stylish design, they are sure to become a go-to in your activewear collection.
It's no secret that skorts are a versatile and stylish piece of clothing that every fashion-forward person should have in their wardrobe. With the right pairing and accessories, skorts can be dressed up or down for any occasion. Don't be afraid to experiment with different styles and colors to find the perfect skort for you. So go ahead and rock that skort with confidence!
---