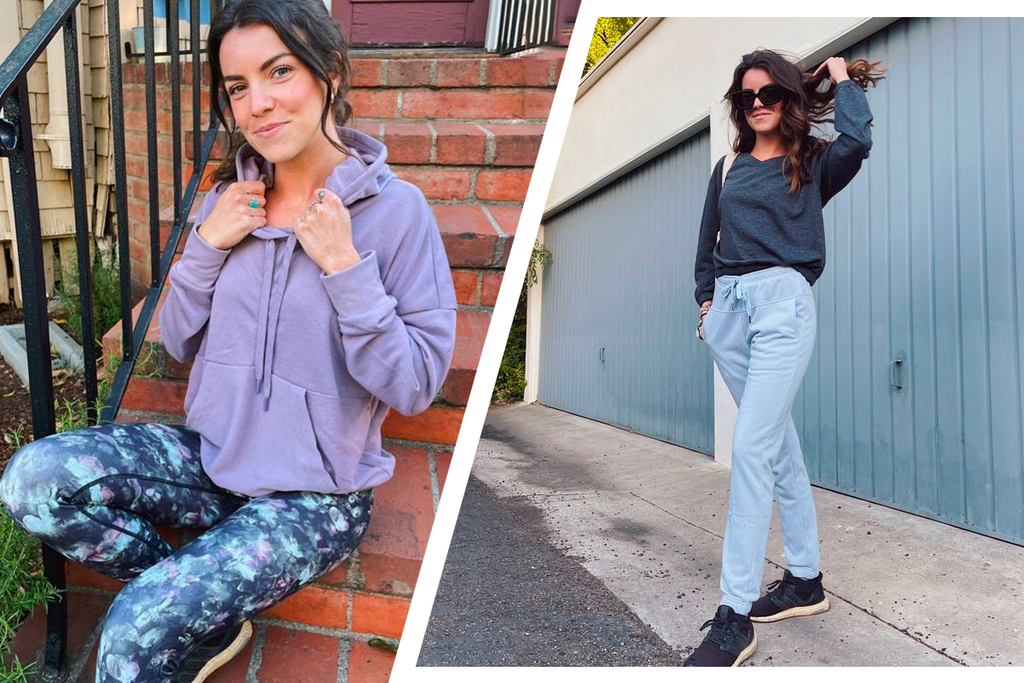 By Isabel Loos, Contributing Blogger
Spring is just around the corner, and you know what that means – longer days, warmer temps, and prints and colors for the new season! This time of year is marked with fun patterns, smooth pastels, and plenty of layering options. RBX has you covered from top to bottom for all of your workout style needs for this transition from Winter to Spring. Let me show you!
I don't know about you, but lately I have been feeling like I have been living all four seasons within one day. It feels like winter when I wake up, but by the time lunch rolls around, I am sweating and wishing I hadn't worn my thickest sweater. Then just a few hours later, I need a jacket again and it gets plenty cold as the day winds down. For this reason, I am a huge advocate of layers in the springtime. In order to be comfortable all day long, it is key to have options. You likely don't need a heavy coat, but a light sweatshirt should do the trick. This Zen Lightweight Cropped Sweatshirt is perfect for pairing with leggings or jeans, and the basic color makes it super versatile. This Zen Lightweight Zip Hoodie is perfect to throw on for yoga, brunch, and everything in between. The front pocket and ribbed detailing are a super cute bonus! Throw either of these layers over a sports bra or a long sleeve shirt for a little added warmth so you can crush whatever is on your agenda, stay warm, and look good doing it. 
I am also obsessed with these Zen Lightweight Slim Joggers. I put them on over my leggings for an extra layer in the morning, and they were still super breathable, comfortable, and not too thick. When it came time for my run, I stripped them off, and I was happy to have them to put back on to warm up again once I was finished. They are also perfect worn just by themselves for lounging at home, running errands, going on a bike ride, or heading to the farmers market, tote in hand (as you can see, my favorite type of Saturday). I could wear them literally all day around the house because they are so comfortable, but I also feel stylish wearing them out and about because of the fresh colors. They are as cozy as they are trendy and can be matched with anything! Add a sweatshirt on top for a true athleisure look or throw on a jean jacket and a hat for a more street-ready style.
When it comes to leggings, I am pretty particular. They need to be snug enough that they don't fall down, but not too constricting. High waisted for comfort, but not all the way up to my ribs. And flattering with seams that help to shape curves rather than detract from them. The RBX Zen Floral Super Soft 7/8 Leggings do all of that and more. They stay up for my whole workout, make me feel confident, and I always get compliments about the fit and patterns. I am all about basics and neutrals with pops of color, and these styles fit that bill. It is easy to pair these with whatever you already have in your closet. Your outfit will be classic and chic, with just the right amount of fun! With great new colors and prints for Spring, now is the time to snag a pair and see for yourself.
If you can't tell, I am extremely excited for Spring and all of the new style options that come with it. Express yourself by embracing the new season and switching up the darker, more solid tones of winter to the brighter and lighter colors of Spring. The best part about this in-between season is that you can layer and mix and match. And it is a great excuse to add a few new pieces to your closet because hey, you've gotta be prepared for anything that unpredictable Spring weather might throw at you, right?
---