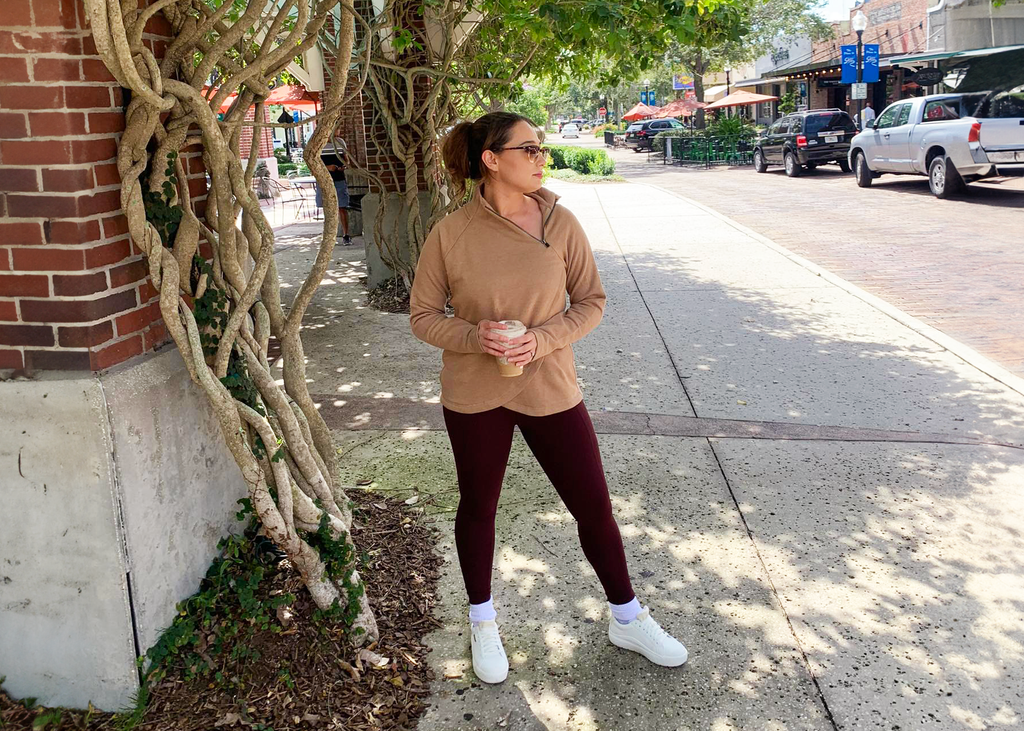 By Volia Nikaci, Contributing Blogger
As the leaves change and the air becomes crisp, it's time to embrace the magic of fall. One of the best ways to enjoy the fall season is through the comfort of athleisure. Luckily for us, the days of workout clothes being only for the gym are long gone thanks to the wellness lifestyle becoming more mainstream. Today, most of us are looking for outfits that can take us from our morning errand runs, to brunch with friends, hiking, and finally to our evening yoga classes. My favorite thing about athleisure wear is how it gives you the ability to be both stylish and comfortable — no matter what you're doing! 
So are you considering updating your fall wardrobe? Here's some inspiration for styling some cozy athleisure looks! 
Outfit 1: The Urban Explorer
There's nothing I love more than getting cozy for the fall and heading out for an iced coffee. Even as the temperatures drop, I love spending the weekends strolling through downtown, grabbing an iced coffee, and window shopping past the boutiques. For days when you don't need a jacket quite yet, the Prime Ready To Roll Fleece Zip Mock Neck Pullover is perfect. This sweatshirt keeps you toasty with its soft fleece fabric that doesn't compromise on style.
My favorite feature is the zip mock neck that you can easily adjust thanks to the zipper. So if you feel a strong wind come by, you can quickly zip yourself up for added warmth. There are also side pockets where I could keep my phone, keys, and wallet for easy access. 
I paired the fleece sweatshirt with the Prime Tech Flex Ultra Hold 7/8 Legging in the gorgeous plum shade. Fall fashion this year is all about adding a pop of color, and that's exactly why I decided to throw these leggings on. Their bold shade brightened up the more neutral latte colored sweatshirt. These leggings are incredibly soft and perfect for whatever activities the day has in store. While I wandered around downtown, I didn't have to change out of my leggings for my evening pilates class. These leggings don't limit your motion at all. I was able to easily flex, bend, and move around thanks to the Tech Flex fabric. The moisture-wicking fabric also kept mr from having to hang out in my own sweat after a particularly exerting pilates class. 
Overall, this look is super flattering while keeping you warm as the temperature begins to cool down. 
Outfit 2: Trail Blazer 
One of my favorite things to do over the weekends is to walk through the park or grab my roller blades for a quick workout. It's always a big deal for me to find outfits that are versatile on weekends like this. For my weekend look, I went with the Studio Practice Long Sleeve Tunic Tee in light pink. The soft shade of pink is incredibly pretty, but if pink isn't your color then you'll be happy to know that it comes in four other shades as well. The top itself is super cute and flattering as well as ultra lightweight and soft. This design is great for keeping you warm in chilly weather without overheating.  
I paired this top with the relaxed Cloud Everyday Pant. These pants are a serious game-changer when it comes to adding an incredibly versatile piece to your closet. You can easily wear these out on a hike, to the grocery store, or even out for breakfast. In fact, this entire outfit is versatile enough to take you from a yoga class to a catch-up brunch with your besties. I paired the look with my favorite all white sneakers, but you could also make this look work with a neutral shade of clogs. The Cloud Everyday Pants are super soft and stretchy, which kept me feeling warm and cozy all day long. While I love the charcoal color, the black color is also an incredible option as you can pair these pants with just about anything in your closet. 
The flared bottoms gives you a lot of opportunity to get creative with your looks as the weather gets cooler. You can throw on a cute oversized white sweatshirt, or pair the flared leggings with a crop top and an oversized cardigan. The possibilities are endless! 

So are you feeling inspired to create a cozy fall wardrobe of your own? Let's celebrate the season of fall by staying active and looking incredible while doing it. Check out all of RBX's affordable athleisure wear that will help you stay snug and active! 

---