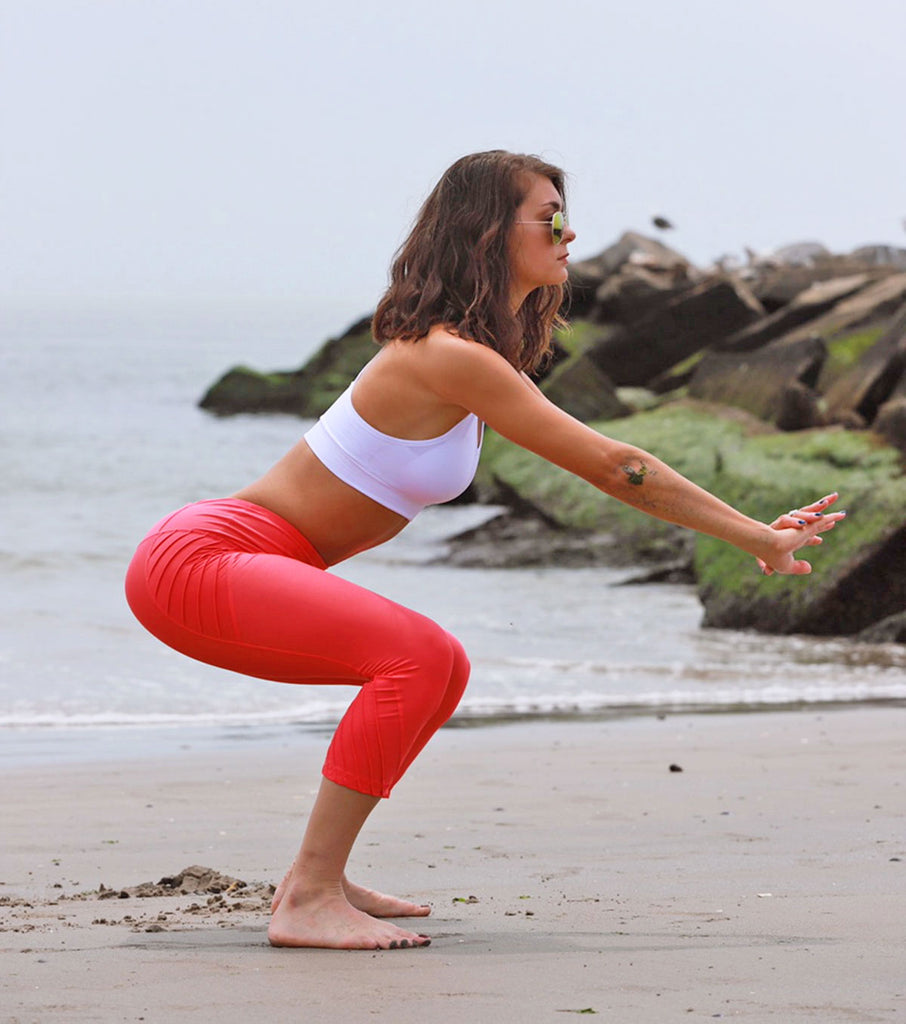 By Natalie DeGenova, Contributing blogger (@nat.nova)
With the warm days FINALLY upon us, it's time to ditch the treadmill, grab your beach towel and head to the nearest sandy shore, boardwalk, park, pool, or backyard! Use the beauty of nature to your advantage and incorporate a workout into your everyday summer activities. No equipment & no gym membership required! Try this quick, 20 minute HIIT workout that you can take anywhere, and get ready to get sweaty in The Great Outdoors.  
Repeat for 4 Rounds that will total just about 20 minutes. Apps that are free, easy & reliable to keep time during workouts on the go are the Seconds Interval Timer for iPhone or the Tabata Timer for Android. This will make it much easier than manually counting or setting/re-setting your phone AND because I know too well that feeling of "accidentally forgetting" the final 5 seconds when left to your own mental timer…so, let's make every second count!  
You'll torch calories with this full body session and still have plenty of energy (and time!) left to picnic with the fam, supervise the lemonade stand with your kiddos, or hit the waves (and tiki bar) afterwards because, well, #balance.
20 Seconds: High Knees
10 Seconds: Rest
20 Seconds: Tricep Dips OR push-ups (whichever part of the arms you feel like workin'!)
10 Seconds: Rest
20 Seconds: Jumping Lunges
10 Seconds: Rest
20 Seconds: Plank "Booty Taps" (Hit your elbow plank and rotate side-to-side, "tapping" your glutes on the ground on each side)
10 Seconds: Rest
20 Seconds: Squat Jumps (bonus points for holding your *unopened* bottle of wine close to your chest during these for added weight if you want a challenge!)  
10 Seconds: Rest
20 Seconds: Mountain Climbers
10 Seconds: Rest
20 Seconds: Ab/Core "Flutter Kicks" (Lie down on your back keeping your head/neck/arms flat on the ground and "flutter" kick your legs as fast as you can, keeping your lower back glued to the ground, engaging your core and hovering your legs as low to the ground as possible without lifting your lower back off the ground)
10 Seconds: Rest
20 Seconds: Plank Jacks (Hit a traditional plank position – with straight arms in line with shoulders, i.e. push-up position – and consecutively hop your legs out and in, out and in, coming back to your traditional plank position each time)
10 Seconds: Rest
---