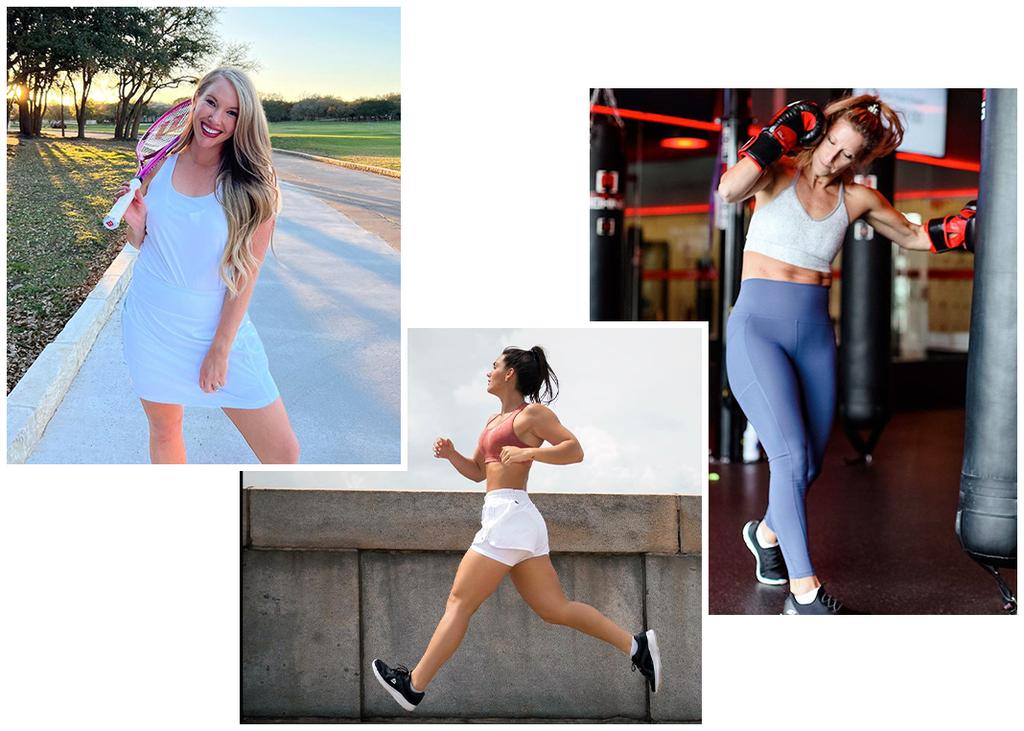 By Becca Rogers, Contributing Blogger
Aries (March 21st- April 19th): 
April 2022: You will be full of high energy and enthusiasm all month long. Your energetic nature will lead you to thrive this month, but may also cause you to feel more restless than usual. Try channeling your restless energy into some high energy activities.
Best Workouts: Anything that is high intensity and is able to tire out some of your excess restless energy.
Try This: Barre, HIIT, Running, Orange Theory Classes, Zumba, Pilates, Swimming, HIIT Yoga, Boxing, CrossFit
Taurus (April 20th- May 20th): 
April 2022: This month is the perfect time for you to refocus on yourself. Make sure to embrace  and appreciate your true self. Take some time to slow down and focus on really grounding yourself. 
Best Workouts: Any activity that allows for you to remain grounded, while creating opportunities for self-reflection. 
Try This: Meditation, Slow-Flow Yoga, Nature Walks, Hiking, Canoeing, Tai Chi, Yin Yoga, Restorative Yoga
Gemini (May 21st- June 20th): 
April 2022: You love trying new things and are great at embracing changes as they come. Embrace your natural curiosity and try as many new things as possible- you never know what you'll end up loving!
Best Workouts: Anything that is new to you! Try out entirely new workouts or even just exercising in a new place.
Try This: Pole Dancing, Surfboarding, Bouldering, Barre, Paddle-Board Yoga, Aerial Silks, Hiking, Dance
Cancer (June 21st- July 22nd):
April 2022: April is the perfect time for you to get in touch with your emotional side. Embrace your true feelings and emotions. Focus on your needs and wants- let go of what is no longer serving you.
Best Workouts: Any exercise that allows for deeper self reflection and connection with your own body.
Try This: Transcendental Meditation, Yin and Yang Yoga, Slow Flow Yoga, Qi Gong, Nature Walks, Kundalini Yoga, Pilates, Running
Leo (July 23rd- August 22nd) :
April 2022: You are a bold, brilliant, and fearless person. Embrace your inner boldness this month, and do not let anything hold you back from reaching your full potential. You have limitless potential, all you have to do is go out and meet it.
Best Workouts: Bold workouts that let you shine. It's even better in a group setting.
Try This: Salsa, Cycling, African Dance, Pilates, Barre, Pole Dancing, Trampolining, Vinyasa Yoga
Virgo (August 23- September 22nd):
April 2022: You are undergoing a serious transformation of your body, mind, and soul. This is an intense time for you. This makes it especially important for you to set aside specific time to unwind and relax.
Best Workouts: Solo exercise- anything where you will be able to have some time alone to reconnect with yourself.
Try This: Hiking, Swimming, Mindful Meditation, Long Distance Running, Walking, Cycling, Vinyasa Yoga
Libra (September 23rd- October 22nd):
April 2022: You are facing a lot of pressure to hustle and overwork yourself this month. However, it is important that you use time this month to set strong boundaries for yourself. Be firm in setting these boundaries, your future self will thank you.
Best Workouts: Anything that will finally allow you to relieve some of your built up tension.
Try This: Kickboxing, Weightlifting, Running, Swimming, Hot Yoga, Barre, HIIT Workouts, Cycling
Scorpio (October 23rd- November 21st):
April 2022: It's important that you have some well deserved me time this month. Lately, you have been feeling frazzled and overwhelmed. There is a lot going on in your life, so it is extra important that you set aside some time for yourself.
Best Workouts: Anything that you truly love doing. This can really be anything as long as it gets your body moving.
Try This: Vinyasa Yoga, Swimming, Dancing, Paddle Boarding, Hiking, Running, Rollerblading, Rock Climbing
Sagittarius (November 22nd- December 21st):
April 2022: With Spring starting, it's time for you to enjoy the beauty of the natural world around you. You haven't been spending as much time as you would like outside, but now is the time to do so. By reconnecting with nature, you will be better able to connect with your inner being as well. 
Best Workouts: Anything that you can do outside while enjoying the warm weather.
Try This: Hiking, Nature Walks, Running, Mountain Biking, Roller Skating, Swimming, Ashtanga Yoga
Capricorn (December 22nd- January 19th):
April 2022: This is an incredibly transformative time for you. You will undergo significant growth as a person, in some rather unexpected ways. While there will be growing pains that will come along as well, they will be well worth it.
Best Workouts: Anything that can provide you with some much needed stability. While there is so much changing around you, a regular workout routine may just be the thing you need.
Try This: Running, Pilates, Vinyasa Yoga, Bicycling, Weekly Exercise Classes, Nature Walks
Aquarius (January 20th- February 18th): 
April 2022: You will be full of self love and awareness all month long. You are a truly amazing and wonderful person, so it's high time that you finally embrace all the great things about yourself.
Best Workouts: Anything that is as fun and lighthearted as you truly are.
Try This: Backpacking, Boxing, Hot Yoga, Kayaking, Cycling, Bouldering, Aerial Silks, Pole Dancing, Tennis
Pisces (February 19th- March 20th):
April 2022: While it may be difficult to do so, it is time for you let go of the past. You have been holding on to a lot of 'what could have beens' instead of moving forward. In order to truly move forward, you need to let go of what is holding you back and embrace all that can come with the future. 
Best Workouts: Workouts that require your full attention. Anything that is intense enough to keep your mind off of the past will be perfect.
Try This: Cross-Fit, Boxing, Orange Theory Classes, HIIT, Barre, Long- Distance Running, Swimming
---