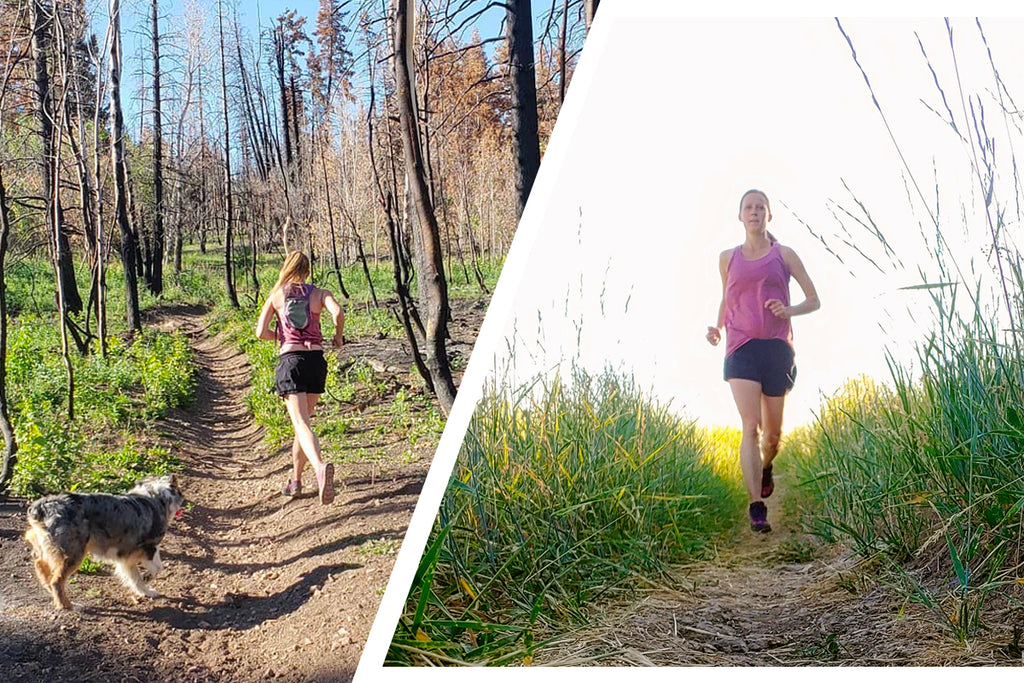 By Arianne Brown, Contributing Blogger (@ariannebrown)
Trail running, over the past several years, has become a popular exercise. Perhaps it's the challenge of running on uneven ground. Maybe you heard it was better for your joints than hard-packed pavement. You could want an escape to nature that only being in it will provide. Chances are, your reasons include all of the above. 
Running on dirt and rocks, crossing streams, sloshing through mud, weaving around trees — jumping over snakes. All of it is part of trail running, and all of it can be awesome if you follow the following tips.
1. Get the right shoes 
There are road running shoes and trail shoes, and there are very good reasons for each. Road shoes have soft soles to let you glide on the road, are often light in color and have mesh to keep from burning your feet from the black-on-black roads that absorb heat. Trail shoes, on the other hand, have traction to keep you from sliding on the loose ground, and are often darker colors to look less-dirty after a run in the dirt. Some even have waterproof uppers if and when those trials get wet. 
If you're gonna run trails, get trail specific shoes.
2. Run light 
If you're a heel striker, or have a tendency to land hard when you run, it is a good time to work on being more of a mid-foot toe striker. You may even want to add plyometrics to your cross-training routine.
This is simply because there are rocks and tree roots out there that you will have to move your way around. If you land hard, you just may not have the pick-up to avoid tripping.
3. Be aware 
The nature of trail running is having a lot of unexpected bumps in the road. Being in the great outdoors means there could be wildlife. Don't let fear deter your desire to experience these things, but do be aware.
You can do this by keeping your head up, and constantly scanning. Also, refrain from wearing earbuds, or keep one out, so you can hear what's going on around you.
4. Don't get overconfident
There's got to be some law somewhere that states that once you think you've got it, that's when you'll fall flat on your face. Mark by word on this one. I have a knee that required 22 stitches due to a fall that was a result of me thinking seconds before, "This is easy." I spent the next several months not being able to run a single step.
5. Run with a friend or group, if you can
Simply put, there is safety in numbers. If you're able to, run with a trusted friend or group. They also might be able to help you get safely off the mountain and to the instacare to get stitched up.
6. Bring a first aid kit
One time it might be an inch-wide gash in your knee, and another time, a scrape from a tree branch. If you have a first aid kit, you'll be able to clean up and bandage the wounds until you're  off the mountain and can assess the damage further.
7. Bring hydration and food
It might be a short run or a long run. In either case, you need to be prepared for the chance of getting stuck. It's not something you want to think about, but it is something you should prepare for. There are several varieties of packs you can run with that are easy to store food, water, first aid kit and phone in.
You never know when you'll need it, so you might as well bring it.
8. Enjoy it
Trail running is a fun and rewarding exercise. There's nothing quite like getting away from it all in the great outdoors. Running on dirt, over rocks and through trees is really what we were made to do. So, see what you're made of, and hit the trails!
About the Author
Arianne Brown is currently a fitness columnist for a local newspaper and has been published in Runner's World and Trail Runner Magazine. She has a personal best marathon time of 2 hours and 50 minutes, won the USA Track and Field 50 mile championships in 2016 and was a former Division 1 scholarship athlete who ran her way through college.
---