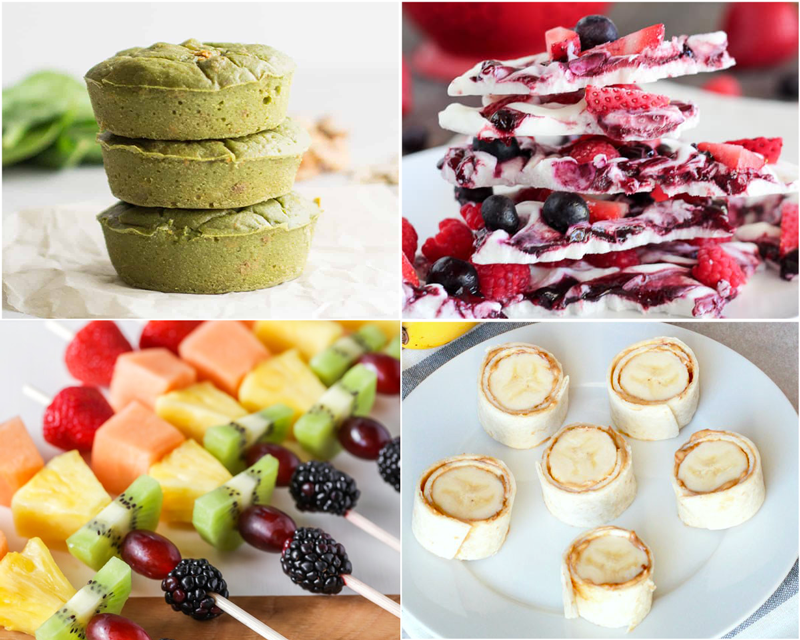 By Breanna Woods, Contributing blogger
Going back to school means getting back into the habit of packing lunch, going to bed early and waking up early. Don't forget that school days are long days for most kids, so they're probably going to come home hungry too. While you're adjusting your back-to-school routine, it's a good time to plan some healthy after school snacks that will hold your kids over until dinner.  
It's challenging sometimes to come up with healthy snack ideas that kids actually want to eat. Don't worry though, we've got you covered! Here are some fun (but easy) recipes to try when your kids head back to school. 
Image courtesy of Food Network
1. Greek Yogurt Ranch Dip
Raw, ready-to-eat cut veggies are one of the healthiest and most basic snacks around. However, they're usually not a kid's first choice. The right dip can make all the difference! Instead of bottled ranch, mix a little dry ranch mix (around 1 tablespoon) in a cup of plain Greek yogurt. This dip is full of flavor, protein and probiotics.
Recipe and image courtesy of Joy Food Sunshine
2. Roasted Chickpeas
A lot of kids go for something crunchy, like chips as soon as they walk in the door. If you want to try something new and boosted with nutrients, roasted chickpeas are sure to be a hit. You can make these with a variety of sweet and savory flavors. You can also make them in the oven or the air fryer! Here's a great savory recipe to try first.
Image courtesy of The Many Little Joys
3. Banana Sushi
Sweet, satisfying and bite-sized makes this after school snack a kid favorite. It's so easy that kids can pretty much make it themselves too. Just spread some nut butter or hazelnut spread on a whole wheat tortilla and place a peeled banana in the middle. Roll it up, slice it, and enjoy! 
Image and recipe courtesy of The Kitchn
4. Almond Butter Apple Sandwiches
This is another simple idea for kids who love a nut butter and fruit combo. Thinly slice an apple, and make little "sandwiches" with nut butter in the middle! You can even add extras like chopped nuts or raisins. The fiber from the apple combined with the protein and healthy fat in the nut butter make this after school snack great for kids in sports too! 
Recipe and image courtesy of Diethood
5. Baked Banana Chips
Try this easy recipe next time you have bananas that are a little too brown. Just peel and thinly slice a banana and toss in a little lemon juice. Then, place your slices on parchment paper and bake at 200 degrees F for an hour. Flip and bake for another hour. The low and slow baking process is what gives these chips a perfect crunch! 
Serve them to your kids plain, with granola, in homemade trail mix, or with yogurt! 
Recipe and image courtesy of Celebrating Sweets
6. Frozen Yogurt Bark
We love this after school snack early on in the school year, when the weather is still warm. This is also a fun one that your kids can help with! First, mix 2 cups of plain Greek yogurt with a tablespoon or two of honey (depending on how sweet you want it). Then, spread your yogurt mixture on a large baking sheet lined with parchment paper. Finally, get creative! Top your yogurt with things like:
Berries

A swirl of jam

Granola

Nuts

Coconut

Chocolate
Once you have all of your toppings mixed in, freeze the yogurt bark until solid, around 3-4 hours. Then, break it up into large pieces and let your kids enjoy their sweet, frosty snack.
Image courtesy of Culinary Hill
7. Pinwheels
This is a nutritious recipe for snack or lunch time! It provides plenty of fiber and protein, with the opportunity to add fresh veggies and healthy fat. Start with a whole wheat tortilla. Then layer with things like: 
A slice of turkey (or your favorite deli meat)

Sliced cheese

Fresh veggies like tomato or spinach

Smashed avocado (if you're eating it right away)

Hummus
Once you have all of your toppings in place, roll up the tortilla and slice into pinwheels. 
Image and recipe courtesy of MJ and Hungryman
8. Spinach Blender Muffins
This sweet after school snack is easy to make and freezer-friendly. Plus, it hides some veggies, making it great for picky eaters! Here's the recipe: 
Ingredients
1 cup rolled oats

1 ripe medium banana, overripe if you want them to be sweeter

6 ounces (or 3/4 cup) plain Greek yogurt, or plant-based alternative

1/2 cup unsweetened applesauce

2 large handfuls of spinach

1 large egg or flax egg

1 teaspoon baking powder

1/2 teaspoon baking soda

1 teaspoon cinnamon

1/3 cup finely chopped walnuts

1/2 cup raw grated sweet potatoes (can use carrots)
Directions
Preheat oven to 350 degrees Fahrenheit.

In the food processor/blender add the oats first and then the rest of the ingredients (minus the walnuts and sweet potatoes) into the blender and blend until smooth.

Stir in walnuts and sweet potatoes. Pour batter evenly into a muffin pan, about 3/4 full.

Bake for 20 minutes, until inserted toothpick comes out clean.

Cool completely (wait at least 10 minutes) before taking them out of the pan. This is very important! Otherwise, they WILL stick

Once cooled, store in the refrigerator. If your muffins are on the wetter side (most likely due to the extra moisture from the vegetables. Remember, be sure to squeeze out as much liquid out), they will firm up a bit more in the fridge.
9. Popcorn
Most people don't know that popcorn is actually a whole grain! Make your own air-popped popcorn or buy a brand that keeps the butter and salt in check. Leave a fresh bowl waiting on the table when your kids get home and they will be sure to devour it.
Image courtesy of Lil' Luna
10. Fruit Skewers With Dip
Another simple, but delicious snack that you can have ready in minutes! Just wash and chop your kids' favorite fruit, like berries, pineapple and grapes. Arrange them on a skewer and serve with fruit dip. 
If you want to make your own fruit dip, you can mix a little honey with Greek yogurt (a little peanut butter is tasty in this too), or use a sweeter mixture of yogurt and marshmallow fluff.
---