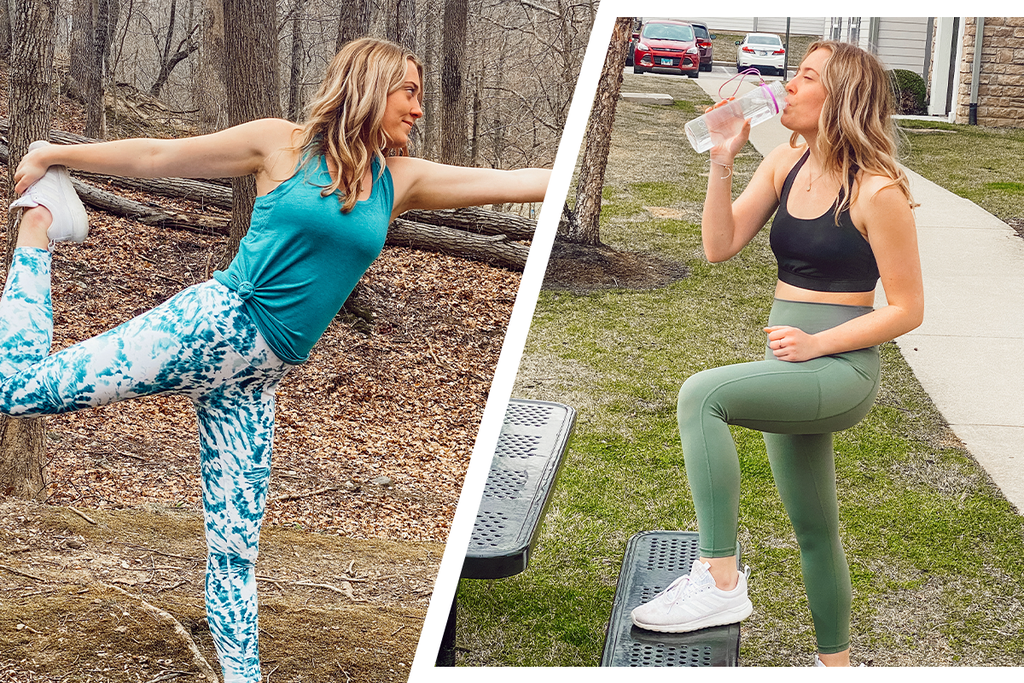 By Lauren Stetler, Contributing blogger
Spring is quickly approaching and the warmer weather is finally motivating me to get my health goals back on track. It's easy to think that having a healthy lifestyle means that you have to devote your life to the gym and constantly eat healthy, but there are so many smaller things you can do that will still greatly improve your overall health.
Having the mindset of changing your entire lifestyle can be overwhelming, and it will be easy to give up and feel burnt out if you dive right in. Taking baby steps and slowly incorporating these things into your life is the best way to go about it.
#1 : DEVELOP A GOOD SLEEP SCHEDULE
Especially being a college student and living in a house with 38 other girls, it can be difficult to get a healthy sleep schedule going. While going to bed early and waking up early is what everyone recommends, it is not always realistic. While some nights I won't fall asleep until 2 am, I always try to wind down and relax by 10 or 11. At this point I make sure all my work is done so I can focus on myself and away from computer screens. Find what works for you and your schedule for how you can get a healthy amount of sleep everyday.
#2: DRINK MORE WATER THAN YOU CURRENTLY DO
No matter what you normally drink on a daily basis, try to make water the first and last thing you drink every day. Keeping your body hydrated will not only make you feel better, but it will give you more energy to do everything else that will make your goal to a healthier lifestyle easier to obtain.
#3: CREATE FUN WORKOUTS TO LOOK FORWARD TO
Forcing yourself to workout when you would rather be doing anything else, is not going to be productive and will only make it easier for you to give up. Try Googling or going on Pinterest to find workouts that actually interest you. If running isn't your thing but you still want to get some cardio in, then maybe look into Zumba or other dancing workouts. If you can't make it to a gym there are also many online resources to help you find fun workouts. Some of my favorite apps to find workouts are YouTube, Tone It Up, and Love Sweat Fitness. There are so many different ways to get yourself moving that aren't boring.
#4: EAT BREAKFAST EVERYDAY
You may not think that eating breakfast fits into your busy schedule, but there are so many quick things you can grab or things you can make ahead of time that will help get your day started off right.
Some quick things that you can always keep on hand are smoothie bowls, yogurt and granola, protein bars, and oatmeal. There are also easy things you can prepare the night before! Like energy bites, breakfast bakes, muffins, and quiches.
#5: FIND HEALTHIER SUBSTITUTES FOR YOUR FAVORITE FOOD
Eliminating certain foods completely from your life is not the way to go if you want this healthy lifestyle to last. You can eat anything your heart desires as long as it is all in moderation. Having a balance is the best way to make this lifestyle work for you. Here are some of the foods I have been substituting in my own life.
Ice Cream
If you haven't gotten a chance to try Halo-Top, I can't recommend it enough. All the containers are under 400 calories and they even have specialized ones with extra protein. I was also able to find hundreds of healthier ice cream recipes on Pinterest that will be able to satisfy your sweet tooth!
Candy
Another thing you may love snacking on is candy. When you want something on the fruitier side, try Smart Treats. They have substitutes for your favorites like gummy bears, peach rings, Swedish fish, and sour patch kids, while each bag only has 3 to 4 grams of sugar. If you are craving chocolate on the other hand, try to go for dark chocolate. The higher percentage of cocoa is has in it means less sugar! If you don't like the super bitter taste, try dipping it in some almond butter!
#6: ESTABLISH A SELF-CARE ROUTINE
Everybody's needs for self-care are different. You know what you like to do and what helps you relax when you need to. Incorporating a time to wind down in your daily or weekly schedule will give you a time to pause on all the hectic things going on in your life and just focus on yourself.
Some ideas that may work for you are taking time to read, creating a skin care routine that you can focus on, journaling, making time to get outside, or spending time with family and friends. No matter what you do, make sure it is stress free and fun!
#7: LISTEN TO YOUR BODY
This one may seem silly, but it's true. If you have been overworking yourself and you can start to feel it in your body, then have a rest day to focus on yourself. If you can tell that you feel like this one type of workout is overworking your body, then switch it up! Do what is best for you and your body while still working towards your overall goal.
#8: REMOVE UNNEEDED STRESS FROM YOUR LIFE
There are so many different aspects in our lives, and only a few of them we can control. But the ones that you can control, get rid of them! This could be negative people in your life, things on your phone that take up too much time but aren't beneficial, or keeping a positive mindset can help. Keep differentiating the things you can control and the things that are out of your control to eliminate unneeded worrying.
#9: COMPARE YOUR PROGRESS TO YOURSELF NOT OTHERS
Social media is packed full of people that have your dream body and your dream lifestyle, but they are not you. You have all the potential to be the best version of yourself and keep that image in your mind. Stay motivated to keep improving yourself overall daily and the pieces will fall into place.
#10: CREATE MINI GOALS TO STAY MOTIVATED
Think of these mini goals as the baby steps to your overall goal. Everyone's will be different, but I suggest starting with one or two small goals, then accomplish them before moving on to bigger ones. Trying to get one major goal done right away can seem overwhelming and it is hard to track your progress along the way.
I hope these ten tips help you get on the right track to a healthy lifestyle!
---