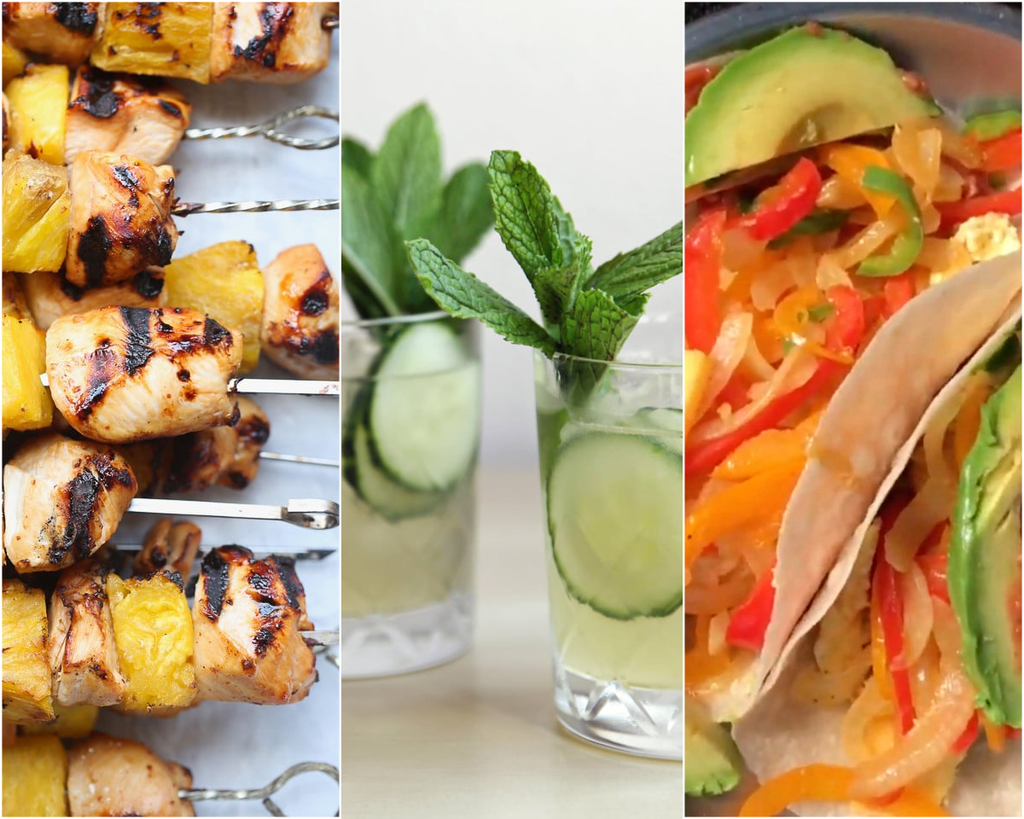 Spending a little time outdoors is the best thing about summer. It's refreshing to gather the essentials and escape the hustle of daily life on a camping trip. However, going off the grid can limit your options when it comes to food and drinks. Fortunately, that doesn't mean you have to live off of PB&Js, chips and beer all weekend. 
We gathered some simple and delicious camping recipes to cover all of your food and adult beverage needs. These camping recipes don't require much in terms of ingredients and equipment, won't cause you to stray from your healthy lifestyle.
Image and recipe courtesy of Amanda Outside
1. Breakfast Tacos
Forget packing the sad breakfast bar or cereal and go for a healthy camping breakfast recipe that will actually fill you up. If you have a camping stove or a grate over your campfire, you can whip up some eggs and veggies seasoned with taco seasoning (or whatever you like!). Then, just char a couple of tortillas, fill with your egg and veggie mixture, and top with salsa and avocado.
2. Pan-Roasted Campfire Veggies
Get your veggies in while you camp. Just bring your favorite, easy-to-pack veggies along like bell pepper, tomato, corn or canned beans (just drain before you cook). You can make these in a cast iron pan placed on a grate over a fire, or in a foil pack placed carefully near or over the fire. 
Image and recipe courtesy of Tastes Better From Scratch
3. Fireside Fajitas
If you didn't think a meal like fajitas was possible while you camp, we're here to show you otherwise. Pack some pre-cooked chicken, thinly sliced fajita veggies and minute rice. Then, combine the rice with a little water and taco seasoning. Next, mix your chicken and veggies with a little oil and more taco seasoning. Layer the rice mixture and chicken mixture on a piece of foil, and fold up the sides to make a packet. Cook over a fire for about 20 minutes.
Don't forget to finish off your fajitas with your favorite toppings like salsa, avocado, cilantro and a splash of lime.
4. Sausage, Pepper and Potato Packets
This recipe makes a whole meal, in one foil pack! Plus, each person can customize their own. Just slice your favorite sausage, some bell peppers and potatoes, season them however you like, and wrap everything up in foil. Just be sure your veggies are sliced thin so they cook quickly. Then, just cook for a few minutes over a fire or grill, and dinner is served!
Image courtesy of Cookies & Cups
5. Pineapple Chicken Lettuce Wraps 
Our mouths are watering just thinking about this recipe. Prep your chicken ahead of time by cutting it into cubes and marinating it in teriyaki sauce. When you're at the campsite, slide your chicken cubes on a skewer and cook it on a grate over a fire with some pineapple. Feel free to layer on another summer veggie like zucchini, too! When the chicken is cooked through and the pineapple is a little charred, slide them into butter lettuce leaves and enjoy!
Image and recipe courtesy of Eating Well
6. Blueberry Oatmeal Cakes
Our favorite part about this recipe is that you actually make it before you head off on your camping trip! Grab a couple for a quick breakfast, or bring them along as a healthy snack while you're out on the boat or on a long hike.
7. Baked Apples
You can't forget dessert! Believe it or not, there are more options out there than s'mores (even if they are delicious). Fruit for dessert might not sound as decadent, but this recipe for apples baked over a fire is anything but bland. Slice your apples thin and cook them in a little butter with cinnamon and a little stevia for added sweetness. If you want, you could top off this warm, gooey dessert with a scoop of low-calorie ice cream. 
Image and recipe courtesy of Sugar & Cloth
8. Jalapeño Skinny Margarita
Jalapeño margaritas aren't as intimidating as they sound. They're perfectly tangy, not to spicy or sweet, and surprisingly refreshing. With this recipe, each cocktail will only cost you around 100 calories, which is an awesome deal compared to your typical super sweet marg. 
PS - This recipe makes enough for 6 to 8 people.
Ingredients
4 ½ cups tequila

2 cups light orange juice

1 cup fresh lime juice

Stevia to sweeten

1-2 jalapeños, sliced and seeds removed

pink Himalayan salt for rimming (optional)
Instructions
Combine the lime juice, orange juice, your choice of light sweetener, and silver tequila in a cocktail shaker and mix.

You can also add a jalapeño slice to the shaker to add a little extra kick before you strain and pour into glasses, too.

Strain the mixture over ice after rimming your glass with salt (optional), then add two slices of jalapeño and a lime wedge for garnishing.
Image and recipe courtesy of Spindrift
9. Raspberry Lime Mojito
This cocktail is just as light and refreshing as it sounds, and it's  the perfect drink for your upcoming girls' camping trip. 
Ingredients:
0.5 oz. fresh lime juice

Handful of fresh or frozen raspberries

1 tsp. superfine sugar

3 mint leaves (more for garnish)

2 oz. white rum

Spindrift Raspberry Lime
Directions: Muddle the raspberries with fresh lime juice and sugar in your glass. Add mint leaves and mush them into the glass to release the minty goodness, then add crushed ice and rum. Top it off with a low-calorie soda, such as Spindrift's Raspberry Lime, and garnish with whole raspberries, a sprig of mint, and a lime wheel.
Image and recipe courtesy of Popsugar
10. Cucumber-Gin Mint Cocktail
Cucumbers add a light and special, thirst-quenching touch to this camping-friendly cocktail. 
Ingredients:
5 cucumber slices, divided

2 sprigs of mint

3/4 ounce simple syrup

3/4 ounce freshly squeezed lime juice

1 1/2 ounces gin
Directions: Add three slices of cucumber, the leaves from a sprig of mint, and the simple syrup to a cocktail shaker. Muddle. Add the lime juice, gin, and ice, and shake until chilled. Strain into an ice-filled old-fashioned glass. Spank the remaining sprig of mint before garnishing the cocktail with it and the remaining two slices of cucumber.
---