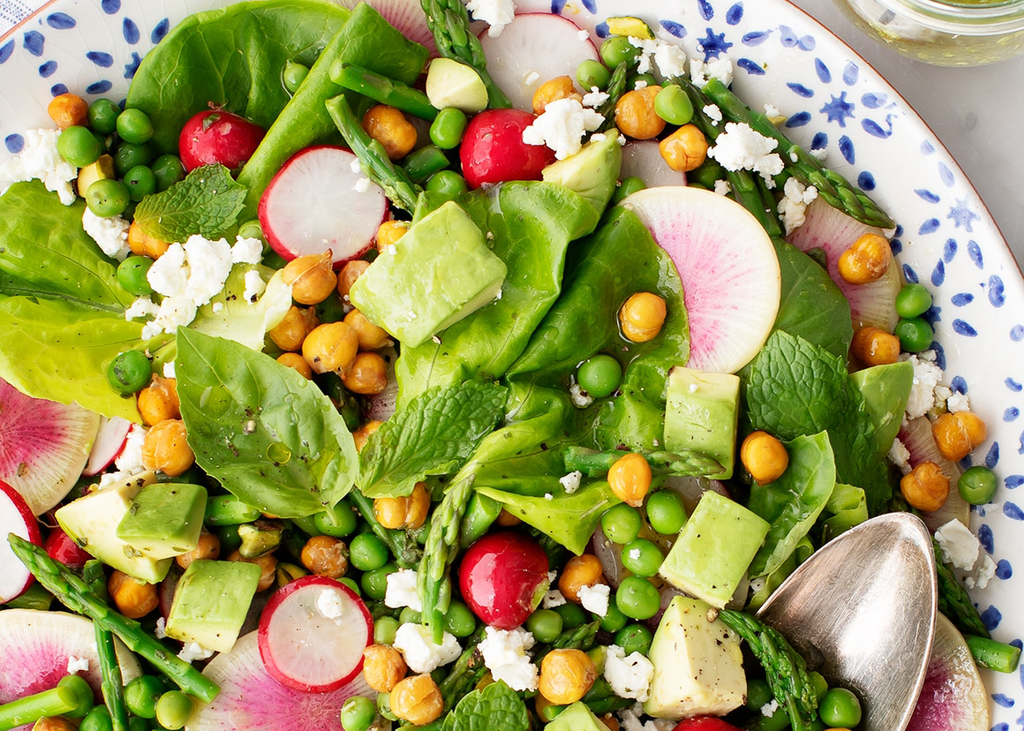 By Sophia Metrakos, Contributing blogger
The arrival of Spring is a serious call for celebration. Days are getting longer and the air is just buzzing with productive energy. Feelings of motivation, hope, and excitement and hard avoid this time of year as the flowers bloom and the sun shines.
Embrace the energy that spring has to offer by cleaning out, getting organized, refocusing on your fitness goals, and of course, adding a new recipe to your list.
These 3 spring salads have all the right flavors and the perfect nutritional balance. They're pungent yet sweet, light yet satisfying, nutty and rich.
Trust us, they won't leave you feeling like you ate a salad for lunch! 
1. Bright 
Spring Salad with Asparagus
Here's what you'll need to make this spring salad recipe:
Asparagus – Blanch it until it's crisp-tender but still bright green.
Peas 
Radishes
Feta cheese
Toasted pistachios and roasted chickpeas
Avocado
Fresh herbs – Choose one or use a mix! I love to make this spring green salad with a blend of basil, mint, and chives.
Salad greens – Any tender spring greens would be good. Butterhead and red leaf lettuce, mesclun, and arugula are some of my favorites.
And a bright, herb-flecked dressing – I toss this zippy mix of lemon juice, white wine vinegar, olive oil, and basil with the asparagus and peas first. Then, I drizzle more dressing over the entire salad when I assemble it. Yum!


2. Spring Salad with Arugula, Blue Cheese, and Berries
Ingredients (makes 1 salad):
Orange Ginger Vinaigrette
¾ cup Olive oil

¼ cup Apple cider vinegar

2 tbsp orange juice

2 cloves of garlic chopped

1 tbsp chopped or grated ginger

Season to taste: salt, pepper, rosemary, thyme
Arugula and Blue Cheese Salad
2 large handfuls of organic arugula

1 small or ½ large sweet potato, chopped and sauteed

¼ cup crumbled bleu cheese

¼ cup sliced almonds

½ cup roasted non GMO corn

¼ cup raspberries + blueberries

¼ cucumber, sliced

Optional protein: grilled shrimp or chicken
Steps:
Make the dressing:

Mix everything except the olive oil in a small bowl. Slowly add the oil while whisking. Store extra dressing in a mason jar in the refrigerator for up to 2 weeks.

Massage the arugula:

Place the greens in a bowl and add your desired amount of dressing. Massage the arugula by hand and allow it to marinate for up to 30 minutes.

Add remaining toppings:

Add all remaining toppings, and enjoy!
Optional - double recipe for additional guests:
This recipe makes one salad, just multiply the ingredients as needed to make for additional guests.

3. Spring Pasta Salad with Lemony Vegetables and Herbs
Ingredients:
Lemony Dressing
1 ½

 

teaspoons

 

finely grated lemon zest

¼

 

cup

 

fresh lemon juice

½

 

small shallot, chopped

2

 

teaspoons

 

agave nectar/maple syrup

¾

 

teaspoon

 

Dijon mustard

sea salt and ground black pepper, to taste

½

 

cup

 

neutral-flavoured oil, I like avocado
Pasta Salad
¾

 

lb

 

asparagus, woody ends trimmed

1

 

cup

 

shelled green peas, fresh or frozen

1

 

lb

 

small pasta

 

(I used a mini penne, but orzo, small rotini, baby shells, or orecchiette are all good)

1 ½

 

cups

 

cooked chickpeas, from approximately 1 can, drained & rinsed

3

 

green onions, finely sliced

6-7

 

radishes, finely sliced into half moons

½

 

cup

 

flat leaf parsley leaves, chopped
INSTRUCTIONS
Make the lemony dressing. In an upright blender, combine the lemon zest, lemon juice, shallot, maple syrup, Dijon mustard, salt, pepper, and oil. Blend the mixture on high until creamy and unified. Set aside.
Place a large bowl of ice water on the counter.
Bring a large pot of salted water to a boil over medium-high heat. Chop the asparagus into 2-inch lengths and add to the boiling water. Boil the asparagus for 2 minutes, or until it's just starting to become tender. Add the peas to the water and stir for a few seconds, or until they turn bright green. Using a slotted spoon, transfer all of the asparagus and peas to the ice water. Let the vegetables sit and chill.
Bring the salted water back up to a boil. Add the pasta and another good pinch of salt. Cook the pasta according to package directions. Once cooked, drain the pasta thoroughly and then immediately transfer it to a large bowl. Add the chickpeas to the bowl as well. Quickly toss the pasta and chickpeas with two thirds of the lemony dressing until everything is coated.

Drain the asparagus and peas thoroughly and add them to the bowl with the pasta, along with the green onions, radishes, parsley, the remaining lemony dressing, some salt, and pepper. Toss to combine. Check the pasta for seasoning and adjust if necessary (more salt, pepper, lemon juice, extra herbs etc). Finished spring pasta salad will keep up to 5 days in the refrigerator in a sealed container.
A few spring salad tips:
1. Massage the arugula
Arugula is a mighty ingredient with its high levels of nitrates and chlorophyll. Some people love the strong, pungent flavor that arugula brings to the table, others not so much. If you want to curb the strong flavor, then you should try massaging the arugula with dressing and marinating as your first step. This will give it some time to absorb the flavors and wilt. We recommend marinating the arugula for 30 minutes if you're hoping to lighten up the bitterness.
2. 
Mixing your vinaigrette: order of ingredients matters
When making your dressing, start with the vinegar and add any granular ingredients first. Think things you'd want to dissolve like salt and other seasonings. Since these ingredients won't dissolve well in the oil it's best to whisk them with the vinegar first then gradually add the oil.
3. Add protein for extra balance
A well balanced salad offers nutrients, satisfaction and flavor. Adding protein to your salad can help you feel fuller, and even stabilize your blood sugar, helping to prevent sugar cravings and crashes. We recommend grilled chicken, shrimp, or garbanzo beans if for vegetarians!
4. Make it vegan
If you're a vegan, don't run away just yet. The word "cheese" may be in the title of this recipe, but simply leave that ingredient out and it becomes fully vegan.
---