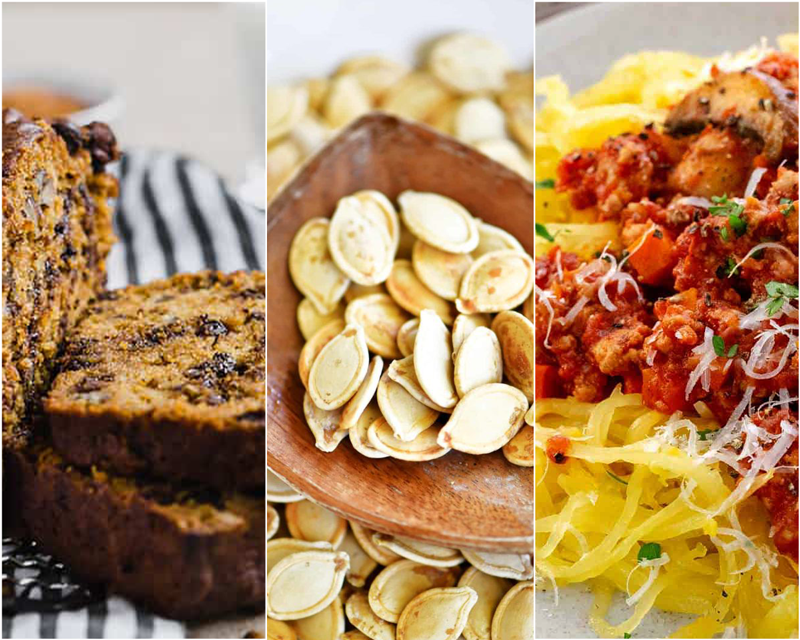 By Dominique Najarian, Contributing blogger
As summer comes to an end and the weather cools down, we find ourselves craving warm and hearty dishes. Fall is filled with beauty and color as the leaves change and we decorate our homes with vibrant gourds and bright orange pumpkins. As we settle in to this cozy season, we may have to work a little harder to eat healthy as we naturally crave heavier dishes. But fear not! With squash and pumpkins in season, this is the best time to use these nutritional vegetables in very tasty and healthy dishes. Squash and pumpkins can be used for healthy entrees, nutritional snacks, and delicious desserts.
Nutritional Spaghetti Squash
Who doesn't love pasta? With a variety of types and sauces, pasta is a meal we all fall back on when we want something easy that will satisfy our craving. Unfortunately, pasta is high in calories and carbs which can make consuming too much too often very unhealthy.
Luckily, there is a tasty and nutritional substitute for pasta that will satisfy your craving while also improving your health. Spaghetti squash is a vibrant, nutrient rich vegetable with a subtle nutty flavor. Something many people don't know is that spaghetti squash is packed with vitamins and minerals. With one cup of cooked spaghetti squash containing only 42 calories, you can have that second portion without feeling guilty! Spaghetti squash also contains a high dose of fiber, vitamin C, vitamin B6, and manganese. With this tasty and healthy dish, your taste buds and your body will thank you.
Note: Spaghetti squash can be treated as pasta and is very tasty with a tomato sauce or pesto.
Ingredients
1 Spaghetti Squash
Extra-virgin olive oil
Salt and black pepper
 Instructions
Preheat oven to 400°F
Cut the spaghetti squash in half lengthwise. Use a spoon to scoop out all of the seeds and ribbing. Brush or drizzle the inside of the squash with olive oil. Sprinkle the squash with salt and pepper.
Place the spaghetti squash on a baking sheet with the cut side down. Use a fork to poke holes on the outside of the spaghetti squash as you would with a potato.
Bake the spaghetti squash for 30 - 40 minutes until it is lightly browned on the outside. The squash should be tender but still a little firm. The time may vary depending on the size of the spaghetti squash.
Remove the squash from the oven and flip it over so that the cut side is facing up. When cool to the touch, use a fork to scrape and fluff the golden strands from the sides and center of the spaghetti squash.
To serve, put desired amount in a bowl and top with your choice of sauce or enjoy as is. Bon appetite!
"Let food be thy medicine, and medicine be thy food." - Hippocrates
Savory Roasted Pumkin Seeds
Pumpkin seeds are filled with many vital nutrients. A small amount of pumpkin seeds contains a healthy dose of iron, healthy fats, zinc, magnesium, and protein. What we love about pumpkin seeds is their versatility. They can be consumed as a snack for a quick protein fix or they can be used in salads to add a nutritional, nutty flavor.
As Halloween approaches, we get excited to use our creativity to carve a bright orange pumpkin. We can also use this holiday as a chance to get creative with cooking! Here is a simple and delicious recipe you can use for your pumpkin seeds.
Ingredients
1-1/2 cups raw pumpkin seeds
2 teaspoons olive oil
1/2 teaspoon garlic salt or other seasoning of your choice
Cooking spray
Instructions
1.) While carving out your pumpkin, remove the seeds and place in a colander. It helps to put the stringy insides on a separate piece of newspaper or directly in the trash.
2.) Place the colander in your sink and rinse the seeds with water, removing as much of the pumpkin pulp as possible.
3.) Preheat oven to 300 degrees. 
4.) Pour the pumpkin seeds on to a towel and pat dry.
5.) Toss the seeds in a bowl with the olive oil and salt.
6.) Spray a baking sheet with cooking spray. Spread the seeds out on the baking sheet and bake for about 45 minutes or until golden brown, stirring halfway through.
"I can't control everything in my life, but I can control what I put in my body." - Unknown
Chocolate Chip Walnut Pumpkin Bread
Looking for a dessert that's nutritional and protein rich? Look no further! Let yourself indulge in this healthy and hearty pumpkin bread that will knock your socks off. 
This dessert will give you a serving of vegetables, protein, and chocolate all in one recipe. This spiced bread will fill your kitchen with warm aromas that will have your mouth watering. Hints of cinnamon, melted dark chocolate, and crunchy walnuts all make this dessert a must have.
Ingredients
1 cup sugar
1/2 cup softened butter
2 eggs
2 cups pumpkin purée
1-1/2 cups flour
1/2 teaspoon salt
1 teaspoon baking soda
1 teaspoon cinnamon
1 teaspoon vanilla
1 cup dark chocolate chips
1 cup chopped walnuts
Instructions
1.) Preheat oven to 350 degrees.
2.) Cream together butter and sugar using an electric mixer.
3.) Add the eggs and pumpkin puree to the bowl.
4.) Mix on medium speed until mixture is smooth and blended together.
5.) Add the flour, salt, baking soda, cinnamon and vanilla to the mixture.
6.)Mix together on low speed only until all ingredients are blended together, be sure not to over mix the batter. 
7.) Add the chocolate chips and walnuts and gently stir into the batter using a spatula.
8.) Use parchment paper to line a 9" x 5" bread pan.
9.) Spray the parchment lined pan with cooking spray and pour the batter in. Bake the bread for 55 minutes, then turn the oven off and leave the bread in for an additional 10 minutes.
10.) Remove the bread from the oven and let cool for ten minutes, then turn out onto a wire rack.
"Don't eat less, eat right." - Unknown
---