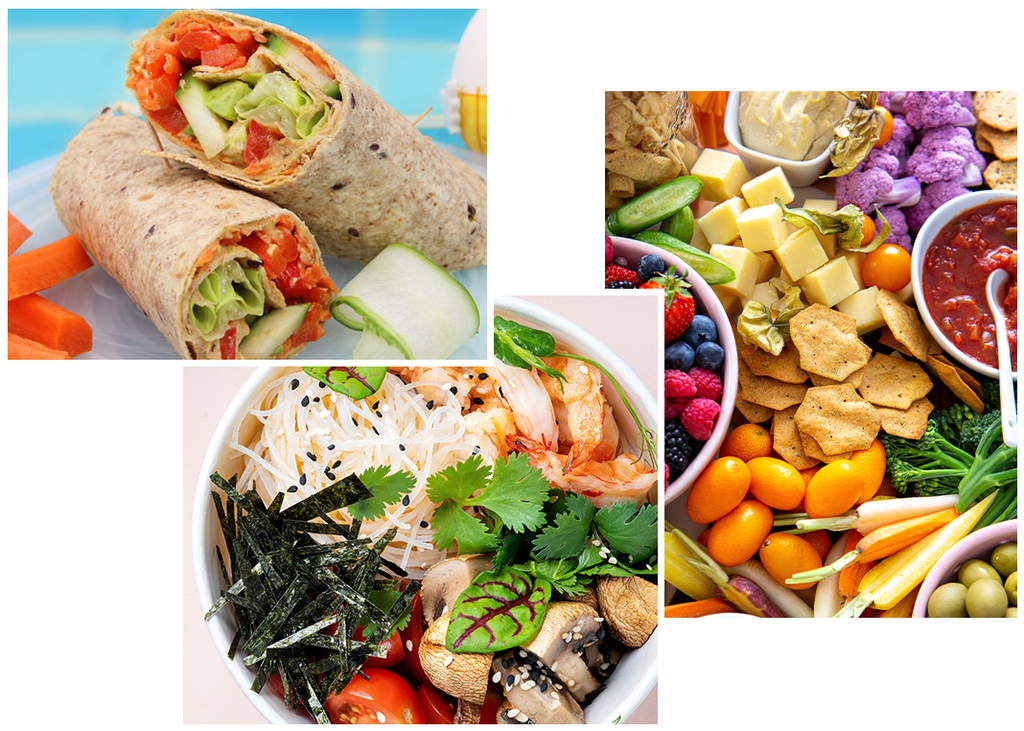 By Amanda Webb, Contributing Blogger
The last thing you want to do on a hot summer day is to be stuck in the kitchen making lunches for everyone. Most parents are always looking for some quick lunches that are kid-friendly. Why make two separate lunches when you can all enjoy the same thing? You want to eat a healthy lunch, and you want your kids, too as well. 
Finding easy ways to feed your children healthy food is easier said than done. But there are quite a few lunches that are healthy, kid-friendly, and quick. Here are some ideas that should keep you and the kids happy for the rest of the summer. 
First, here are a few tips for making quick lunches that are kid-friendly. 
Tips for Making Quick Lunches that are Kid-Friendly:
Prep vegetables once a week - I always like to keep an assortment of fresh vegetables pre-cut so we can all grab them easily for snacks or meals. 

It's not all about sandwiches - Sure, a sandwich is an easy kid-friendly lunch, but even adults can get sick of them. Try wraps, boards, or bowls instead. (There are more details on these lunch ideas below.)

Being a kid-friendly lunch isn't always about the food. If you make it a fun experience, I can almost guarantee your kids would eat just about anything. Take your lunch to the park, have a picnic on a beach, or go on a short hike. 
Our Top 3 Lunches for You and Your Kids
Hummus and Roasted Red Pepper Wrap 
This wrap is really easy to put together. Adults and kids will love the balance of savory, creamy hummus with sweet roasted peppers. Plus, it's a vegetarian option for a quick lunch. I love adding a little lemon juice to just about anything. It makes all the difference here. Adding acid to your meals will boost the flavor naturally. 
Ingredients:
Tortilla wraps of your choice 
Hummus 
Roasted red peppers 
Mixed salad greens 
Cucumbers, sliced 
Olives, chopped 
Lemon 
Extra virgin olive oil 
Salt & pepper 
Instructions:
Spread a generous amount of hummus on the wrap. Top with the roasted red peppers and lettuce. You can stop here for the kids or keep going if you think they will like the additional flavors. 

For the flavor-boosted wrap, add chopped olives, cucumber slices, a squeeze of lemon juice, a drizzle of EVOO, salt, and pepper. 

Roll up the wraps and cut them into halves. 

Enjoy immediately, or they will stay fresh in the fridge for a few hours. 
Notes & Tips:
You can also add feta and a dollop of plain Greek yogurt for a quick, creamy addition. 
Shrimp Poke Bowls 
A poke bowl is a fun way to treat yourself and do something a little exotic for lunch. It is a much more exciting lunch than a ham and cheese sandwich. Kids will love the build-your-own-bowl concept. 
Ingredients:
Cooked white or brown rice (leftover rice is great to use) or cauliflower rice 
Cooked shrimp, peeled and tail removed 
Fresh mango, diced 
Cucumber, diced 
Avocado, diced 
½ cup soy sauce 
½ cup sugar 
½ cup mayonnaise
Sriracha hot sauce
Honey or maple syrup 
Sesame seeds, optional garnish 
Instructions:
There is one ingredient (soy glaze) that requires cooking. But you can make the soy glaze anytime beforehand. It takes just a few minutes, and it's worth it. To make the soy glaze, add the soy sauce and sugar to a sauce pot. Bring to a boil and turn off the heat. Let the sauce cool and store in a mason jar in the fridge. It will stay good in the refrigerator for up to two weeks.

To make spicy mayo (this is for the adults or you can keep it mild for the kids), mix ‌the mayonnaise, a teaspoon or two of Sriracha, and a drizzle of honey. You may need to thin it out with water.

To build the bowls, place a scoop of rice into a bowl. Top with cooked shrimp, cucumber, mango, and avocado. 

Drizzle the soy glaze and spicy mayo over the bowl. 

Garnish with sesame seeds and serve immediately.
Notes & tips:
You may need to soften up day-old rice. Simply microwave with a few spoonfuls of water for 30 seconds to a minute to bring the rice back to life. 
Sweet and Salty Lunch Board 
This lunch board meal is more of a concept than a recipe you need to follow. Again, the build-your-own aspect is also very kid-friendly. It's definitely a quick lunch that's interactive and fun for kids. Plus, you'll never have two bites (or boards) that are the same. It's a great way to mix up your lunch options. Lunch boards also pack up nicely for lunch on the go. 
Here are some of my favorite ingredients to create the perfect sweet and salty balance. 
Ingredients:
Meats: 
Pepperoni 
Ham, sliced and rolled up 
Prosciutto
Fruits:
Sliced peaches, apples, or pears 
Strawberries
Grapes 
Blueberries, strawberries, or blackberries 
Nuts: 
Cashews, Marcona almonds, pistachios
Chocolate-covered almonds as a treat
Cheese: 
Cheddar
Goat cheese
Manchego 
Pepper Jack 
Extras: 
Crackers or crusty bread slices 
Honey 
Raspberry jam 
Simply place all the ingredients on a cutting board or large plate and enjoy!
---