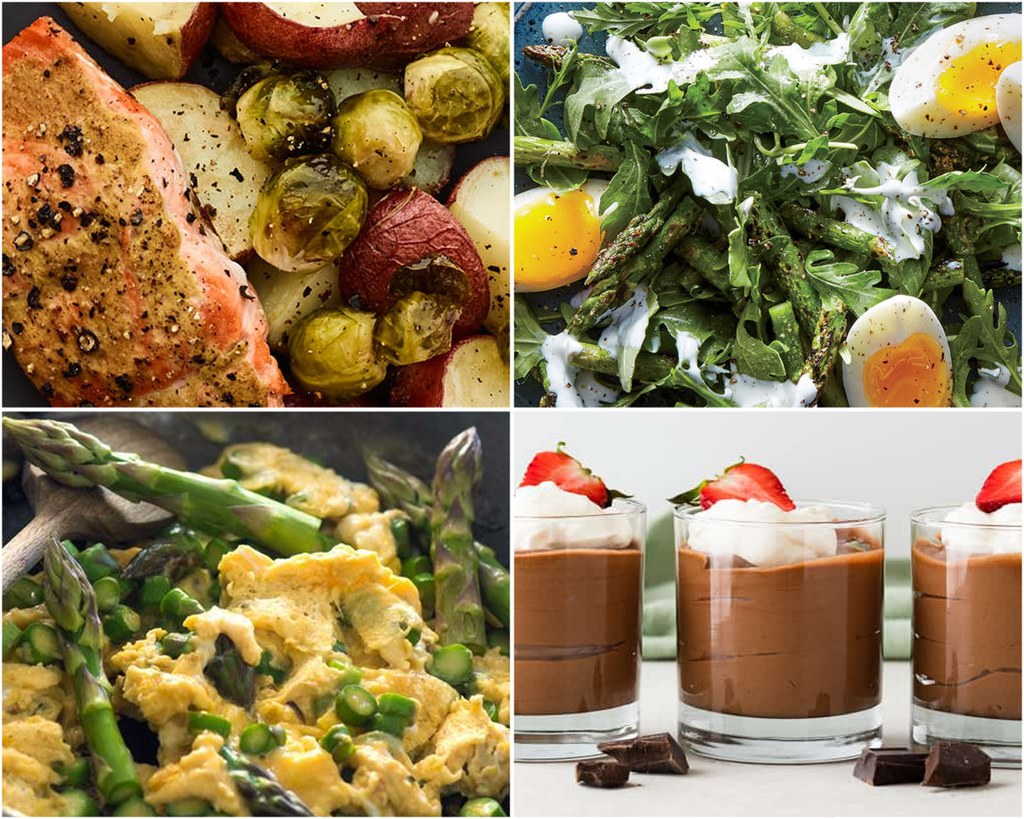 By Lily Dulberg, Contributing blogger
Spring has sprung, and although we're all adjusting to a "new normal" amidst the COVID-19 pandemic, we don't have to give up eating seasonal, healthy meals. Spring is synonymous with renewal. This season brings forth new seasonal produce like fresh asparagus, sweet sugar snap peas, and crisp lettuces. As fresh foliage starts to bloom, there's no better time to nourish your body from the inside out. It's the time of year when the weather is just perfect for picnics and walks through a park in bloom. Our favorite springtime recipes involve just a few ingredients that pack a punch for this day's worth of fresh, seasonal meals. 
Note: All recipes serve 4.
"Breakfast is everything. The beginning, the first thing. It is the mouthful that is the commitment to a new day, a continuing life."
—A. A. Gill
Spring Pantry Breakfast Skillet
This recipe is the queen of versatility — if you have eggs and some variety of fresh spring veggies, you're off to the races. Substitute almost any ingredient for something that's about to spoil in your fridge. Use this recipe as a framework and get creative!
1 tbsp olive oil
½ small onion (diced)
1 clove garlic (minced)
1 cup mushrooms (cut in quarters)
4 stalks of asparagus (chopped)
1 cup fresh spinach
4 eggs
Salt & pepper to taste
Heat olive oil in a nonstick skillet or cast-iron pan over medium.

Flick a few drops of water into pan to test the heat. It's ready when you hear a sizzle!

Add onion and garlic to pan. Season with a pinch of salt and pepper. Cook until translucent and fragrant (about 3 min).

Add mushrooms and asparagus to the mix. Cook until tender (about 6 min).

Tear spinach leaves into pan and cook until slightly wilted.

In a bowl, carefully crack one egg at a time. Turn the heat up to medium-high and add eggs to the pan, spreading out whites as best you can (to achieve that crispy, crunchy fried egg with a runny yolk). Cook eggs for just about 3 minutes, or to your liking, remove from heat, and voila! 
"All you need is love, but sometimes, a lunch break works, too."
— Unknown 
Crisp Lettuce and Arugula Salad with Jammy Eggs
If you have a hankering for something crunchy, healthy, and filling, this salad will do the trick. 
Crisp lettuce and peppery arugula serve as a bed for jammy eggs, croutons, and asparagus, topped with a simple lemon vinaigrette. In just about 15 minutes, you'll have lunch prepped and ready to go.
Salad Prep
1 head butterhead or romaine lettuce (washed and chopped into thick pieces)
2 handfuls baby arugula
4 jammy eggs (AKA soft-boiled to perfection)
½ cup homemade or store-bought croutons 
1 bunch asparagus (blanched and chopped)
Salt and pepper to taste
Vinaigrette
Juice of ½ lemon
4 tbsp olive oil
1 tbsp vinegar (any kind will do!)
Pinch of salt & pepper
Transfer & toss lettuce, arugula, & asparagus in a large mixing bowl. Top with croutons.

Cut eggs in half and set aside.

In a container, mix lemon juice, olive oil, vinegar, salt, and pepper with one ice cube (to emulsify). Shake vigorously until combined. 

To serve, toss salad with dressing and add eggs on top. Bon appetit! 
"Dinner is where the magic happens in the kitchen."
—Kris Carr
Sheet Pan Salmon with Potatoes and Brussels Sprouts
Sometimes a low-maintenance, easy-clean-up meal is just what the doctor ordered. This dinner will be ready within the hour, takes less than 20 min to prep, and involves one single sheet pan for the main and side dishes. Prep the veggies and salmon, add to the pan, and you're over halfway there. 
A few glugs of olive oil
1 lb fresh salmon (season with salt and pepper 15 min before cooking)
2 potatoes of your choice (scrubbed & microwaved for 3 minutes and chopped into bite-size pieces)
½ lb brussels sprouts (washed and halved)
Salt & pepper to taste
1 chive or leek (chopped, optional for garnish)
Heat an empty sheet pan in the oven on 400. Using a hot sheet pan is the trick to getting your food supremely crispy.

Take sheet pan out of oven coat with olive oil. Place brussels sprouts (flat-side down) and potatoes on pan. Mix brussels sprouts and potatoes around in oil until evenly coated. Season with salt and pepper and place in oven on 400 degrees for 18 minutes.

Remove veggies from oven and toss around. Place salmon, skin side down, on sheet pan with veggies. Roast for another 10-12  minutes.

Using a spatula, remove salmon, potatoes, and brussels sprouts from sheet pan. Serve with fresh chives or leeks.
"Dessert is like a feel-good song, and the best ones make you dance." 
—Edward Lee.
Silky Chocolate Mousse with Sweet Strawberries
Who doesn't like a creamy, delightful, chocolate mousse? This recipe is simple, fool-proof, and absolutely irresistible. The perfect finish to any spring dinner, this silky chocolate mousse is topped with fresh strawberries
1 ½ cups heavy whipping cream (sub coconut cream for a dairy-free option)
1 cup high-quality semi-sweet chocolate (coarsely chopped)
1 cup strawberries (thinly sliced)
Warm ½ cup of cream in the microwave for 30 seconds. Add 1 cup chocolate and stir until combined. Set the bowl aside 3 minutes, or until the chocolate completely melts.

Whisk the remaining 1 cup of cream until thick. Add the remaining chocolate and fold together until incorporated.

Place bowl, covered, in the refrigerator for 3 hours. This mousse will thicken as it cools.

Serve topped with fresh strawberries and additional whipped cream.
These four recipes will set you off on a tasty, nutritious, springtime journey. Eating healthy doesn't mean you have to sacrifice flavor. These simple recipes require only a few main ingredients and will be ready to serve in no time at all. You can add your own flair to these recipes by experimenting with different seasonal springtime produce. Cheers to a delicious, healthy, and happy spring season!
---