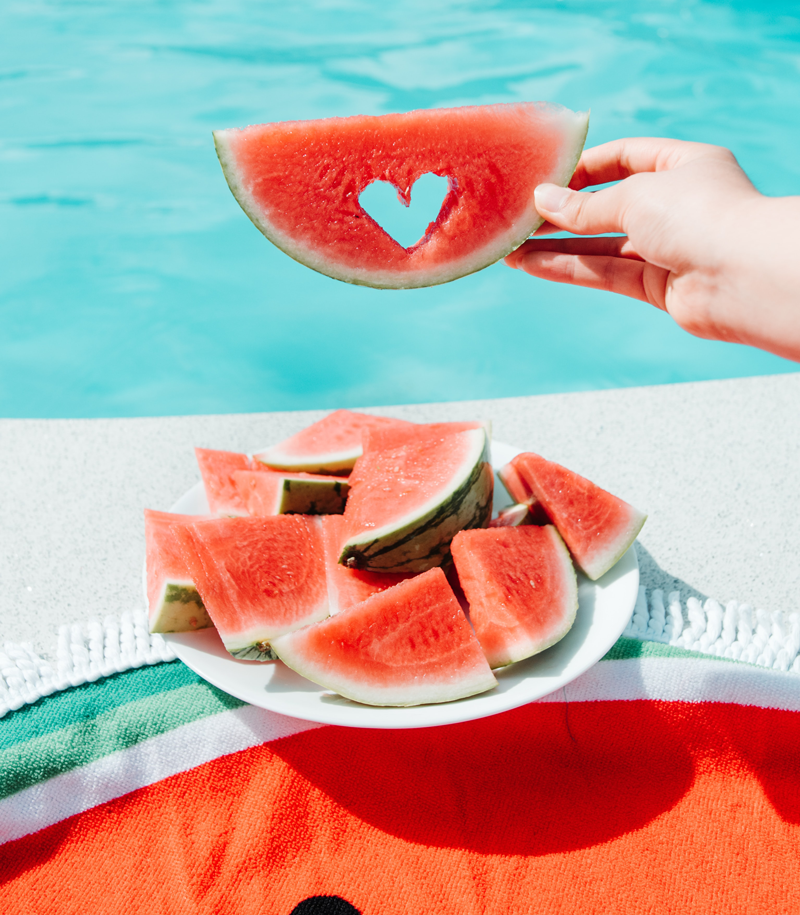 By Devan Letemendia, Contributing blogger
For me, and for the rest of the humans on this planet, I think, there is nothing like cold, fresh fruit and veggies in summertime.
This hottest time of year always has me reliving my childhood days in Texas. Summer conjures up images of running through sprinklers, a billion bug bites, and tire-swinging - while mom desperately tries to sneak us some nutrition throughout the day so we don't pass out from sheer heat exhaustion.
With the help of a tried and true, decades-long family recipe book, Mom succeeded in feeding two overactive children with delicious summer meals. I have her to thank for my adventurous attitude toward food, and for these crisp, healthy meals that are as flavorful as they are simple. And, no hot food allowed!
1. Peach Tomato Caprese Salad
Total time: 10 minutes
Serves 6 people
INGREDIENTS
1/4 cup red onion sliced
4 ripe peaches or nectarines pitted and sliced
3 cups heirloom cherry tomatoes halved
1 cup baby mozzarella balls halved
Baby Basil leaves
Maldon salt & freshly cracked black pepper to taste
For the dressing
2 tablespoons red wine vinegar
1 lemon juiced
1/4 cup olive oil
Kosher salt & freshly cracked black pepper to taste
INSTRUCTIONS
Combine the ingredients for the salad on a large serving platter or in a large bowl.
Whisk the ingredients for the vinaigrette together. Drizzle over the top and serve.
2. Shrimp & Feta Tabbouleh
Total time: 35 minutes
Serves 4 people
INGREDIENTS
2/3 cup medium grind bulgur
1 & 2/3 cups water
1/3 cup fresh lemon juice
12 oz chopped cooked shrimp
3/8 tsp blk pepper
1 cup diced cucumber
1 pint grape tomatoes
1/2 cup chopped red onion
1/2 cup chopped parsley
2 tbsp olive oil
1/2 cup crumbled feta cheese
1/4 tsp salt
INSTRUCTIONS
In saucepan, combine bulgur, water and 2 tbsp lemon juice. Bring to boil. Cover & simmer till tender (about 15 minutes). Drain & let cool.
Place cooked shrimp (boiled or sauteed works great) in large serving bowl. Sprinkle with 2 tbsp lemon juice & 1/8 tbsp pepper. Marinate for 5 minutes.
Stir in cucumber, tomatoes, onion, parsley, oil, and cheese. Add salt, remaining lemon juice, and remaining pepper. Toss together.
Stir in cooled bulgur. Enjoy!
3. Summer Melon Salad with Pistachios
Total time: 25 minutes
Serves 4 people
INGREDIENTS
1 cup cantaloupe pieces, cut into cubes or shaped into balls
1 cup of honeydew pieces, cut into cubes or shaped into balls
2 limes, zested and juiced
2 tbsp honey
2 tbsp apple cider vinegar
1 tbsp olive oil
1 tbsp chopped fresh mint or basil
4 cups baby arugula
1/4 cup toasted pistachios, roughly chopped
INSTRUCTIONS
In a large bowl, toss the cantaloupe and honeydew with lime zest and juice, honey, vinegar, olive oil, and fresh herbs. Refrigerate for 20 minutes. Just before serving, toss the arugula with melon. Top with pistachios. Eat up!
4. California Ceviche
*Just a heads up - this one requires some overnight preparation (but it's totally worth it!)
Total time: 25 minutes
Serves 4+ people
INGREDIENTS
1 & 1/2 pounds shrimp, peeled, deveined and butterflied (or fish of choice, if preferred)
Lime juice from 6 large limes
3 tomatoes, peeled, seeded and chopped
2 jalapenos, seeded and minced
1/3 cup olive oil
Kosher salt (to taste)
Freshly ground black pepper (to taste)
1 red onion, thinly sliced
1/4 cup cilantro, chopped (for those who don't prefer cilantro, it can be left out!)
2 limes, large
3 avocados, peeled and sliced
1 package tortilla chips
INSTRUCTIONS
*Wait to cut the avocado, tomatoes, and jalapenos until the dish is ready for serving (the dish tastes fresher this way).
Cut shrimp (or fish) into 1/2 inch cubes and place in medium glass bowl. Cover shrimp with prepared lime juice (from 6 limes) and refrigerate overnight, mixing shrimp after about 4 or 5 hours in the fridge.
The next day (or, if during the day, after 8 hours), drain juice from shrimp. Combine shrimp with tomato, jalapenos, olive oil, salt, pepper, onion, and cilantro. Squeeze juice from 2 remaining limes and toss well. Arrange sliced avocado on top and serve with tortilla chips. Voila!
__
Because these are family recipes, the prep time is roughly estimated. Most of our family cooking sessions these days also take into account long conversations, and the occasional sip of some chilled wine. For our purposes here, we've eliminated that time for you - but feel free to add this in yourself! With that, I'll leave you with some of mom's advice - "Cooking is a journey, enjoy every step of the process!"
---