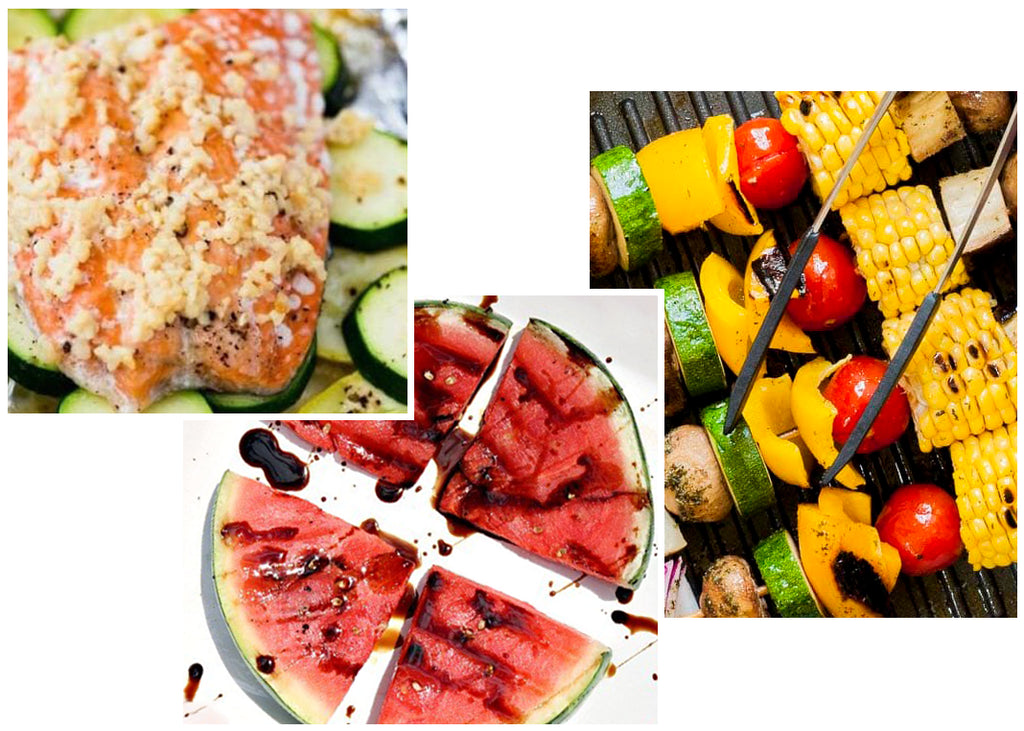 By Shannon Gauger, Contributing blogger
Summer is the best time to escape the hot kitchen and do some cooking outside for a change. The warmer weather is a perfect reason to incorporate and try out some healthy ideas outside on the grill. Go ahead and give your oven a rest and embrace the char and smokiness that the grill has to offer. Let's fire up the grill and check out these 7 summer grilling recipes that your family will love!
1. Easy Grilled Veggie Kabobs
 Veggie Skewers aka Grilled Vegetable Kabobs are the easiest way to eat a rainbow of delicious veggies during summer. The perfect side dish for your weekend bbq or grill party. 
Veggie Skewers are the summer version of oven-roasted vegetables. You can mix and match your favorite ones, spice or marinade them and cook them on a gas grill or in the oven or on the stovetop. Here is our favorite combination:
red onion

white button mushrooms

zucchini (or courgette)

bell pepper (either red, yellow, orange, green)

cherry tomato

corn

eggplant
You can choose to include all or only some of the above-listed veggies and your vegetable kabobs will still turn out perfect.
After the vegetables are safely on the skewer we prepare a quick marinade. In a separate bowl whisk together a simple mixed herb marinade using olive oil, garlic powder, basil, oregano, salt, and pepper. Use a silicone brush to generously cover the veggies with the marinade.
The best little trick is to use aluminum foil drip pans. Similar to the oven grilling, pre-heat your gas grill for 400 Fahrenheit (200 degrees Celcius) and grill the veggie kabobs for 10 minutes, turning them half time.
Recipe and image courtesy of My Pure Plants
2. Grilled Watermelon
Have you ever thought about trying grilled watermelon but don't know where to begin? This is one of the tastiest and most healthiest desserts you can eat. It's so simple to make and doesn't take a lot of time and effort. The inspiration came from a restaurant and the quality is certainly "guest-worthy." But also perfect for any ordinary day. It's also Paleo and Whole30.
This delicious treat is the easiest of them all; simply follow these steps:
1. Preheat grill.
2. Cut watermelon into triangles.
3. Grill on each side for 4-5 minutes.
4. Drizzle with a good quality Balsamic Vinegar.
5. If you enjoy cheese (and aren't following Paleo or Whole30), add some Feta Cheese on top.
Recipe and image courtesy of Pink Fortitude
3. Summer Basil Chicken and Shrimp Kabobs
Summertime means grilling, and grilling means kabobs! Basil Chicken and Shrimp Kabobs use a sweet basil and oil for a flavorful variant on kabobs. The basil gives it the sweet summer flavor and you can mix and match veggies that are in season. 
For the best chicken and shrimp kabobs, we suggest checking out this recipe here.
Recipe and image courtesy of Son Shine Kitchen
4. Grilled Corn on the Cob with Avocado Dressing 
Perfectly Grilled Corn on the cob is very juicy and pairs so well with creamy vegan avocado dill dressing. Easy and impressive recipe for your summer barbecue! The recipe is easy and the corn is always perfect. Check out how to add some flair to your corn on the cob here.
Recipe and image courtesy of Happy Kitchen Rocks 
5. Salmon Foil Packets with Summer Veggies
Who doesn't love a delicious and tasty garlic salmon made in foil (you can also grill or bake it!)? This is such an easy summer staple and it's great to add in some summer veggies to make the meal complete. Here's the full recipe you need to try!
Recipe and image courtesy of Spaceships & Laser Beams
6. Seasoned Grilled Chicken With Avocado Salsa
This is a perfect way to cook some grilled chicken so it's always juicy and never dry. This recipe shares a special secret to make it happen. Top your chicken with a tasty avocado salsa that is so flavorful and fresh! It's an amazing combination you will want to try-- find the full recipe here. 
Recipe and image courtesy of Pink When
7. Simple Shrimp on the Barbie
This fun recipe is quick and easy to whip up, but full of flavor. All you need are a few things to get you going on this yummy summer dish! It's also fun to say that you are making shrimp on the barbie-- check out the Australian-inspired dish here.
Recipe and image courtesy of Oh So Delicioso
Now for the hardest part- which one to make first?!
---