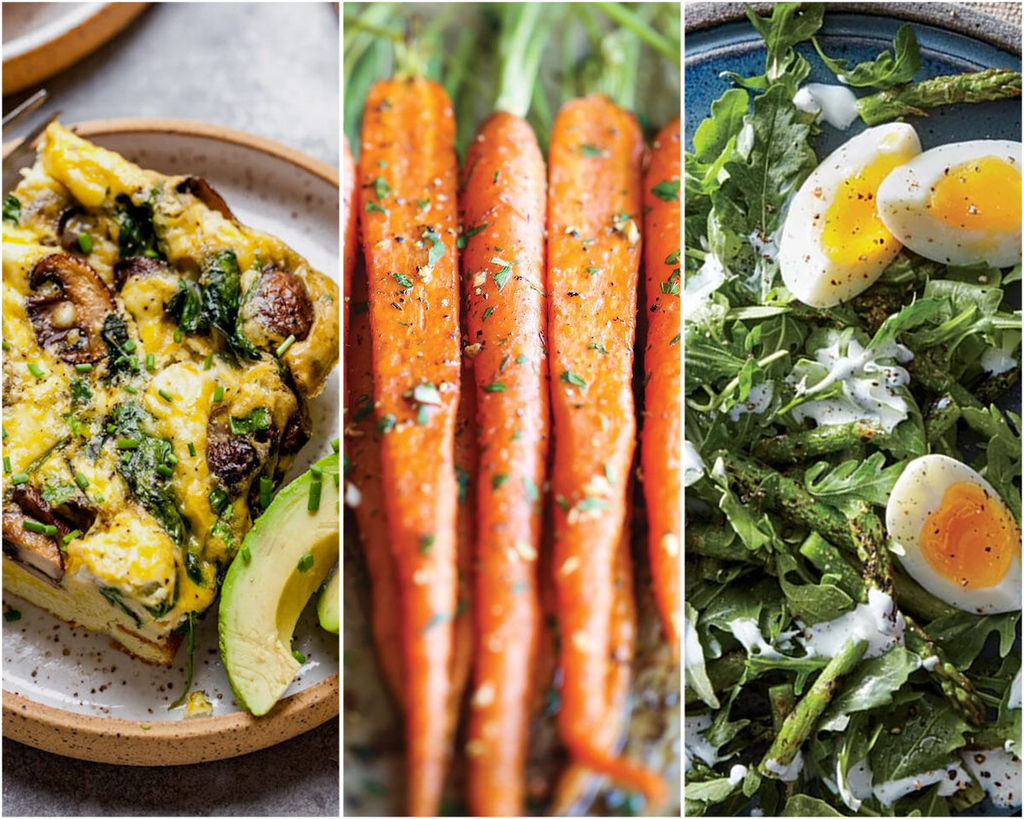 By Breanna Woods, Contributing blogger
The weight of winter is finally lifting, and spring is here to brighten things up a bit. Everything about spring feels a little like a fresh start. Flowers are blooming, the sun is shining, and the produce at the grocery store is finally looking fresh again.
It seems like spring produce doesn't always get the same attention as summer strawberries and tomatoes. Maybe that's because spring veggies don't feel as versatile, or they're a little more intimidating to use. Maybe it's because spring veggies tend to be more bland or bitter. Either way, we're ready to give spring produce the credit it deserves.
This year, don't settle for the same boring spinach salad or pickled beets. Instead, snag what you need at the store to try these refreshing, flavorful and healthy spring recipes. 
Recipe and image courtesy of The Seasoned Mom.
1. Spring Pasta
This dump-and-bake recipe features a handful of spring veggies - artichokes, asparagus, carrots, parsley and peas. Actually, this recipe is a great way to use up almost any spring veggie you've got in the fridge. The chicken and penne really round out this recipe to make it all you need for a complete, satisfying spring lunch or dinner. This pasta dish is super easy and definitely easy on the eyes (look at all that color!). To make this recipe even easier, use rotisserie chicken.
Recipe and image courtesy of Damn Delicious.
2. Garlic Roasted Carrots
Carrots are kind of symbolic to spring. If you've struggled in the past to find a way to eat carrots outside of dunking them in ranch, then we're pretty confident we found the recipe for you. This recipe is easy and requires only a few simple ingredients. The finished product - roasty, garlicky carrots - will be your new favorite spring side dish.
Recipe and image courtesy of Two Peas and Their Pod.
3. Spinach Mushroom Breakfast Casserole
Spinach might be our favorite spring veggie because you can eat it any time of day, and it's an easy veggie to add to almost any recipe. You can get your greens in as you start the day with this Spinach Mushroom Breakfast Casserole. Actually, this recipe would be good for lunch or dinner too. The eggs and meaty mushrooms will keep you full and the tangy goat cheese adds creaminess and great flavor. Feel free to add whatever veggies you have on hand!
Recipe and image courtesy of Jar of Lemons.
4. Healthy Rhubarb Muffins
These muffins are gluten-free, using oats instead of flour to create a soft, yet slightly nutty texture. They're sweetened with coconut sugar, banana and dates and full of other good stuff like chia, flax, almond butter and of course - rhubarb. If you love rhubarb but you're tired of the same, sugar-laden rhubarb pie recipes, give this muffin a try this spring.
Recipe and image courtesy of Diethood.
5. Garlic Parmesan Sugar Snap Peas
This recipe had us at garlic and parmesan. And then we saw the crunchy panko crumbs and knew we had to share! Sugar snap peas can taste pretty "blah" if they're not done right. Well, they're definitely done right in this recipe. These would make a great side dish for basically anything. Actually, they'd make a delicious, low-cal and high-fiber snack too.
Recipe and image courtesy of Simply Recipes.
6. Roasted Beets with Balsamic Glaze
If you've been intimidated by beets (or maybe traumatized by the pickled kind), here's your chance to give them another try. Roasting the beets caramelizes their natural sugars, giving them tons of amazing flavor. The balsamic glaze is quick and simple (only two ingredients!), and makes these beets seriously addictive. Serve them with a little goat cheese on a bed of greens, and meet your new favorite spring lunch.
Recipe courtesy of Cooking Light, image by Jennifer Causey.
7. Arugula, Egg & Charred Asparagus Salad
This salad looks absolutely dreamy. It's quick and easy to throw together, and won't leave you feeling like you need a nap after lunch. The add-in possibilities are endless, which we love. To bulk up this salad's calorie and protein content, add shredded chicken or roasted chickpeas. Or, mix in a little more color with diced red pepper or sundried tomatoes. BRB...making this now.
Recipe and image courtesy of The Kitchn.
8. Green Goddess Quinoa Salad Bowl
It's impossible to feel bored with this salad. This recipe features a few spring veggies - spinach (feel free to use kale or arugula too), radishes and scallions, as well as nutty quinoa and protein-packed edamame. The homemade green goddess dressing is easy and much lighter than the typical mayo-filled store bought version. Don't be surprised if you feel a bit glowy after you eat this salad.
These spring recipes will brighten your meal rotation and help you take advantage of the abundance of fresh, spring produce available in your garden or grocery store. If you normally wait for summer to stock up on seasonal produce, get a head start this spring! You'll be happy you did.
---