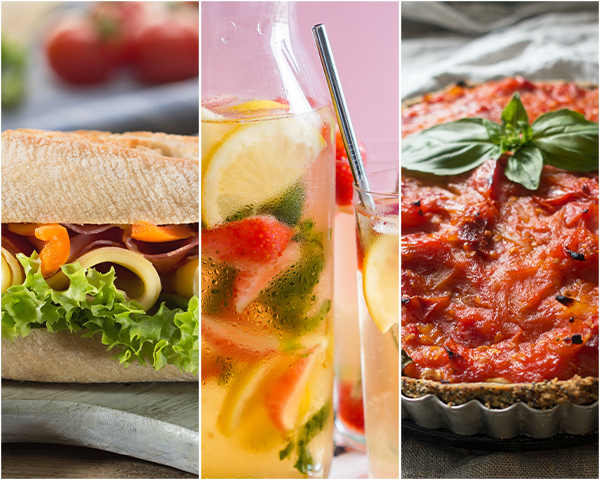 By Katy Duncan, Contributing Blogger
The countdown to summer is almost complete! To get you in the mood for those hot summer days, here are three delicious summer recipes to try out. They're sweet, they're spicy, they've got a kick and they're here to stay. Well…at least for the next 3 months for summer. 
All recipes can be modified to fit dietary requirements or personal preferences so get creative and make these work for you! I believe summer foods should be easy on your stomach and easy on your schedule. They shouldn't take all day to prepare and they should be able to fuel your body without weighing you down (sorry baked mac n' cheese, this isn't your time). 
Keep reading for some summery treats that are sure to shine bright this season.
Recipe #1 - Strawberry Lemonade
Sure, you can drink this year-round but I think we can all agree it tastes way better in the summer season. There's nothing quite like a crisp, light, refreshing lemonade on a hot day. 
Ingredients: 
  ½ lb of Strawberries - Washed, de stemmed and chopped in half

  3-5 Large Lemons - Squeezed and juiced 

  1 Cup of Sugar - White 

  5 Cups of Water- Cold 
Directions: 
  Blend up strawberries in a blender till they are a fine puree. You can strain the puree to remove seeds or leave as is.  

   In a small saucepan, heat up water and sugar on stove top till at a boil and all the sugar has dissolved. Remove from heat and let cool. 

  Squeeze your lemons into a cup. This can also be strained to remove pulp or you can leave as is for a rugged fresh taste. 

Combine sugar water syrup mix, strawberry puree, and freshly squeezed lemon juice till well mixed. Refrigerate till cool. 

Serve up over ice with a garnish of fresh strawberry if desired and enjoy!
Recipe #2 - Summer Sandwich 
Sandwiches are a summer essential. Pack them for a day trip or eat them for your daily lunch-sandwiches are meant for summertime. It's easy to buy all the fixin's and have them ready to go when you want them too, so stock up! 
Ingredients: 
  2 Slices of Bread - Your choice

  4-6 Slices of Meat - Your choice

  3-5 Slices of Cheese - Your choice

  3-5 Slices of Lettuce - Iceberg, romain, or green leaf works best

  1-2 tbsp of a Condiment - Mustard, mayonnaise, thousand island, aioli, any other spread of your choosing

  2-3  Slices of Tomatoes - Sliced thinly 
Directions: 
   Place one side of your bread down on a flat plate or cutting board to begin sandwich assembly.

  Spread the condiment of your choosing on the slice of bread laid out before you.

  Add the meat to the sandwich, slice over slice. 

  Add the cheese in the same fashion, slice over slice. 

 Layer on the veggies; lettuce and tomato. 

 Top with the other slice of bread, cut in half if desired and enjoy! 
Recipe #3 - Italian Tart
If you planted a garden this year, most likely you've got some tomatoes to show for it. A great way to use up those tomatoes is in an Italian-inspired tart. You can use the tomatoes for a sauce or slice them thinly and spread them across the dough.
Ingredients: 
  1 Package of Puff Pastry dough OR Phyllo Dough - Depending on how puffed or flaky you want the base of the tart to be, use Puff Pastry or Phyllo Dough accordingly

  2-3 Tomatoes - Sliced thinly

  5-7 Oz of Mozzarella - Sliced in ¼" thick slices 

 1 Cup of Pesto 

 1 Cup of Black Olives - Chopped finely 
Directions: 
   Lay out your dough on a cutting board and cut into 1-2" inch squares. Lay these squares out on a greased baking sheet. Your oven should be preheated to 375 degrees. 

   Paint the pesto onto the dough 1 tbsp at a time till sufficiently covered. 

  Layer on mozzarella. Bake in the oven till the cheese begins to melt. 

  Pull out of the oven and layer on olives and tomatoes. Return to the oven and let bake till dough is browned and crisp on bottom and tomatoes have begun to soften and wilt. Can turn on a low broil for 2-3 minutes to get the top browned a bit. 

 Remove from the oven. Let cool slightly and enjoy! 
When I think of summer, I think of spending less time indoors, less time cooking and more time soaking up the sun. The food you make and eat should be light on your watch and your waistline and these recipes do just that. Bon Appetit! 
---