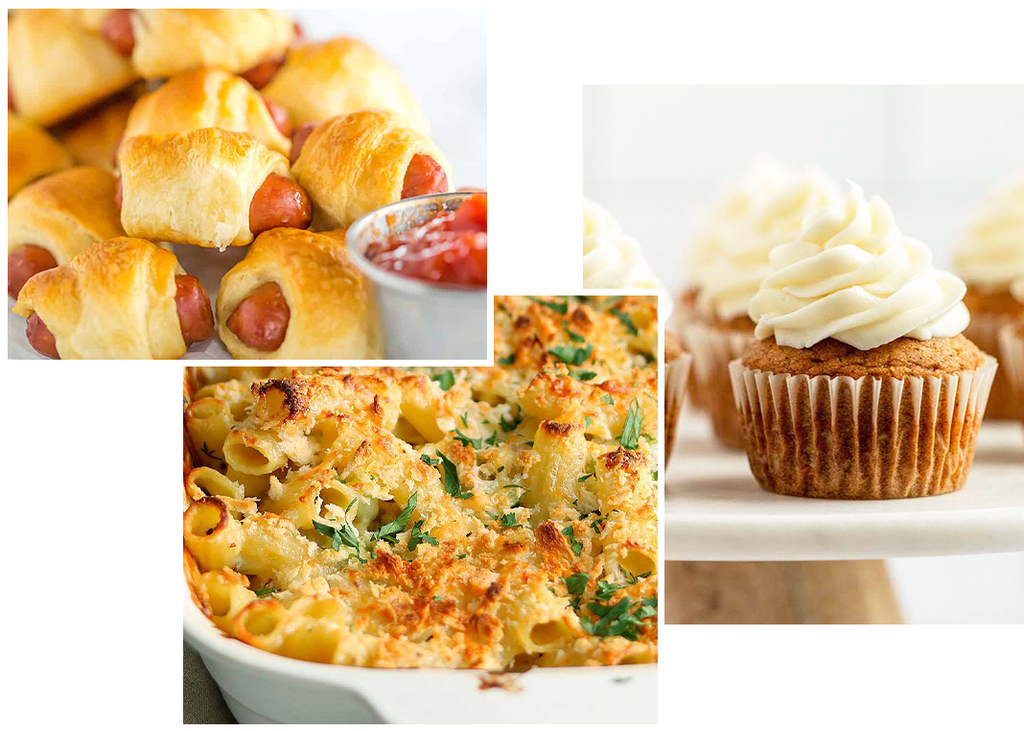 By Taylor Haught, Contributing Blogger
We know. Getting the WHOLE family to enjoy classic fall favorites can be a bit of a struggle. I don't know about you , but getting me to eat anything other than gravy when I was younger during the season of Thanksgiving was quite difficult. Stuffing? Ick. Cranberry sauce? Excuse me… what? Don't even get me started on creamed spinach. 
Thankfully, there are both easy and delicious fall recipes your whole family will love. And with the weather cooling off, we couldn't be more grateful for these yummy, heartwarming meals.
Pigs in a Blanket
These classic hors d'oeuvres are a party necessity. We can't seem to get enough of them, and when they're THIS easy to make, there's no reason not to always have some around for snacking! Dip them in grainy mustard (our favorite) or ketchup and ranch dressing for the kids!
Ingredients
1 (8-oz.) tube crescent rolls

1 12-oz. package mini cocktail weiners

 4 tbsp. melted butter

 Coarse salt, for sprinkling
Instructions
Preheat oven to 375º. 

On a lightly floured surface, unroll crescent sheets and cut each triangle into 3 smaller triangles.

Place one cocktail weiner on the thick side of each triangle then gently roll to the thinner side.

Transfer to a medium baking sheet, brush with melted butter, and sprinkle with coarse salt.

Bake until golden, 12 to 15 minutes
Cheesy Broccoli Pasta Bake
Having a hard time sneaking extra veggies into you and your family's meals? Yeah… us too. This creamy broccoli cheddar pasta bake is an easy, meat-free weeknight dinner recipe the entire family will love! 
Ingredients
4 tbsp butter

4 tbsp flour

1 tsp garlic powder

1½ cups milk

1 cup cream

2 tsp thyme

2 cups grated cheddar cheese + 1 cup for topping

½ cup grated Parmesan cheese

salt and pepper (to taste)

500 g (1lb) pasta

500 g (1lb) broccoli florets
Instructions
Preheat the oven to 180°C/350°F.

Bring a large pot of salted water to a boil.

Add the pasta and cook for 7-10 minutes. The pasta should be quite firm still as it will continue cooking in the oven. 

Add the broccoli florets and cook for the last 2 minutes of cooking. 

Reserve 1 cup of cooking water and drain.

While the pasta is cooking, melt the butter in a deep pan or saucepan then whisk in the flour.

Cook for 1-2 minutes then whisk in the garlic powder and thyme.

Add the milk, stirring/whisking continuously, until smooth. 

Cook over medium heat until the sauce has thickened and the flour has cooked through.

Stir in the cream, grated cheese, and season with salt and pepper.

Combine the pasta and broccoli with the cheese sauce. Add a little pasta water if the sauce is too thick.

Transfer to a baking dish and top with grated cheddar cheese. 

Place in a preheated oven and bake for 15-20 minutes until golden brown and bubbling.

Remove from the oven, allow to rest for 5 minutes then serve. 
Everything Fall Chili
We love this chili because it tastes like it has been carefully crafted and filled with hours of love and just a lovely dash of Fall! Also, many of these ingredients are most likely already in your kitchen, and you can't beat that. Chili is always a great go-to when you can't find anything else at the end of the day, and this recipe is one of my favorites because it's perfect for the cooler weather, and the entire family enjoys making it their own!
Ingredients
1 Tablespoon Olive Oil

½ Onion

3 cloves Garlic

7 Mini Peppers

¼ Cup Shredded Carrots

Any other veggies you feel would be a yummy addition! 

½ - 1 lb Hamburger or sausage

½ 12oz Beer

6 Pieces Thick Cut Bacon

1 16 oz Kidney Beans

1 16 oz Black Beans

1 11 oz Tomato Sauce
Spice Mix:
2 teaspoons Cumin

2 teaspoons Oregano

3 teaspoons Brown Sugar

1 teaspoon Salt

3 teaspoons Chilli Powder

2 teaspoons Paprika
Instructions 
Cook Bacon (Oven method easiest)

Chop veggies to bite size

Heat Olive Oil until it sizzles

Throw in veggies and cook on high until soft and slightly caramelized. (5-10 min)

Add in Hamburger or sausage and brown. (5-10 min)

Strain.

Put back into pot on high and pour in beer.

Reduce until the alcohol cooks off (the liquid will reduce about half. Takes 5-10 min)

Add in spice, beans, sauce, and bacon.

Simmer until ready to eat!

(Makes about 7 cups of chili)
Autumn Mashed Potatoes
Enjoy this delicious, easy mashed potato recipe superior to any I've met in my life. Want to know the trick? The secret is making a flavorful fried shallot oil and mashing that in with three varieties of potatoes, and plenty of butter and cream cheese. Can you say, YUMMMM!?!
Ingredients
1/3 lb Yukon gold potatoes 

1/3 lb waxy red potatoes 

1/3 lb russet potatoes 

3 large shallots, peeled and thinly sliced into half moons 

8 cloves garlic, smashed and peeled 

4 Tbsp butter

1/2 cup cream cheese 

1/2 cup neutral oil, canola, sunflower, safflower, grapeseed, avocado 

Salt and Pepper to Taste 

1/4 cup freshly chopped chives
Instructions
Peeling the potatoes is a personal choice, but I choose to peel them!

Quarter the potatoes and place them in a steamer basket, add the crushed garlic in there as well. 

Steam the potatoes until they are tender and easily punctured with a fork (about 20 minutes).

While your potatoes are cooking, warm the oil over medium-high heat 

Place your sliced shallots into the oil, stirring regularly until they start to turn golden (about 15 minutes).

Use a mesh strainer to remove the shallots and set them on a paper towel-lined plate. 

Once your potatoes are cooked, add the butter, cream cheese, shallot oil, and salt and pepper to your taste (the steamed cloves of garlic will mash easily into the mix and add a lovely flavor).

Mash with a potato masher until they are relatively smooth with a few chunks here and there for texture. 

Top the potatoes with crispy shallots, fresh chives, and cracked pepper.
Pumpkin Spice Cupcakes
Okay, so you'll have no trouble at all getting the family to eat these… but you may want to make sure to save some for yourself before they're all gone! This hearty pumpkin cupcake with a cinnamon cream cheese frosting is good in the fall or any other time of the year.
Ingredients
2 ¼ cups all-purpose flour

1 teaspoon ground cinnamon

½ teaspoon ground nutmeg

½ teaspoon ground ginger

½ teaspoon ground cloves

½ teaspoon ground allspice

½ teaspoon salt

1 tablespoon baking powder

½ teaspoon baking soda

½ cup butter, softened

1 cup white sugar

⅓ cup brown sugar

2 eggs, room temperature

¾ cup milk

1 cup pumpkin puree
Cinnamon Cream Cheese Frosting
1 (8 ounce) package cream cheese, softened

¼ cup butter, softened

3 cups confectioners' sugar

1 teaspoon vanilla extract

1 teaspoon ground cinnamon
Instructions
Preheat an oven to 375 degrees.

Grease 24 muffin cups

Sift together the flour, 1 teaspoon cinnamon, nutmeg, ginger, clove, allspice, salt, baking powder, and baking soda; set aside.

Beat 1/2 cup of butter, the white sugar, and brown sugar with an electric mixer in a large bowl until light and fluffy.

Add eggs one at a time, allowing each egg to blend into the butter mixture before adding the next. 

Stir in the milk and pumpkin puree after the last egg. 

Stir in the flour mixture, mixing until just incorporated. 

Pour the batter into the prepared muffin cups

Bake in the preheated oven until golden and the tops spring back when lightly pressed, (about 25 minutes). 

Cool in the pans for 5 minutes before removing to cool completely on a wire rack

While the cupcakes are cooling, make the frosting by beating the cream cheese and 1/4 butter with an electric mixer in a bowl until smooth. 

Beat in the confectioners' sugar a little at a time until incorporated. 

Add the vanilla extract and 1 teaspoon ground cinnamon; beat until fluffy. 

Once the cupcakes are cool, frost with the cream cheese icing
Final Words
There you have it, lovely readers. I hope these easy and delicious fall recipes will bring love and joy to your family for years to come :)
Tis the season!
---