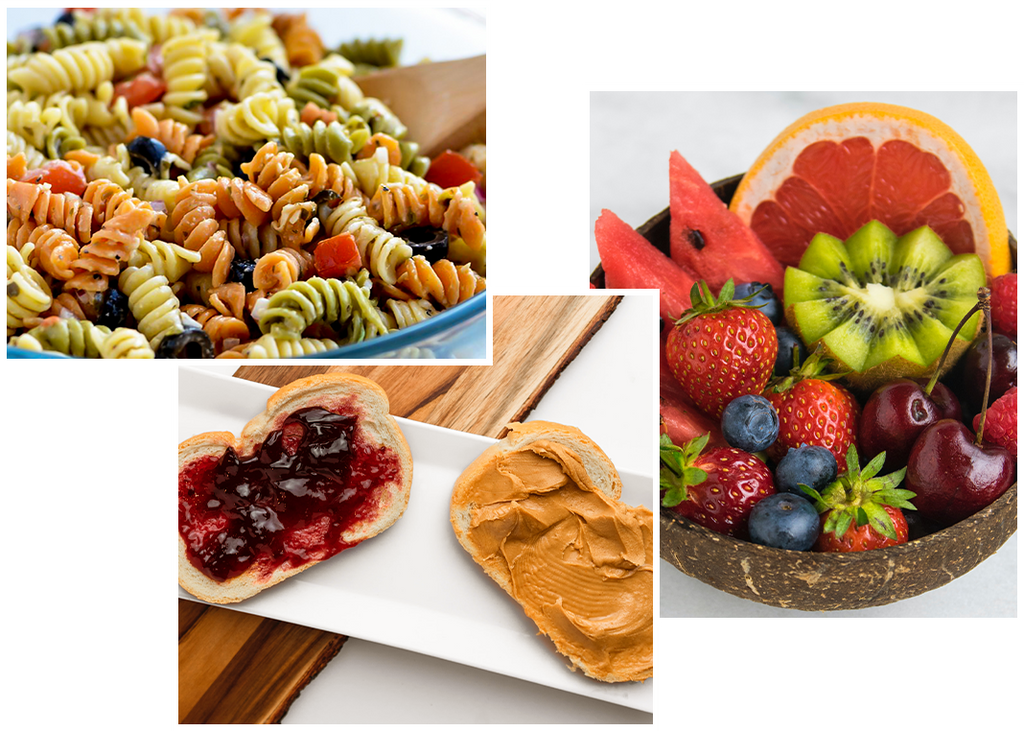 By Katy Duncan, Contributing Blogger
If we can all agree on one thing, it's that it's disappointing when you've packed a delightful and delicious meal only to arrive at your destination and find it's a soggy, smelly mess. Not all food travels well and if you don't have the ability to bring a cooler or camp stove with you on your trip, your desired meals may fall short. 
As the weather gets better and more people make their way outside, it's not uncommon to take in a hike, bike trip, picnic, or beach day from time to time. Do you know what goes great with outdoorsy adventures? Snacks! Do you know what snacks keep well while you travel? Keep reading to find out!
All of these snacks are easy to make, ready to go, and ready to eat. No reheating or assembly is required. My only recommendation? Pack these snacks with an ice pack in your bag or lunch box if possible for maximum freshness-especially on hot days!
Veggie Pasta Salad
What's just as good as hot pasta? Cold pasta. This pasta salad recipe is easy to prepare in advance, can be stored easily in a sealed container for easy travelling, and tastes just as good outside as it does inside. 
Ingredients: 
1 Pound of Tri-Colored Rotini Pasta
½ Cup of Preferred Salad Dressing (Italian, Balsamic Vinaigrettes, etc.)

2 Cups of Cherry Tomatoes (Sliced in Half)

1 Green Bell Pepper (Diced) 

1 Red Bell Pepper (Diced) 

1 2.25 Oz Can of Medium Black Olives (Sliced in Half) 

1 Cup of Uncooked Broccoli Florets 
Directions: 
In a large pot, boil water. Add Pasta and cook till done. Can be a little Al Dente if preferred. 
Drain pasta and pour into a large mixing bowl.

Combine all ingredients in a large mixing bowl and stir till well combined. Allow to cool slightly before refrigerating. Can be stored in the fridge in airtight containers till you are ready to pack. Don't forget to pack a fork!


Leveled Up PB&J
This is a twist on a classic PB&J sandwich and it's a lot more fun. Standard peanut butter and jelly is a thing of the past. Here's a great way to spice up an old favorite.
Ingredients: 
Two Pieces of Bread (Wheat, white, or another bread of your choosing)
Nut Butter (Almond, hazelnut, peanut, or cashew are all great choices)

Jelly or Jam (Flavor of your choice)

Toppings: Bananas, Honey, Cinnamon, Potato Chips (Don't knock it till you try it), Pickles (Same with this one), Marshmallow Fluff, Toasted Coconut Flakes, Dried Fruit (Apples, Peaches, Apricots, Bananas, Figs, etc), and Chocolate Chips
Directions: 
Start with your base. This will consist of your bottom piece of bread, nut butter, and preferred fruit spread. 

Next, add as many toppings as your adventurous heart desires! Have fun with it. It's like a self-serve ice cream shop, minus the ice cream. 

Store in a Ziploc sandwich bag and keep in the fridge till you're ready to pack up and hit the great outdoors. 

Fruit Salad 
An oldie but a goodie. Fruit salad isn't just something found in nursing homes and school lunches anymore. It's a great snack to pack on the go. Healthy, tasty, and oh-so-easy to make. 
Ingredients: 
2 Cups Strawberries (Sliced in Half)

2 Cups Pineapple (Cubed)

3-4 Mandarin Oranges (Peeled and Pulled Apart)

2 Cups Blueberries 

2 Cups Grapes
Optional Coating: ½ Packet of Vanilla Jello Mix (Dry) and 1 Tablespoon of Lemon Juice
Directions: 
Wash all fruit thoroughly and prepare per ingredient list. Slice and dice, baby! 

In a large mixing bowl, combine all ingredients and toss till well mixed. 

Store in an airtight container in the fridge till you're ready to hit the road. 

Pack these up for any adventurous outdoor excursions and know you've got a good meal on the trail, at the beach, or in the park. Wherever you go, these tasty treats can go with you-no reheating, no refrigeration, and no mess. Just you, the great outdoors, and great food.
---