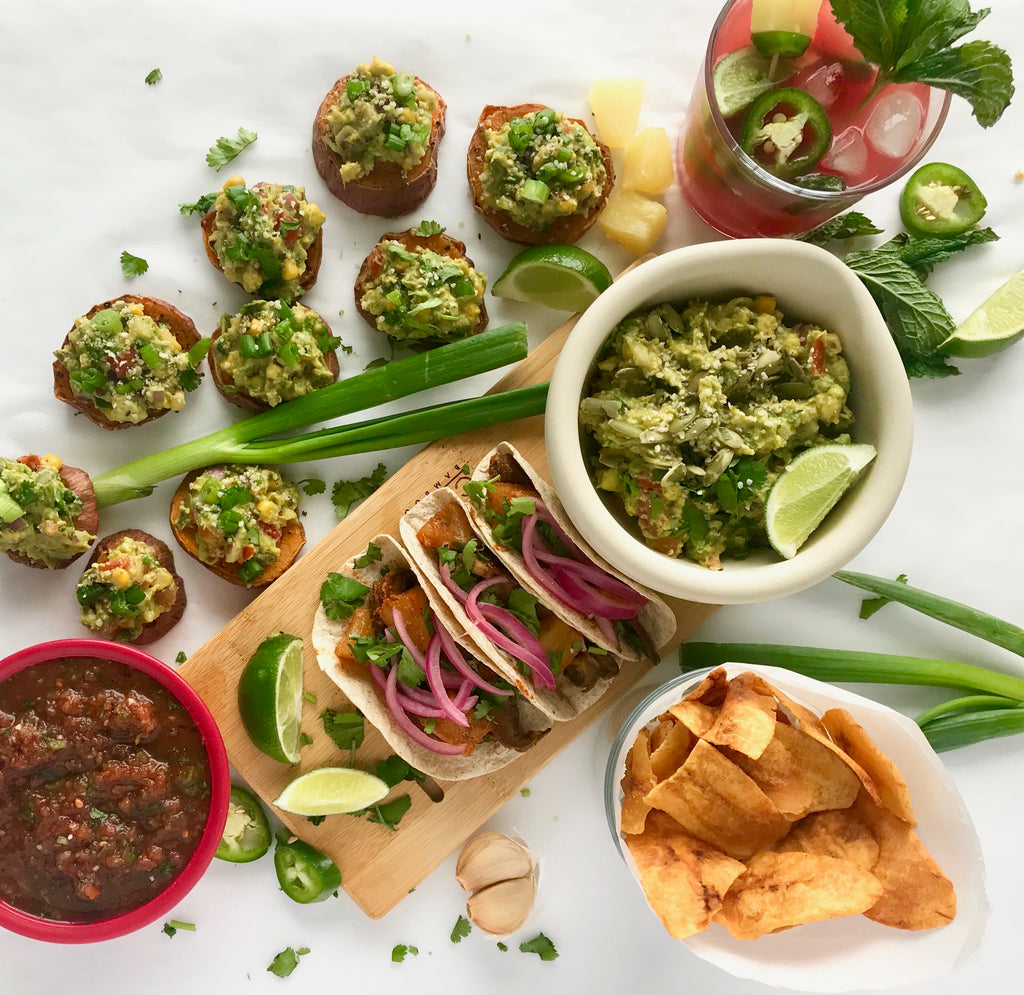 Shockingly Healthy but Oh-So-Delicious Recipes for Your Next Taco Tuesday that will have your Girlfriends Begging you to Host!
By Maya Howard, Contributing Health Blogger
Whether you're hosting the girls for The Bachelorette's season premiere or romancing your significant other with a fun fiesta spread, taco night is always a great choice. However, it's all fun and games until you wake up the next morning regretting that last margarita or too many calorie rich splurges. Lucky for you, we've taken some Taco Tuesday faves and put our healthy spin on them. We've cut the sugar and calories, but have packed in a whole bunch of healthy flavor! Swap out these recipes for your regular options and you'll have everyone begging you to host week after week.
Ditch the calories and try Portobello and Pineapple Tacos
Although portobello mushrooms and pineapples aren't the most common mix for tacos, they combine a savoriness similar to al pastor with a hint of tropical fruit flavor. Best thing about these is you can eat several without worrying about the unhealthy cholesterol, fat, and calories adding up. Citrus marinated onions are a must-add for a surprising bit of acidity.

Ingredients:
2 portobello mushroom caps sliced

½ cup canned pineapples chopped

½ red onion sliced

½ lime or sour orange juiced

1 tbsp coconut oil

Taco seasoning blend (paprika, garlic powder, cumin, cayenne pepper)

Sea salt

Cilantro

Choice of tortillas

Directions:
Combine sliced red onions, lime juice, and two dashes of sea salt in a bowl.

Refrigerate for at least an hour, or until onions are softened and pink.

Heat coconut oil in a skillet, then add mushrooms and spices and saute for 1 min.

Stir in pineapples and ½ cup of water.

Cover skillet and let simmer for about 3 min stirring occasionally, then uncover and cook until all of the water evaporates.

Serve over a warm tortilla and top with marinated onions and cilantro.
Swap the simple-sugared margarita for a Spicy Watermelon Agua Fresca
Not only are watermelons a beloved warm weather delight, but they are also packed with nutrients that improve cardiovascular health, provide antioxidants, vitamin C, and offer major anti-inflammatory & hydration benefits. Freshly juiced watermelon makes for an amazing mocktail, or a very hydrating base for a tequila infused cocktail! (Don't be afraid to go heavy on the spicy stuff here or else you'll miss out on a punch of flavor.)

Ingredients:
¾ cup fresh watermelon juice

¼ cup pineapple juice (use the juice leftover from your canned pineapples)

1 lime

3 raw jalapeno slices w/ seeds

Full mint sprigs

Directions:
Combine watermelon, pineapple, jalapeno, mint, and the juice of ½ the lime in a shaker.
Let sit in the fridge or freezer for 10 min.
Serve chilled in a glass rimmed with cayenne pepper and salt.
Garnish with extra lime slices and fresh mint. (You can pour over ice, but beware ice can make the mocktail taste too watery when it melts.)
Goodbye loaded nachos, Hello Loaded Guacamole Bites
Let's admit it, tortilla chips and...well, anything...is a lethal combination for anyone who is looking to watch their waistline. More nutritious than the average nacho platter, this recipe will no doubt have your guests fighting over the last guilt free bite. 

Ingredients:

1 whole sweet potato

1 tsp coconut oil, 2-3 large avocados

1 tomato, ½ cup roasted corn

1 tbsp minced garlic

⅓ cup chopped red onion

1 ½ limes juiced

1 cup cilantro

⅓ cup raw pumpkin seeds

2 tbsp hemp hearts

Green onion

Sea salt

Pepper

Directions:

Preheat oven to 425 degrees.

Wash and cut the sweet potato into ¼ inch slices, then lightly rub them with 1 tsp coconut oil and a few dashes of salt and pepper.

Bake for 10 min, then flip and bake for another 7-10 min (ideally you want them to be cooked but still firm).

Combine all of the other ingredients (except for hemp hearts and green onions) for the guacamole.

Spoon guacamole onto each sweet potato round, then top with hemp hearts and green onions.
The Easiest 5 Minute Salsa
You can call off the hunt for the perfect store-bought salsa, because this super easy recipe is everything you've been looking for. Restaurant quality salsa within minutes will have everyone hailing to you as queen of the kitchen!

Ingredients:
1 can fire roasted tomatoes
Jalapeno (amount depends on your desired spice level)
1 cup cilantro
½ red onion
2 cloves garlic
1-2 limes juiced
Sea salt

Directions:

Add all contents into a blender or food processor and pulse until desired texture is reached. It's highly recommended to taste and add more jalapeno, lime, and salt as you go. Remember that you can always add more but can't take it back if it's too much!
Oven Baked 'Better Than Tortilla' Chips
Move over processed corn chips, this is a job for plantains! More fiber and more nutrients make plantains a much better choice to pair with salsa and guacamole dips than your standard tortilla chips.

Ingredients:

1 plantain (on the firm side)

Avocado oil

Sea salt

Parchment paper

Directions:

Preheat oven to 375 degrees.

Using a mandolin or peeler, slice plantain into very thin slices.

Place gently onto a baking pan lined with parchment paper and coat lightly with avocado oil.

Bake for about 15-20 minutes until they are cooked through and sprinkle with salt while they are hot.
---