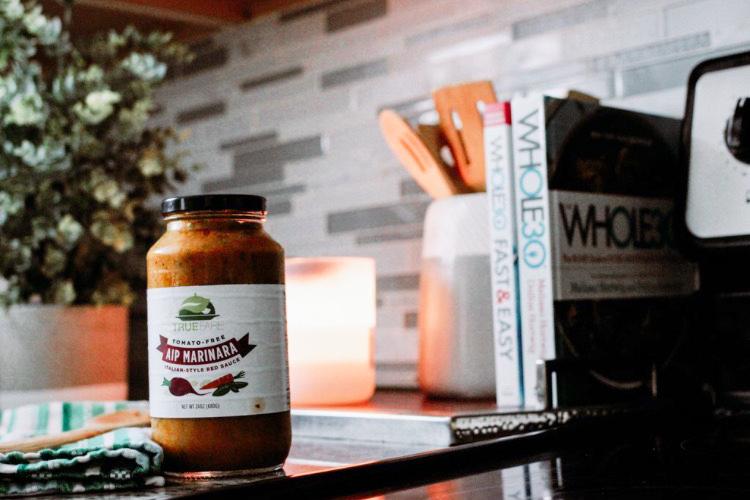 By Melissa Wilcox, contributing blogger.
One of my favorite, go-to meals during the fall season is my one-pot butternut squash spaghetti.
Packed full of veggies and protein, this recipe is perfect to make ahead for meal prep and store in the refrigerator, or it can be prepared as a fast and easy midweek meal.
I keep this recipe simple by using ingredients that are frozen so I can have them readily on hand! And the best part? This is a one-pot meal, so that means fewer dishes, which is always a plus!
Ingredients
1 tbsp Olive Oil
1 lb. ground beef (or your protein of choice)
2 cloves of garlic, minced
1 small onion, a red pepper, and a green pepper, chopped (or use 1 ½ cups of a frozen blend of all 3)
1 tsp. salt
1 tbsp. oregano
1 tbsp. onion powder
1 cup frozen spinach
1 12 ounce package spiralized butternut squash, fresh or frozen 
1 ½ cups of marinara sauce of your choice (I used True Fare's AIP tomato-free marinara) 
Method
Add olive oil to pan over medium-high heat. Add chopped onion and peppers to pan and sauté.

 
Once veggies are softened, add ground beef (or your choice of protein) and brown.

 
Once meat is browned and cook thoroughly, drain and set aside.

 
In the same pot, add frozen spinach and cook until soft. While spinach is cooking, prepare spiralized butternut squash according to package instructions. 

 
Add browned meat back to pot with spinach. Combine and mix in marinara sauce.

 
Once butternut squash is cooked (noodles should be tender), add to pot and combine.

 
Garnish with Italian parsley or another herb of your choice. 
(Whole30, Serves 4)
---