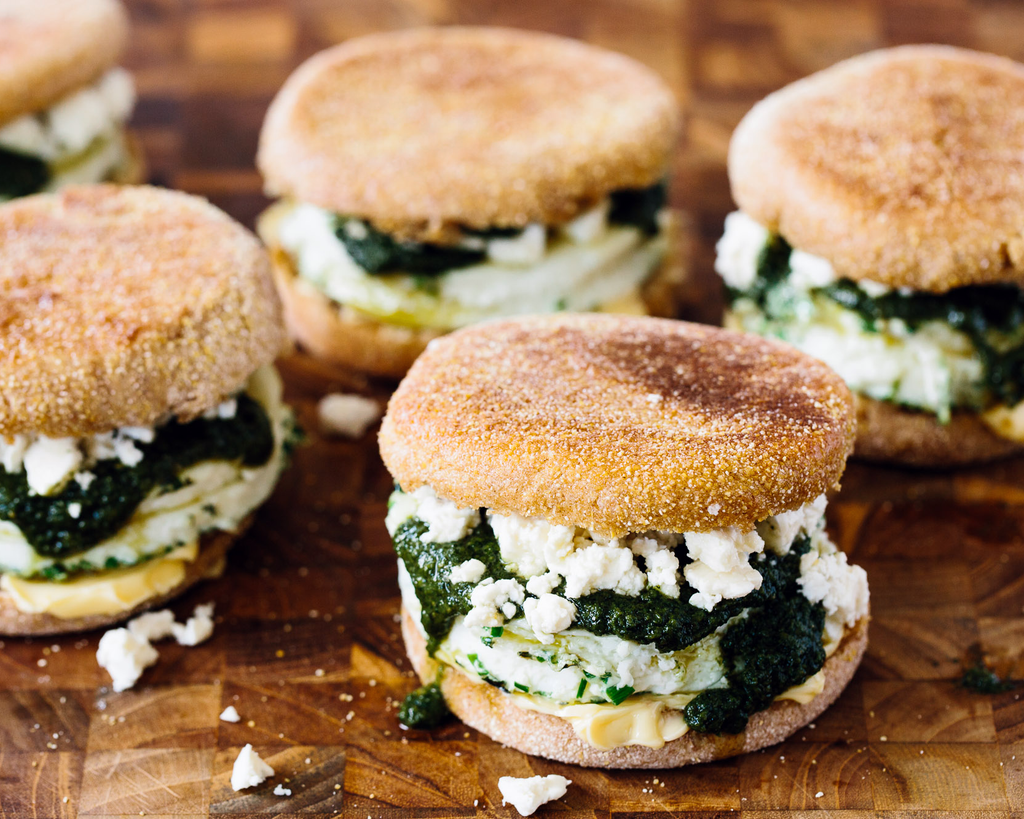 By Amanda Webb, Contributing Blogger
Summer is winding down, and life is about to get crazy. Shortcuts are crucial in our busy lives! I love finding any way to make my life easier. Relying on freezer meals seems to be my golden ticket these days. It's an added bonus when they are high protein freezer-friendly meals.
Instead of scrambling to figure out what to make for dinner at 4:50 every night, why not have a freezer full of meals that are ready to go? When you think of freezer meals, you might think of basic meals like lasagna, macaroni and cheese, and baked ziti. I like to make freezer meals that are high in protein. This ensures that my family is eating healthy meals that fuel our non-stop busy bodies.
Here are some of my favorite freezer meals that are high protein and made with healthy ingredients. 
Breakfast Ideas
Spinach, Egg, and Feta Breakfast Sandwiches
Here is a breakfast sandwich that's easy to make and freezes very well. Once you get the hang of this recipe, you can add other mix-ins and layers to the sandwich!
Ingredients: 
4 whole wheat English muffins
6 eggs
2 cups fresh spinach
¼ cup plain Greek yogurt
Olive oil, for cooking
½ cup feta cheese
Salt & pepper 
Instructions:
Split the English muffins and set them aside.
Chop the spinach up into small pieces.
Beat together the eggs, chopped spinach, and Greek yogurt.
Heat a 9" non-stick skillet (medium-sized) on medium-high heat. Swirl some olive oil into the pan.
Add the egg mixture and stir for a few moments until the eggs start to scramble. Just before they are completely set, gently fold in the feta cheese.
Leave the eggs alone until they are set and completely cooked (like a large omelet).
Slide the eggs out of the pan onto a cutting board. Cut into 4 equal pieces or use a round cookie cutter to cut 4 rounds.
Place the portions of eggs onto one side of the English muffin and top with the other half.
Let the sandwiches cool and then wrap each sandwich with a piece of parchment paper and then store in a freezer-friendly bag.
Freeze the sandwiches for up to 3 months.
To Reheat: It's best to thaw the sandwiches overnight first. You can reheat the sandwich in the microwave or cook each side in a saute pan.
Recipe Variations
You can add more protein to the sandwich by adding a turkey sausage patty or slices of ham.
Alteratively, you can use these same ingredients in a tortilla if you'd like a breakfast wrap.
I suggest adding condiments after you reheat the sandwich.
 

Lunch and Dinner Ideas
Lemon Pepper Chicken with Asparagus and Cauliflower Rice
This is another versatile recipe. You could prepare pork chops or fish the same way. I like to use cauliflower rice because it's basically done for you when you buy the frozen bag. You could also use regular rice or quinoa.
Ingredients:
2 chicken breasts
3 tablespoons olive oil
2 whole lemons
4 garlic cloves, minced
2 teaspoons salt
1 teaspoon black pepper (or more to taste)
1 bunch asparagus
1 bag frozen cauliflower rice
Instructions:
Preheat the oven to 350F. Coat the chicken breasts with olive oil. Place them in a glass baking dish.
Juice the lemons and pour the juice over the chicken breasts. You can leave the lemons right in the pan while the chicken cooks.
Sprinkle the chicken with the garlic, salt, and pepper. Drizzle a little more olive oil over the chicken.
Bake the chicken breasts for 20-25 minutes or until they are cooked through. Baste them a few times throughout the cooking process with the lemon juice and olive oil mixture.
While the chicken is cooking, prepare a pot with water and a tablespoon of salt. Bring it to a boil.
Trim off the hard stems on the asparagus. Then, cut them in half if they will not fit into your pot whole.
Blanch the asparagus until they are al dente (tender, not mushy).
Remove them from the boiling water and immediately run cold water over them to stop the cooking process. Strain the asparagus and set aside.
Once the chicken is cooked, remove it from the oven and let it cool down. Then cut each breast in half to make 4 servings.
Prepare 4 freezer-friendly tupperware containers and place 1 portion of chicken with a handful of asparagus. Also, add a few scoops of the frozen cauliflower rice.
Drizzle any leftover lemon/oil over the entire meal.
Seal up the containers and label them. Put them in the freezer for up to 1 month.
To Reheat: Simply place the meal in the microwave until everything is cooked through. This is a great lunch on the go or easy dinner option!
Black Bean Quesadillas
Quesadillas are family and freezer-friendly! I love this black bean recipe when I'm looking to serve a meatless option. Add some diced green chilies if you like it a little spicy. 
Ingredients:
4 large burrito tortillas
1 can black beans, drained and rinsed
1 bell pepper, diced
1 small red onion, diced
2 cloves garlic, minced
1 cup spinach, chopped fine
¼ bunch fresh cilantro, chopped
1-2 teaspoons cumin
Salt and pepper
4 large burrito tortillas
2 cups shredded Mexican cheese blend
Instructions: 
In a bowl, combine the black beans, bell pepper, red onion, garlic, spinach, cilantro, cumin, salt, and pepper.
Preheat a large non-stick skillet on medium high heat. Place on tortilla in the skillet and scoop ¼ of the black bean mixture on to half of the tortilla. Top with some of the shredded cheese and fold the tortilla over. (You have the option to freeze them like this, but only if you wrap them with aluminum foil so they don't fall apart.)
Heat both sides until they are golden brown and the cheese begins to melt.
Repeat with the other tortillas.
Let the quesadillas cool completely. Then store them in a freezer-friendly bag. You can freeze them for up to 3 months.
To Reheat: Thaw the quesadilla in the microwave and then reheat in a heated skillet. You can also place them in a preheated oven or convection oven.
---