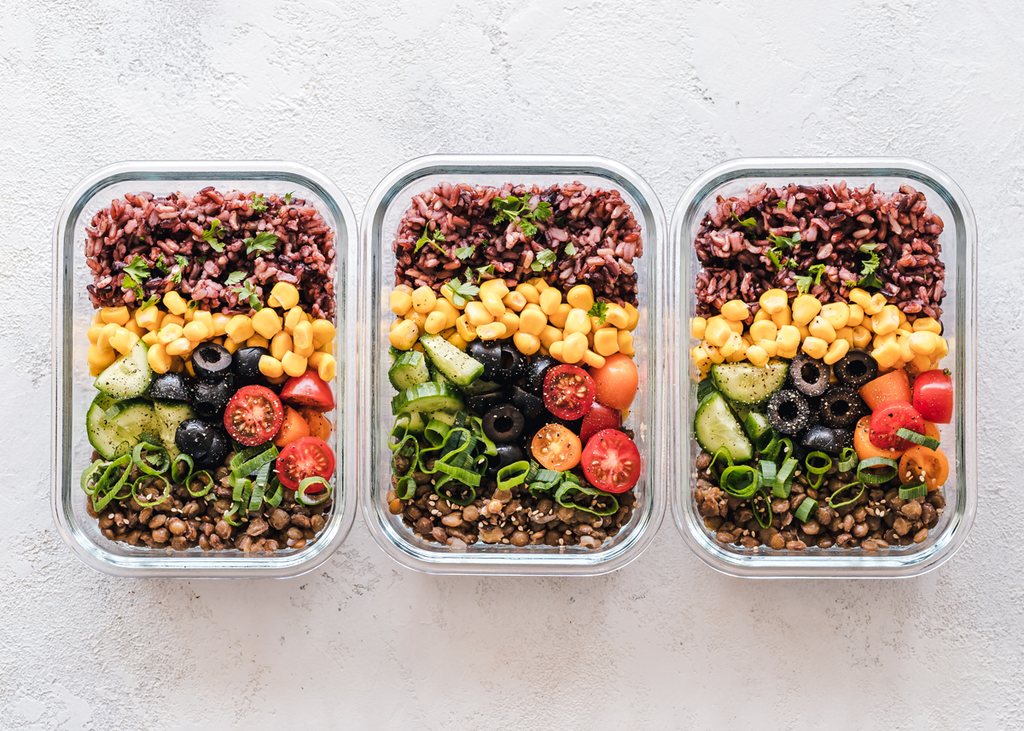 By Breanna Woods, Contributing blogger
Meal prep is a useful tool to set yourself up for success with healthy eating. However, the process can be time consuming and overwhelming if you aren't sure how to do it efficiently. The time and planning often causes people to feel frustrated and give up. 
However, the benefits of meal prep far outweigh the inconveniences. When you prepare healthy meals in advance, you're less likely to eat takeout or snack on junk food. Basically, meal prep benefits your health and your wallet! You'll thank yourself later if you take a little time to get the hang of meal prep. For now, here are some tips that will make you a meal prep pro in no time.
Plan Ahead
If you do a little planning, meal prep will be quick and easy. There are a few especially helpful ways to plan ahead:
Get organized - Plan your meals and set aside time for grocery shopping and preparing your meals.
At the grocery store - Make a grocery list, and stick to it! A list helps you avoid wasting time at the store and ensures you get everything you need.
In the kitchen - Gather your ingredients and prepare your produce before you start cooking. There's nothing worse than realizing you don't have an ingredient after you start cooking.
Choose versatile meal prep ingredients
In other words, prep ingredients that you can use in multiple ways. That way, you're not gagging because you're eating the same meal 4 days in a row. Here are some examples to give you an idea of what that looks like.
Meats
If you eat meat, it's likely the main ingredient for your weekly meal prep. Meats such as chicken, lean ground beef, and turkey easily go with a wide variety of flavors. For instance, you can use chicken breast in burrito bowls, soups, casseroles, or on it's own. Likewise, lean ground beef is delicious with pasta, in tacos or mixed with rice and veggies. 
Alternative Proteins
Whether you're vegetarian or you prefer to include some meat-free meals in your weekly rotation, it's great to have some alternative protein options on hand for meal prep. Beans, peas, edamame, lentils, hard-boiled eggs, and nuts are great vegetarian protein options. They're also very simple to prepare! 
Grains
Rice is a well-known component of meal prep. It holds up well in the fridge and goes with almost anything. However, you'll probably get bored if you rely on rice alone. Other grains like quinoa, couscous and whole wheat pasta are great alternatives to branch out.  
Produce
We've all opened (and smelled) a container of broccoli that has been in the fridge for a few days. While veggies like broccoli and cauliflower are easy to meal prep, they usually only last a couple of days. Either prep and portion out raw veggies like carrot sticks or celery, or plan on preparing cooked vegetables more than once throughout the week. 
Most fruits only need to be washed and cut, making them easy for meal prep. Fruits like berries, bananas and clementines are even less time consuming.
Stock your pantry with meal prep staples
Many meal prep staples like rice and beans are shelf-stable. Buying these items in bulk will help you spend less time at the grocery store. Buying in bulk may also save you money, giving you some extra incentive! 
Other useful pantry ingredients include:
Oils

Baking soda

Spices

Condiments or sauces


Utilize your mini-appliances
I'm looking at you, slow cooker, air fryer or pressure cooker that has been sitting in the pantry since Christmas. 
Seriously, put those small appliances to use! They will save time and make meal prep much easier. Pressure cookers get the job done in minimal time. They're great for cooking soups, rice, pasta and meat. Slow cookers are great because you can leave them to do the work for you. The super-popular air fryer crisps your food without extra fat. Plus, they're easy to clean.
Invest in food storage containers
It's a good idea to invest in a good set of food storage containers. That way, you can portion out your meals for the week instead of washing your containers each night to use the following day. 
If it's in your budget, glass containers are the best choice for meal prep. Actually, they're the best for any time you store food. They are dishwasher safe, safer to use in the microwave and they won't stain or hold onto smell. Best of all, glass is more environmentally friendly. 
Cut corners
Yep, it's perfectly fine to cheat a little if you need to. First, utilize your freezer. There are plenty of recipes that you can batch cook and freeze, from turkey burgers to energy bites. 
Speaking of the freezer, take advantage of frozen foods at your grocery store! Frozen vegetables, fruits and even frozen rice make life a lot easier. 
Finally, don't be afraid to use pre-cut produce from the store. Although these fruits and vegetables usually cost more, they are usually worth it to save some time and labor.
Start small
You don't have to meal prep breakfast, lunch and dinner right away. If this is the approach you have struggled with in the past, try again on a smaller scale. Instead of trying to cook an entire week of meals, start with lunch. You might even decide to only make meals for one or two days each week. You will reap the benefits of meal prep no matter how small you start! 
Meal prep may seem like a headache when you're just starting out. However, it quickly becomes a habit with a little time and practice. If you want to set yourself up for success when it comes to eating, meal prep is a great tool.
---