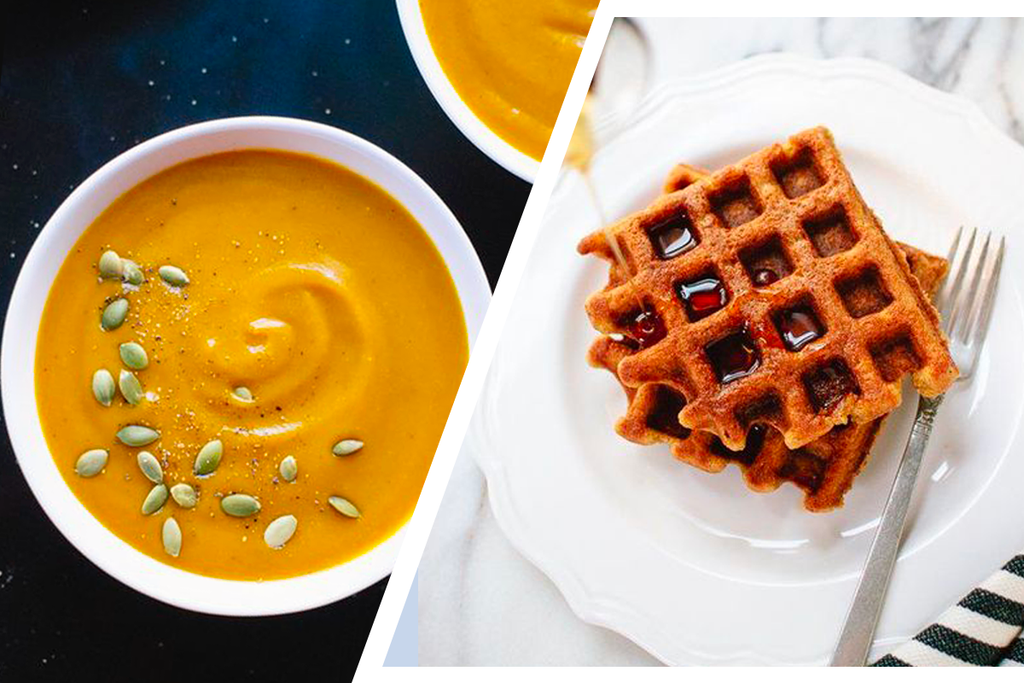 By Taylor Hilda Lough, Contributing blogger
Y'all love pumpkin, right!? If you are creative enough, you can cook plenty of dishes from pumpkin. For instance, there is pumpkin soup, pumpkin pastas, pumpkin desserts, pumpkin cakes, and pumpkin muffins, among others. 
You and your family members can delve into a plate of pumpkin goodness every breakfast, lunch, and dinner. Most pumpkin recipes are not only super tasty, but they are also easy to make! 
It is quite exciting to try out as many pumpkin recipes as possible to satisfy all your taste notes. Let's start our pumpkin party with these two amazing recipes! 
Recipe 1: Creamy Roasted Pumpkin Soup
Meet our favorite pumpkin soup recipe. It is gently spiced, super creamy, and has plenty of health benefits! You can prepare this soup during Thanksgiving or Halloween, or even accompany it with a sandwich during winter. 
It is also quite easy to make. Don't let this soup's ingredient list intimidate you – all you need to prepare it are basic pantry ingredients! 
For the best flavors, make sure you utilize roasted pumpkin. The total prep and cook time for this meal is one and a half hours, and this recipe yields up to six cups of soup. 
Ingredients
¼ cup green pumpkin seeds 

One 4-pound sugar pie pumpkin 

4 tablespoons olive oil 

1 large chopped onion 

4 large garlic cloves, minced or pressed 

2 tablespoons maple syrup 

½ teaspoon sea salt 

½ cup full fat coconut milk 

½ teaspoon ground cinnamon 

4 cups vegetable broth 

½ teaspoon ground nutmeg 

Black pepper, freshly ground 

¼ teaspoon cloves

Cayenne pepper

Instructions 
Preheat your oven to 400 degrees Fahrenheit. Use parchment paper to line your baking sheet for you to clean it easily. Carefully cut the pumpkin into two, and then scoop out its seeds.

Divide the two pumpkin halves into half to get quarters. Rub the pumpkin flesh with one tablespoon of olive oil. Place the pumpkin quarters onto the baking sheet with their cut sides facing down. Roast them for around 40 minutes, or until you can easily pierce their orange flesh. Then, leave them to cool down for a couple of minutes. 

Heat the three remaining tablespoons of olive oil in a cooking pot using medium heat. Immediately the oil starts shimmering, add onion, garlic, and salt. Stir the mixture, and let it cook for six to ten minutes. Meanwhile, peel off the skin of the pumpkin and discard it. 

Add cinnamon, black pepper, cayenne pepper, cloves, and nutmeg to the pumpkin flesh. Smash the pumpkin with a stirring spoon. Pour in the vegetable broth and boil the mixture.  Then, let it simmer for around 15 minutes for the flavors to meld. 

Meanwhile, fry the pumpkin seeds in a pan over low heat. Stir them frequently, until they appear golden brown and they start making a popping sound. When they are ready, transfer them to a serving bowl. 

Once you have completed cooking the pumpkin soup, stir in it maple syrup and coconut milk. Stop heating the soup and leave it to cool for some time. You may use a blender to smoothen your soup further. 

Taste the soup, and adjust it to your liking and preferences. For instance, you can add more coconut milk for it to be extra creamy. 

Put the soup in individual bowls. Sprinkle the pumpkin seeds over it, and then serve it. You can store the leftover soup and refrigerate it for up to four days. 

Notes 
You can substitute the roasted pumpkin with mashed canned pumpkin. If you choose to use canned pumpkin, skip step 1 and 2 and start from step three. 
Roast the pumpkin seeds with olive oil, a pinch of salt, and any other appropriate seasonings. Before you start roasting the seeds, remove the flesh bits off from them. 
Recipe 2: Whole Grain Pumpkin Spice Waffles  

Oat flour-based pumpkin spice waffles would be the best fit for breakfast for your family on Christmas, Halloween, or Thanksgiving. They appear crispy, but they are fluffy on the inside.  
You can also freeze them, and serve them as breakfast on a busy workday. The secret ingredient of this recipe is oat flour! 
Its total prep and cook time is only thirty minutes. From this recipe, you will prepare four large, round, Belgian waffles.
Ingredients 
100 grams packed pumpkin puree 

2 ¼ cups oat flour 

1 tablespoon vanilla extract 

1 tablespoon baking powder 

3 tablespoons maple syrup 

¾ teaspoon salt 

7 ½ tablespoons melted unsalted butter or coconut oil 

1 teaspoon cinnamon

½ cup of plain, unsweetened almond milk

½ teaspoon ginger 

3 eggs 

¼ teaspoon nutmeg 

¼ teaspoon cloves

Suggested toppings: coconut whipped cream, toasted nuts, nut butter, or more maple syrup
Instructions 
Mix the cloves, nutmeg, ginger, baking powder, cinnamon, salt, and the oat flour in a large bowl. 

Whisk the eggs in a medium-sized bowl. Add milk, butter or coconut oil, vanilla extract, pumpkin puree, and maple syrup to it. Make sure the mixture is thoroughly blended.

Pour the egg mixture into the oat flour mixture. Then, stir the batter with a big spoon until the two blends combine. Leave the batter to rest for ten minutes. Preheat your waffle iron.

After ten minutes, give your batter one more, quick swirl with a spoon. By this time, your batter will be a little thick. Pour it into the heated waffle iron. The amount of batter which you pour to the waffle iron should cover a significant portion of its central surface area. Then, close its lid.

Immediately the waffle is crisp and deeply golden, remove it from the heater and place it on a cooling rack. Repeat this same process with the remaining batter. Serve them with your desired toppings.
Notes 
Instead of purchasing the oat flour, you can make it by yourself by blending your quick-cooking or old-fashioned oats in a blender. Just ground them until they turn into fine powder.
Don't stack the waffles on top of each other, since this will cause them to lose their crispiness. You can place them side by side. 
Have You Made These Recipes? 
Please let us know how these recipes turned out! Just leave a comment below!
---