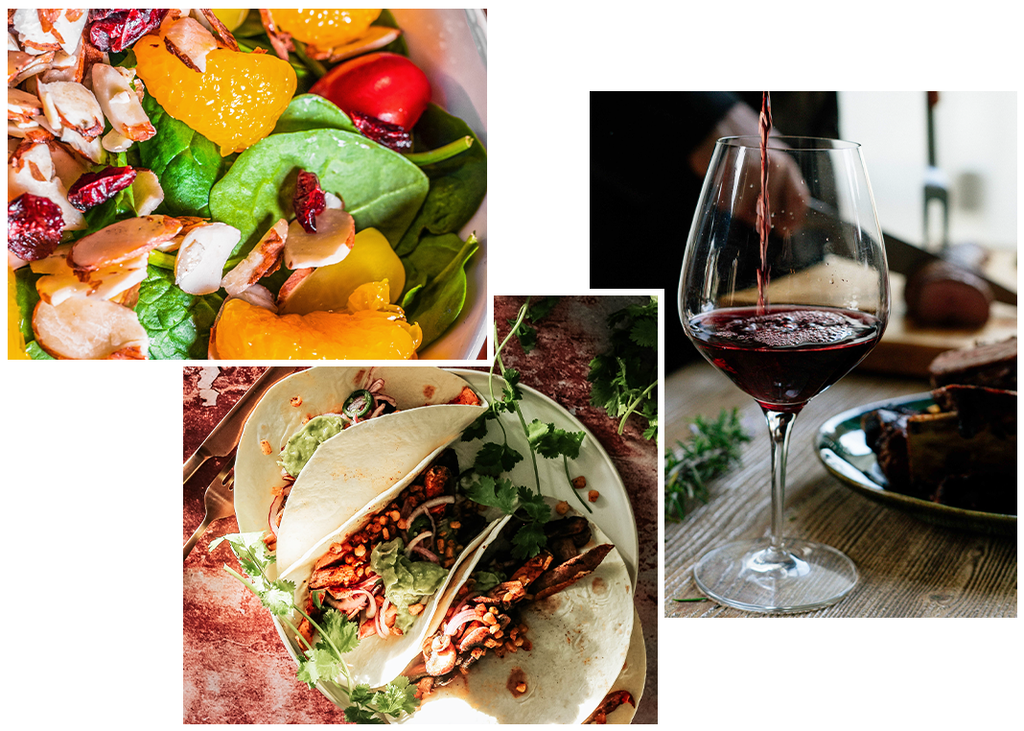 It's that time of year again.. A season of family, friends, and lots of food.  We all look forward to the holiday favorites.  Eggnog, hot chocolate, sugar cookies, and other holiday treats are part of what makes this the most wonderful time of the year.
But, while we love indulging in holiday goodies, we don't love the extra work it takes to recover.  Wouldn't it be great if we could enjoy the holidays while still feeling our best?  Eating clean prior to that big Christmas roast will keep your energy up so that you can get that last-minute shopping done.  It will also keep you from being bloated in your new holiday outfit and make it easier to get started on those New Years resolutions.  Focus on these healthful tips to stay fit and fabulous this holiday season.  
Eat Your Greens:  Any time of year is a good time for leafy greens, but they are especially important during the holidays.  Leafy greens contain so many vitamins and minerals that will keep you full, healthy and energized.  Most people hear "eat your greens" and cringe, picturing raw kale.  However, there are many different kinds of greens and a bunch of tasty ways to get them into your diet.  Greens are a great addition to smoothies, lunches and quick dinners.  
Gut-Check:   Gut health is the key to immune health, focus, and generally feeling your best.  When you gut is happy, cheat meals are easier for your body to handle.  Probiotics and prebiotics will keep your gut in optimal health and are available many common foods.  Yogurt, berries, beans, and asparagus are just a few of the gut-healthy ingredients that you may already incorporate into your diet. 
Decrease the Sweets:   While it's completely delicious, sugar wreaks havoc on our bodies.  Avoiding sugar during the holidays is difficult, but there are ways to reduce your sugar intake so you can feel good about eating your favorite holiday dessert.  Natural sweeteners like stevia and monk fruit are readily available in grocery stores and won't result in the spikes and slumps you get from processed sugars.  Cutting down on dairy milk and processed grains will help with sugar spikes and bloat.  
All Natural:  Eating real, unprocessed food is easier on digestion and contains less sugar than processed foods.  Try to stay in the outer aisles of the grocery store when doing your weekly shopping.  And steer clear of processed alternative sweeteners such as aspartame and sucralose.  While they may help your carb count, they are hard on your gut. Use the best ingredients you can afford.  Organic, pasture-raised and/or grass-fed foods are not only better for your gut, they taste far better than mass-produced vegetables, meat, and dairy.  
Now that you know what will keep you feeling your best, here are some easy recipes and swaps to make while preparing for the holiday.   
Breakfast:  
Smoothies:  Spinach and kale add almost no flavor, so don't be scared of the bright green color.  Just blend up a large handful with your favorite protein powder, frozen fruit and non-dairy milk for a nutritious and delicious meal on the go.  If fruit isn't your thing, blend chocolate protein powder and non-dairy milk with a frozen banana or avocado, a tablespoon of nut butter, and a handful of greens. 
Overnight Oats:  I'm a huge fan of make-ahead meals, especially for breakfast.  You can experiment with different ingredients, but here is my favorite recipe: 
2 cups old-fashioned oats
2 cups non-dairy milk
2 tablespoons chia seeds
1 tsp vanilla
2 tablespoons maple syrup/stevia
Pinch of salt
Freeze-dried fruit of your choice 
Just pour the ingredients into a large container, mix and place in the fridge overnight.  It can be portioned into smaller containers or scooped out as needed.  Fresh fruit can be added in place of freeze-dried, but add it right before you eat the oats.   
Lunch:  
Salad:  A large salad is an obvious choice to get greens, veggies/fruits and some lean protein.  It may seem boring, but a well-made salad is both nutritious and delicious.  Homemade dressings are healthier and much tastier than store-bought.  Mix up some lemon juice, olive oil, a bit of honey and salt and pepper for a quick dressing for just about any salad combination.  Blending in some fresh herbs is another way to get some added flavor and nutrients.  Take your favorite vinaigrette and blend it up with some parsley and basil for a fresh new dressing you can use for up to a week.  
Asian Chicken Salad:  You can make this in a large batch, and it will keep in the fridge for several days.  Throw the ingredients in a bowl and mix well.  You can eat this on a bed of greens for added nutrition.  
2 lbs cooked chicken, diced/shredded
1 bag of coleslaw/broccoli slaw
1 cup shredded carrots
1 cup fresh mandarin oranges
1 cup cashews
1/4 cup scallions
Nut butter dressing
Nut Butter Dressing:  
1 cup natural nut butter
1/4 cup coconut aminos
1 tsp sriracha
2 tablespoons honey
1 tablespoon rice vinegar
2 tablespoons sesame oil
Water, as needed
For the dressing, add everything but the water and mix thoroughly.  If it's a bit thick, add a teaspoon of water at a time until it thins out.  
Dinner:  
While getting ready for the holiday, most of us end up eating out or getting take-out because we have so much to do after work during the week.  We sacrifice quality over ease and usually end up eating something unhealthy.  Using the weekend to prepare for the week will set you and your family up for dinner success.  Chop your vegetables, slice the chicken, and prepare any sauces you can in advance.  Also, sheet pan meals are quick and can usually be doubled for lunches throughout the week or dinner the next day.  Here are two of my go-tos:  
Sheet Pan Fajitas:  Toss 1lb sliced chicken, sliced bell peppers ,and onions with fajita seasoning and olive oil and bake at 375 degrees until the chicken is cooked through.  You can use this to make fajita bowls with greens, black beans, quinoa or rice, and pico de gallo. 
Greek Chicken and Vegetables:  Toss jarred quartered artichokes, fresh chopped tomatoes, kalamata olives, sliced red onion, and red potatoes with greek seasoning and olive oil and spread them out in a sheet pan.  Add chicken breasts or thighs on top, seasoned with the greek seasoning and olive oil, and bake until the chicken is cooked through.  Serve with tzatziki for added probiotics.
Get creative with your choice of protein and vegetables.  I like to see what my local farmer's market has each week and then develop a sheet pan meal based off of what's in season.
Easy Swaps: 
Pasta:  Swap traditional pasta for one of the many alternatives on the market.  Chickpea pasta has added protein, or you can use carrot or zucchini noodles.  These make for a quick base ingredient for whatever protein and veggies you have on hand.  
Cocktails:  Opt for red wine for added antioxidants or go alcohol-free with Kombucha.  If you still want a mixed drink, use fresh ingredients and juices instead of the processed, bottled options.  Fresh lime juice, tequila, and a touch of agave makes the most refreshing margarita.  Add pomegranate for a holiday touch.
Desserts:  Save your famous family recipes for your holiday meal.  Stevia and monk fruit sweetener are gut-friendly sugar alternatives and are easy to bake with.  To decrease carbs and gluten, alternative flours like almond and coconut can be used for brownies, cookies, breads and cakes.  
More healthy swaps: 
Bacon replace with Turkey Bacon
Chicken or Beef Broth can be swapped with Bone Broth
Ditch Soy Sauce for Coconut Aminos
Dairy Milk replace with Almond Milk
Rice can be replaced with Quinoa
And finally, the holidays can be overwhelming, so try to make things easy this month.  When we get busy, we tend to lean on junk or fast food.  If needed, buy pre-cooked chicken or try a local meal-prep service.  Saving time in the kitchen will give you more time for shopping, baking, and gift-wrapping.  Be sure to also get lots of rest, drink tons of water, and keep up with your workouts.  Don't just get your home and tree ready, make sure
you
are ready for this holiday season.  Your body will thank you in the New Year!
---