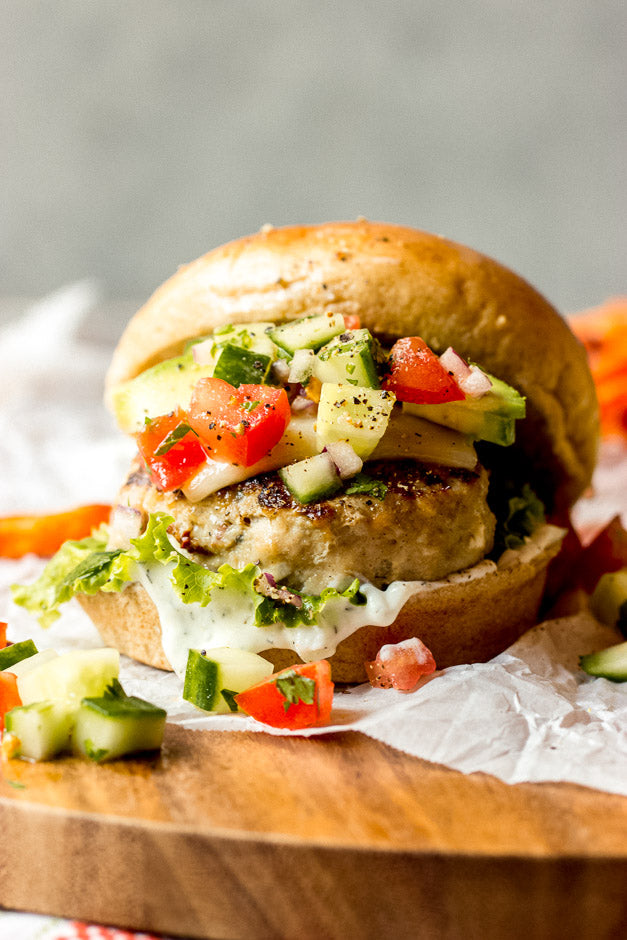 By Jen Silverman, Contributing blogger
We could all use a few easy recipes in our life. You know, the tried-and-true meals that we automatically go to when our family asks "what's for dinner?"
While turkey burgers are the perfect kitchen staple, sometimes you want to go a little beyond the basics. With a few swaps and add-ons, these Mediterranean turkey burgers will be a recipe you reach for any day of the week. Bring on the feta cheese, Kalamata olives, and tzatziki sauce— let's get cooking!
Mediterranean Turkey Burgers
Ingredients
1 1/2lb 93% lean ground turkey
1 tbsp minced garlic
2 teaspoons dried oregano
1/4 cup Kalamata olives, finely chopped
2 tbsp crumbled feta cheese
1 cup finely chopped fresh spinach
1 tsp sea salt
1 tsp black pepper
Olive oil spray
Diced tomatoes (optional)
Diced cucumbers (optional)
Tzatziki sauce (optional)
Your favorite burger buns
Directions:
Preheat the oven to 425°F.
Add all the ingredients to a large bowl and mix together thoroughly.
Scoop out a large fistful of meat, roll it into a ball, then flatten it to form a patty around 1 ½ inches thick. Repeat with the remaining meat to make 5 large patties of equal size.
Once the patties are formed, use your thumb to make a shallow indentation in the middle of each patty.

Bake on a baking sheet lined with parchment paper for 8 to 10 minutes.

Serve over a bed of chopped Romaine with diced tomatoes, cucumbers and 

tzatziki or on a bun.
---