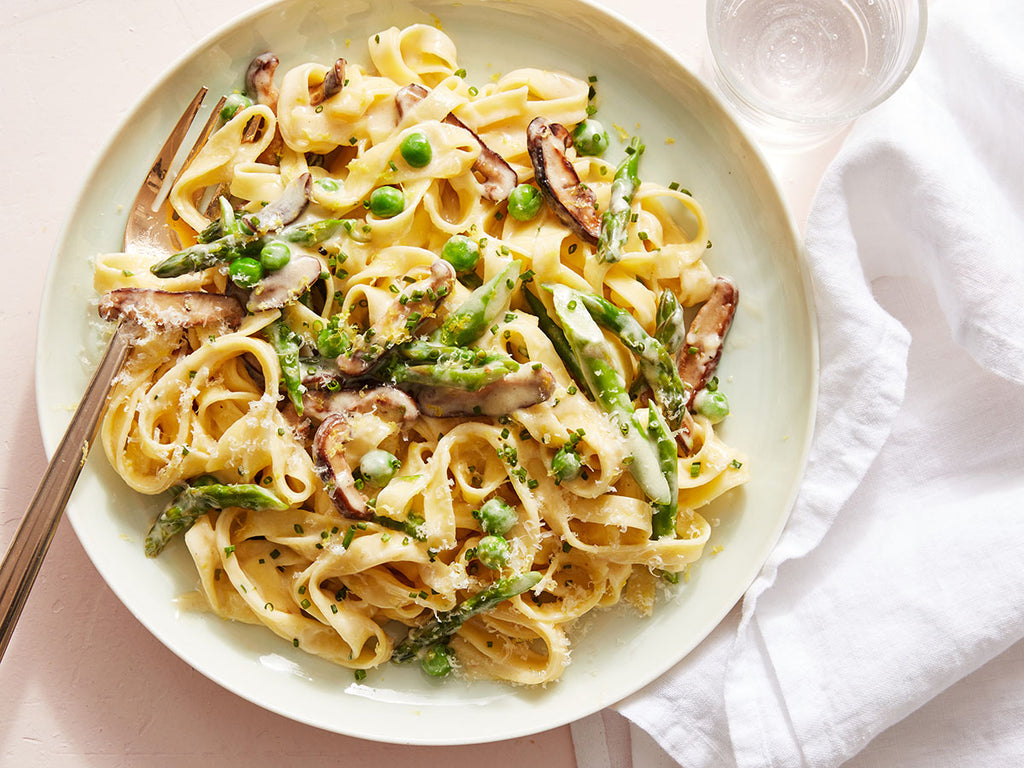 By Emily Kho, Contributing Blogger
With the cold days of winter nearing an end, that means that spring is right around the corner. Spring brings with it its own set of seasonal produce, including some popular favorites like peas, asparagus, and strawberries.

Here are 3 recipes using the freshest produce you'll pick from the farm or store. So grab your apron and let's get cooking!
​​
The Asparagus Risotto recipe comes from Feasting at Home and makes 2 to 4 servings. It takes 15 minutes to prep and 30 minutes to bake, for a total cook time of 45 minutes.
Ingredients
1 bunch asparagus

1 large leek (or white onion, diced)

4 tablespoons olive oil, divided

4 garlic cloves, rough chopped

1 cup arborio rice

1/4 cup white wine, optional- or skip it

3 1/2– 4 cups hot veggie broth (or use hot water with 2 teaspoons veggie bouillion)

1/2 cup basil leaves (or sub part Parsley)

1 lemon, zest and some juice to taste

1/2 teaspoon salt, more to taste

1/4 teaspoon pepper

garnish: lemon zest, basil ribbons, pecorino cheese, optional toasted pinenuts (or other nuts or seeds), chili flakes (Urfa biber is nice) Leek oil (optional)or a drizzle of olive oil.
Directions
Cut the fibrous ends off the asparagus and discard. Cut the tips off (about 1 1/2 inches) and set them aside. Cut the "middles" into 1-inch pieces. Take 1 1/2 cups of the "middles" and set aside. Add any remaining "middles" to the tips and keep these set-aside. So you'll have two piles of asparagus,  1 1/2 cups of the "middles,"  and one with the tips and leftover middles.

In the small pot of boiling water, blanch the 1 1/2 cups of asparagus "middles" until tender and vibrant, about 5 minutes, depending on size. Drain, but reserve 1 cup of the cooking liquid. Blend the blanched asparagus with the 1 cup cooking liquid, 2 tablespoons oil, and the basil leaves until silky smooth, either in a blender or using an immersion blender. Set this aside to add to the risotto at the end.

Thinly slice leeks into half-moons, and rinsing away any dirt, and strain. Heat 2 tablespoons olive oil in a pot or dutch oven over medium heat. Add leeks and saute until softened, 5-6 minutes. Add garlic and cook for 2 minutes, until fragrant.

Add arborio rice and stir to coat, one minute. Deglaze with white wine (if using) and cook the wine off. Add 1 cup hot veggie broth, scraping up any browned bits, and bring to a gentle simmer over med-low heat, stirring occasionally, letting the rice absorb all the broth.

Continue adding the hot broth 1 cup at a time, letting the rice absorb it slowly, each time, stirring often. ***At the same time that you add the last cup of broth, add the pile of asparagus with the tips, letting them cook in the risotto 3 minutes or so. At this point, the rice should be creamy yet slightly al dente.

Stir in blended asparagus-basil "sauce", add the salt, pepper, a squeeze of lemon juice, and taste. Adjust salt, pepper, and lemon to taste. Heat gently over low heat and let it thicken a bit if you like, but take care not to cook too long here, or you'll lose the vibrant color.

Divide among bowls, and garnish with pecorino cheese, lemon zest, and chili flakes or a drizzle of the optional leek oil.

Top with a piece of roasted fish, sauteed shrimp, grilled chicken, or sauteed mushrooms if you like.
The Spring Vegetable Fettuccine Alfredo recipe comes from Food Network. It makes 4 servings and has a total cook time of 30 minutes.
Ingredients
Kosher salt

One 9-ounce package fresh fettuccine

Extra-virgin olive oil, for tossing

2 cups shiitake mushrooms (about 4 ounces), stems removed and discarded

1 bunch thin asparagus, about 1 pound

1 stick (8 tablespoons) unsalted butter

1/2 cup frozen peas

Freshly ground black pepper

2 cups heavy cream

1 1/2 cups freshly grated Parmigiano-Reggiano cheese

1 tablespoon chopped chives

Finely grated zest of 1/2 lemon
Directions
Bring a large pot of generously salted water to a boil. Add the pasta and cook according to package directions until al dente, tender, but slightly firm. Reserve 1/2 cup of the pasta water, then strain the pasta and toss with a splash of oil in the colander.

Meanwhile, slice the mushroom caps into 1/4-inch-thick strips. Snap the woody ends off the asparagus and cut them into 2-inch lengths. Heat a large skillet over medium heat, and add 2 tablespoons of the butter. When the butter melts, raise the heat to medium-high and add the mushrooms in 1 layer. Cook, without moving, until the undersides have browned, 1 to 2 minutes, then stir and cook until golden, about 2 minutes more. Add the asparagus, another tablespoon of butter, and 1/2 teaspoon salt and continue to cook, stirring occasionally, until the asparagus is tender and the mushrooms are browned, 2 to 4 minutes. Transfer the vegetables to the colander with the pasta. 

Reduce the heat to medium and add the remaining 5 tablespoons of butter. When the butter has mostly melted, whisk in the cream and bring to a simmer, then add the peas and cook for 2 minutes. Turn off the heat. 

Whisk the Parmigiano-Reggiano into the sauce. Add the vegetables, cooked pasta, chives, and lemon zest and toss well. Season with salt and pepper. The pasta will thicken as it cools. To thin it, add reserved pasta water 1 tablespoon at a time, and toss to reach the desired consistency. Serve hot in heated bowls.
​​
The recipe for Grandma's Strawberry Shortcake recipe comes from Taste of Home. It makes 8 servings and takes 30 minutes to prep and 20 minutes to bake, for a total cook time of 50 minutes.
Ingredients
2 cups all-purpose flour

2 tablespoons sugar

3 teaspoons baking powder

1/2 teaspoon salt

1/2 cup cold butter, cubed

1 large egg, room temperature, beaten

2/3 cup half-and-half cream

1 cup heavy whipping cream

2 tablespoons confectioners' sugar

1/8 teaspoon vanilla extract

Additional butter

1-1/2 cups fresh strawberries, sliced
Directions
Preheat oven to 450°. In a large bowl, combine flour, sugar, baking powder, and salt. Cut in butter until the mixture looks like large, loose crumbs. In another bowl, whisk together egg and half-and-half. Add all at once to the crumb mixture; stir just until moistened.

Spread batter into a greased 8-in. round baking pan, slightly building up the edges. Bake until golden brown, 16-18 minutes. Remove from pan; cool on a wire rack.

Beat heavy cream until it begins to thicken. Add confectioners' sugar and vanilla; beat until stiff peaks form. 

Split the cake in half crosswise and butter the bottom layer. Spoon half the strawberries over the bottom layer. Spread with some whipped cream. Cover with the top cake layer. Top with remaining berries and whipped cream. Cut into 8 wedges to serve.
---