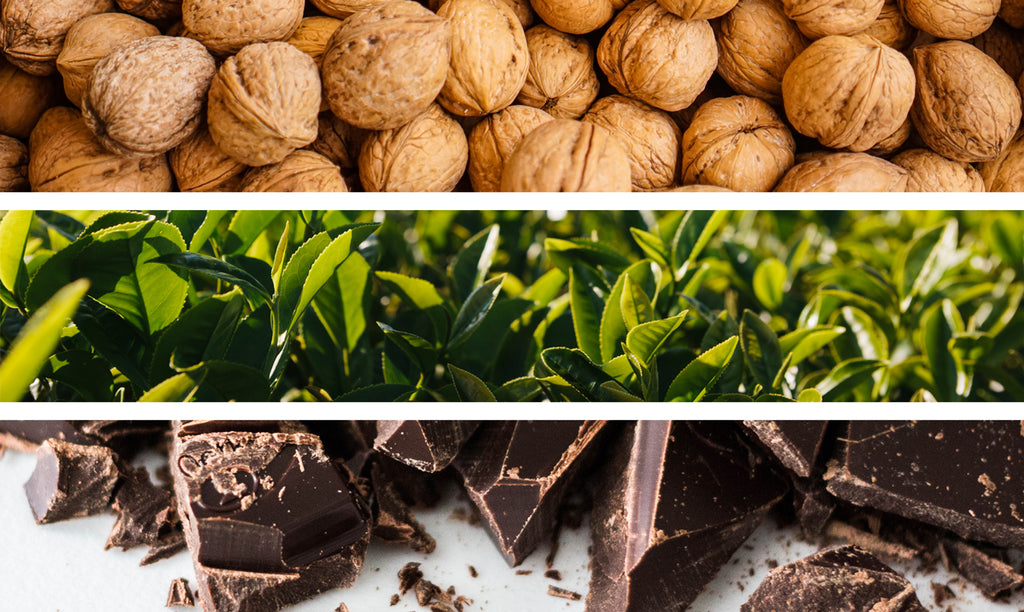 By Taylor Hilda Lough, Contributing blogger
When it comes to skincare, the types of food that you eat matters a lot. Keeping a close eye on what you consume can help you achieve and maintain a youthful, smooth and adorable skin. Below are ten types of foods that can be useful to your skin during summer.
1. Walnuts
Walnuts provide a wide range of health benefits. These nuts offer healthy fats, minerals, fiber and vitamins. It is rich in Vitamin B that prevent wrinkles, reduce aging and keeps the skin hydrated all the time. Omega-3 fats help strengthen the membranes of your skin and also are responsible for keeping toxins that are harmful to the skin at bay. The Omega-3 fats also play a role in protecting the skin from UV rays and reduce inflammation. 
While these delicious nuts can help keep your skin glowing, they're a lot of calories so don't eat too many.
2. Dark Chocolate
Did you know that dark chocolate is rich in Vitamins C, B1, E, A and D? Additionally, it's full of iron and calcium. These elements nourish your skin, prevent aging and protect it from UV rays due to its antioxidant flavonoids. Consuming chocolate in right quantities not only nourishes your skin but also reduces stress hormones. 
Dark chocolate keeps collagen intact and gives skin a youthful glow. Take a dose of dark chocolate that contains 70% or more cocoa daily for a month and a half and your skin will be totally transformed.
3. Yogurt
Yogurt is known to be good for our digestion, however, many people don't know that it has great skin benefits. It's a good moisturizer and can really be useful when applied as a mask on the skin. The lactic acid that helps smooth the skin and you can also use this mouth-watering creamy stuff as a sunburn relief and the anti-bacterial and anti-fungal properties make it perfect to fight acne.
4. Sunflower Seeds
Sunflower seeds are rich in vitamin E and B6 which makes the seeds a good remedy to prevent early aging and provide protection to the skin against sun damages. Vitamin E also protects cell membranes and tissues from damage by oxidation. Vitamin B6 boost blood circulation in our body. 
Sunflower seeds also contain fatty acids that prevent skin infections and breakouts, and copper that aids in melanin production that ensures your skin maintains its complexion.
5. Oatmeal
Oatmeal can be used as a home remedy facial mask and contains amino acids that can treat acne and other skin conditions. The naturally occurring saponin and proteins also help to make it a great natural skin cleanser and moisturizer. For people with eczema and psoriasis, oatmeal can serve as a natural solution to reduce redness and calm itching, and can serve as an exfoliator to those with sensitive skin. Another benefit of this food is that it helps protect the skin from pollution and UV rays.
6. Eggs
Eggs have been used to treat several skin problems for ages, they're rich in Vitamin D which helps development of the outermost layers of the skin.
Use an egg white face mask to shrink or tighten pores or the yolk as a vitamin A nourishing face mask for dry skin. 
The eggshell can also be used as an exfoliating body scrub and is excellent for eliminating dull and dry skin. Grind the shell and mix it with honey and salt then apply it onto your body.
7. Flaxseeds
Flaxseed is an excellent source of Omega-3 fatty acids that prevent acne, skin rashes, dermatitis and helps keep the skin hydrated. Adding flaxseed to your daily diet can help you protect your skin from harmful sun exposure and skin damage while fighting aging by keeping wrinkles at bay.
8. Soy
The plant compound phytoestrogens in soy increases the production of collagen which prevents wrinkles and skin inflammation. Rich in Vitamin E, lecithin, and Omega-3, soy helps keep the skin elasticity intact preventing premature aging while its fatty acids help moisturize the skin.
Soy can also help smooth the skin and correct hyperpigmentation brought about by harmful sun exposure, transforming skin tone and to softening the skin.
9. Green Tea
In addition to helping you burn calories, green tea is a great remedy for dehydrated skin either by drinking it or applying it directly to your skin. 
Green tea also contains polyphenols called catechins that boost its anti-inflammatory properties. Catechins help reduce swelling, skin redness, and irritation. There's also plenty of Vitamins B2 that helps skin keep a youthful appearance and Vitamin E that promotes new skin growth. are essential in skin maintenance.
10. Water
Keeping hydrated all the time is very important for healthy skin. To keep a healthy and youthful glow try to drink at least eight glasses a day. This will help remove toxins and ensure uniform distribution of nutrients that the body requires to maintain healthy skin.
Remember that water is lost in large quantities every day and it is vital to replace it. The other way to add water to your skin is by applying hydrating moisturizer especially after taking a shower.
Take Home Message
For healthy skin, always look for foods that are rich in Vitamins E, B1, B2, C and D. Also ensure that you consume foods that contain Omega-3 fats since they're very beneficial to the skin.
References 
https://www.100percentpure.com/blogs/feed/top-6-benefits-green-tea-for-skin
https://www.uwhealth.org/madison-plastic-surgery/the-benefits-of-drinking-water-for-your-skin/26334
https://www.aveenomd.com/our-ingredients/soy
https://www.rewardme.in/wellness/healthy-eating/15-amazing-to-use-flax-seeds
https://www.standardmedia.co.ke/evewoman/article/2000209865/7-unusual-ways-eggs-can-make-you-prettier
https://www.livestrong.com/article/486439-are-eggs-good-for-your-skin/
https://www.besthealthmag.ca/best-eats/nutrition/15-foods-to-eat-for-glowing-skin-and-healthy-hair/
https://www.rewardme.in/beauty/skin-and-body/7-skin-benefits-of-oatmeal
https://www.facingacne.com/what-sunflower-seeds-do-to-your-skin/
https://m.dailyhunt.in/news/india/english/lifeberrys+english-epaper-lifebeen/5+incredible+benefits+of+sunflower+seeds+for+skin+and+hair-newsid-80589686?mode=pwa
https://www.rosannadavisonnutrition.com/sunflower-seeds-for-youthful-skin/
https://www.self.com/story/beautiful-skin-superfood-walnu
https://www.healthline.com/nutrition/benefits-of-walnuts#section1
https://www.sharecare.com/health/healthy-skin/can-eating-chocolate-improve-skin
https://www.organicauthority.com/energetic-health/5-skin-rejuvenating-treatments-using-yogurt
---